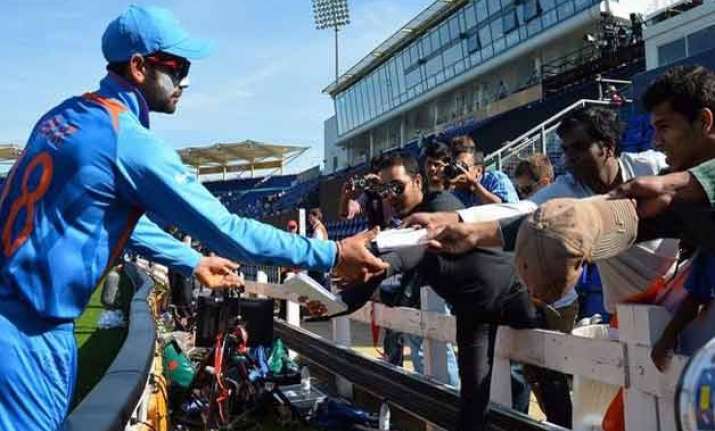 New Delhi: In a move by the Indian cricket board which might upset the cricket fans during the ongoing World Cup, no individual will be able to get their autograph books signed by their favorite cricketers.
It's a common sight during a match that the players near the boundaries are asked by the fans for the autograph. Most players are happy to oblige, knowing that a scrawled signature can often be a souvenir that will be cherished for a lifetime.
According to a report published in Times of India, BCCI has restricted the cricketers to avoid giving autographs when the match is in progress, be it the World Cup, IPL, CLT20 or any other BCCI organized match across India.
This could be a method through which bookies may connect with cricketers. Through an autograph book, a bookie can exchange vital information about the match with a player.
While it is difficult to obtain autographs in India due to the grounds being fenced off, in most other countries fans are able to do so, as is visible at the ongoing World Cup in Australia and New Zealand. "It is a dangerous exercise and we (anti-corruption officials of the BCCI and the ICC) are trying to push for a world-wide ban on this," said KS Madhavan, senior investigating officer of the BCCI's Anti Coruption Unit.
The retired Tamil Nadu SP, who has served in investigative agencies like NIA, SIT, CBI, ACB and the Anti-Corruption Bureau, reveals another interesting modus operandi used by the bookies these days. "They plant their 'agents' in the stadium during games to tell them about the score. Since the TV telecasts slightly delayed action, it helps them rig bets and make money.
"If they come to know that a batsman is out, they would take immediate bets on whether a four or a six would be hit off the next ball. This ensures they make a killing. So, we have to keep a tab on spectators' behavior. In case of suspicion, we evict that particular person, like what happened in New Zealand recently, when a few bookies were thrown out of a ground during a World Cup game. However, we have to observe that person for a while before doing this," he said.
The 2013 IPL spot-fixing scandal, which saw three players being banned for life, has made the BCCI alert about educating players at the domestic cricket stage itself.