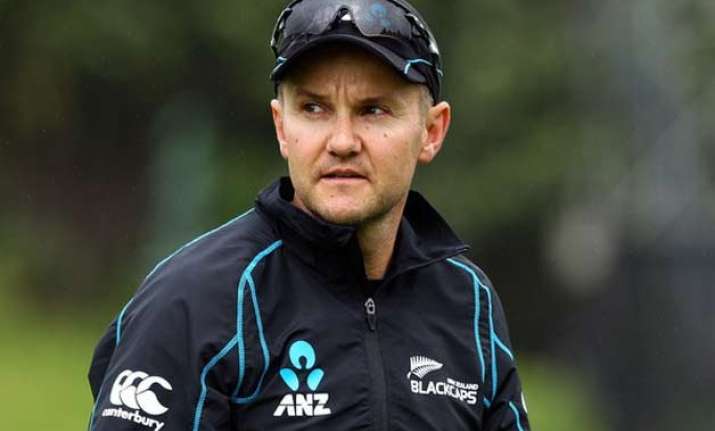 Auckland, New Zealand: New Zealand coach Mike Hesson says his team's Cricket World Cup semifinal against South Africa on Tuesday will be "a heck of a show."
That ranks as an effusive statement from the quiet, studious Hesson who specializes in casual understatement and takes pains to keep emotions constantly in check. He even struggles to downplay the significance or the potential of Tuesday's match at Eden Park, which shapes as a collision between the hardest hitters and most destructive bowlers in world cricket.
Batsmen have reshaped the way one-day cricket is played in recent times, laying waste to the game's many and most-enduring records. South Africans and New Zealanders have been at the forefront of that revolution.
South Africa captain AB de Villiers, who has the world's fastest one-day international century, New Zealand's Brendon McCullum who has a strike rate at this World Cup of 185.51, and Martin Guptill, who on Saturday against the West Indies produced the second-highest score in 50-overs internationals, the highest in a World Cup and only the fifth double century ODIs. These players and many more will share the stage at Eden Park and even Hesson can't help but be excited.
"It's a one-off game, we're all desperate to be at the big party," he said. "I think we'll both turn up, two sides that are playing good cricket and it's going to be a heck of a show."
Hesson said that after its thrilling pool rounds, after four one-sided but still compelling quarterfinals, the World Cup has come to this ... survival of the fittest.
"I think the best four teams are in the semifinals and I don't think many people could disagree with that," he said. "South Africa on their day are exceptional. (But) you put them under pressure and we'll see what happens.
"They're a good side, very similar to us. They've got a lot of match-winners so if one or two don't play up then you expect the other guys to turn up and put in a match-winning performance."
Hesson says New Zealand and South Africa have no baggage coming into Tuesday's match but it seems unlikley either side can avoid its history. South Africa had never won a knockout match at a Cricket World Cup until it beat Sri Lanka in its quarterfinal and, though that win was emphatic, it hasn't entirely removed the belief that the Proteas are a team that falters in knockout games.
New Zealand has been to the semifinals on six previous occasions but has never gone further, leaving question marks around its ability to progress again. Hesson dismisses those factors and says that in preparing for Tuesday's match, New Zealand will continue to focus on the process rather than the prize.
"As per normal we'll focus on our own job," he said. "We're in a World Cup semifinal and we think we deserve to be there the way we've played.
"It's an opportunity to put in another good show and that's what we'll focus on."
So Hesson faces the bottom line. Can New Zealand win?
"I'm not sure," he said. "We'll have to wait and see.
"We're playing some pretty good cricket but so are South Africa so we'll just prepare as best we can and if we can make it to the big show, so to speak, we give ourselves the best chance, don't we?"
One thing Hesson is sure of, New Zealand is not the side it was when he became coach two years ago and when it languished at the bottom of the world's test and one-day rankings.
"I think something pretty big has happened over the last year or so," he said. "We've gone from nine in the world to four and you only get there because you've got some pretty good players and, as I've said before, we're lucky that we've got a lot of them."