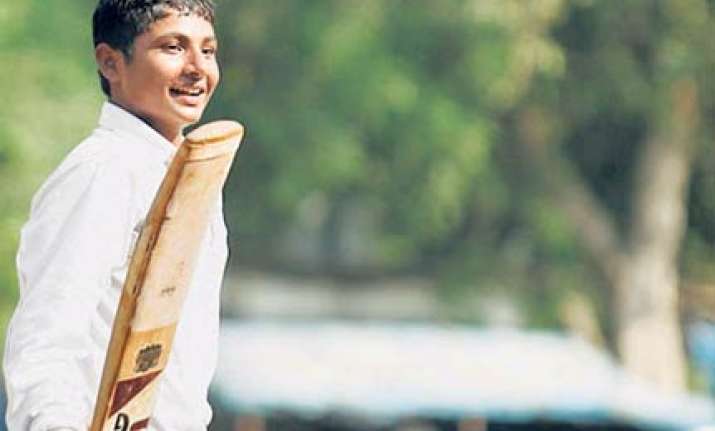 Twelve-year-old Sarfaraz Khan  smacked a mammoth 439 in the Harris Shield tournament at the MB Union Cricket Club grounds at Cross Maidan, Mumbai on Wednesday to signal a new Sachin Tendulkar in the making.
Harrish Shield is the tournament where Sachin and Vinod Kamblu piled up 664 runs for the third wicket in February, 1988, helping their school Shardashram Vidyamandir score 748 for 2 in 122 overs against St Xavier's school at Azad Maidan. 
With Wednesday's score, Sarfaraz's wish for a mobile phone worth Rs 5,000 is about to be granted by his father Naushad. 
Naushad bought his son a bicycle after his extraordinary performance in the Giles Shield semi-final last year. Saus Naushad, "He has made me proud and I want to fulfil his wish", reports DNA, the Mumbai newspaper.
"After breaking my icon Sachin Sir's record I wanted to create a new record by overtaking Sanjeev Jadhav who had made 422 runs (1985-86)," an excited Sarfaraz said.
The previous highest score in the 113-year-old tournament was by R Nagdev (427*, 1963-64). Sanjeev Jadhav, another Shardashram Vidyamandir student, had the second highest score. Other high scorers include Mumbai skipper and Test discard Wasim Jaffer, who made an unbeaten 400 in 1992-93. Tendulkar, with his unbeaten 346, is the 10th highest scorer.
Sarfaraz's innings, which came in 456 minutes, saw his Rizvi Springfield High School gather a mountain of first inning runs — 750 for 9 — against the Indian Education Society, Kandivli, who were tottering at 60 for 6 in 53 overs.
Sarfaraz did not waste deliveries, making the huge score in just 421 balls; he hit 12 sixes and 56 boundaries. He resumed his game on Wednesday — Day 2 — at 235 runs and scored 204 in the first session before ending up caught-at-point just after lunch.
Rizvi Springfield coach Raju Pathak said: "It was Sarfaraz's debut Harris Shield match. Can you believe it? He is an extraordinary talent. I had to drop senior players to accommodate him in the playing XI. He has been doing extraordinarily well in the last few matches." 
Resuming at his overnight score of 225, the spangle-eyed Sarfaraz walked in with a message—300.
 The only time the Std VI lad took his eyes off the ball was to take in the numbers coach Raju Pathak was putting together on his fingers, indicating his next target.
"I am a complete target person. You tell me you want this and I'll give it to you. Once I touched my triple century, word came in about Sachin Tendulkar's mark of 358. That conquered, I managed 400 and that's when the record came into the picture,'' says Sarfaraz, who smashed the bowlers all over the park but ironically flicked a single to get to 423.
The first reward didn't take time in coming—president of the Rizvi Education Society, Akhtar Hasan Rizvi, announced a reward of Rs 10,000 along with a promise to sponsor the boy's education up to college.
 While on 300, there was talk of a declaration that would help defending champions Rizvi go for the kill, but coach Pathak decided to trust his instincts instead. "I didn't have the heart to call him back and I don't regret it. Give the boy a job and he'l do it,'' says Pathak, who has guided the school to six Harris titles. 
In fact, the coach accommodated Sarfaraz and three other juniors at the expense of four senior players. "I didn't need to tell them how big the chance was. Sarfaraz grabbed it and how!''
Watching Sarfaraz stroke his way to the record from the sidelines was father Naushad, who is a coach himself and has been tagging his son along to maidans from the age of four. "It's wonderful to see Sarfaraz on the path to fulfilling dreams that I'd left unfinished.'' In fact, the father-son pair opened for Young Mohammedans in the Kanga League this season.
Former holder of the record, Jadhav—now a Mumbai under-14 selector—got a call telling him of Sarfaraz's feat and he was more than happy at the happening. "23 years is a long time for a record to stand and it's only fair that it be broken.'' He even had words of caution for Sarfaraz. "The boy should not look back from here. He needs to have his head on his shoulders, and I would love to see him play for Mumbai sometime soon and score those kind of runs,'' said Jadhav.