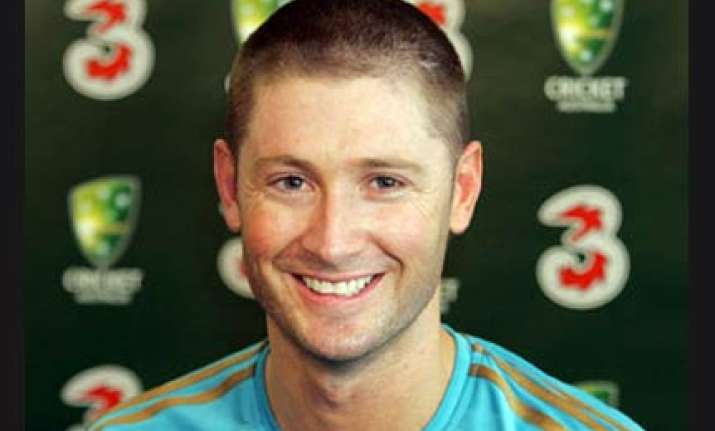 Australia vice-captain Michael Clarke faced the news media on Wednesday for the first time since his split with fiancée Lara Bingle and said temporarily quitting the tour of New Zealand to resolve a relationship problem was important.  
Clarke left the tour before the third of five one-day internationals when Bingle, a 22-year-old bikini model, became embroiled in a dispute over the publication of nude photographs taken by a former boyfriend.  
He rejoined his teammates in Wellington ahead of the first of two Tests against New Zealand and after his split with Bingle became a major news story in Australia.  
Clarke refused to discuss his private life at a news conference but said leaving his teammates to deal with personal issues was something he needed to do.  
"I made a decision firstly to go home and then to come back," he said. "It was obviously something I felt was very important and needed to be done and I did that.  
"My teammates were fantastic and very supportive, all my friends and family have been wonderful.  
"For me it's important to do what I had to do in my personal life and it's important for me now to be back with my teammates and make sure I'm concentrating on playing a Test match for Australia."  
Clarke said he understood the continuing interest in aspects of his private life and appreciated the support of his teammates during a difficult period.  
"I'm not going to comment on my personal life," he said.  
"It's been a very interesting couple of weeks but it's great to be back here in New Zealand with my teammates. The guys have been fantastic, so supportive, and I'm here preparing for a Test match and I'm really looking forward to Friday.  
"Everybody is entitled to their ... have their jobs to do, I guess, and I certainly understand being a professional athlete, what you do on and off the field is going to be recognized, and I accept that."  
Clarke expects to be heckled by spectators during the Wellington Test over his breakup with Bingle.  
"I'm sure I'll get a little bit of stick but I don't mind that," he said. "No matter where you are in the world, every country wants their team to win and do well. We'll wait and see what happens on Friday but I don't think it will affect me too much.  
"I've copped a fair bit of sledging in my time whether it be about stuff on the field or off the field. I have the utmost respect for the New Zealand guys and I'm sure they're the same. We'll play it by ear but I don't think it will affect me." AP