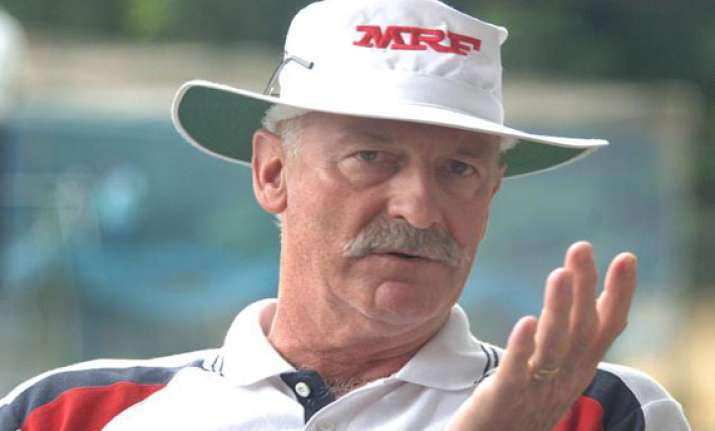 Sydney, Dec 3: Legendary fast bowler Dennis Lillee feels if James Pattinson can stay fit and stay on the park, he can be the spearhead of the Australia's pace attack.
"I think the big, tall guy Pattinson... if he can stay fit and stay on the park, then he looks like a bloody good bowler to me," Lillee was quoted as saying in The Australian when asked who he thinks could lead the Australian attack. Lillee recently quit the MRF Pace Foundation in Chennai after serving as its director for 25 years.
Pattinson has all the credentials having taken 31 wickets in just seven Tests at an average of 22.10. But his fitness seems to be suspect having been sent back from the West Indies tour. He recently broke down again during the Adelaide Test against South Africa with a side strain which will keep him out of action the entire Australian summer.
"I guess this attack at the moment, you probably can't say there's a go-to man," Lillee said.
"I'm not being unfair to them but I just think they're all around that 135-140 (km/h) mark and there is not a guy there like a (Dale) Steyn who can go up or down a gear. All good attacks have that go-to man."
Just as Lillee was talking, there was a rare huge roar at the WACA Ground in Perth Sunday as
Hashim Amla
's big knock came to an end, brillianty caught and bowled, and then in the same over, debutant
Dean Elgar
was dismissed. Both fell to the man who not long ago was leader of the pack only to forfeit the role by getting erratic, Mitchell Johnson.
Johnson with 196 Test wickets is the leading wicket taker among his contemporaries in the Australian side, having claimed 70 wickets more than the nearest guy, Peter Siddle.
Lillee believes Johnson can be a stock bowler than a strike bowler and he can play a valuable role on the next Ashes tour of England.
"He becomes your first change that does a lot of the hack work, who keeps things tight when he has to and when the conditions are right can bowl well, take a few," Lillee said.
"His job is not to blast them out. When he was trying to blast them out he was muscling the ball and pushing and his action went to pieces. You might have a year or two left but it's smarter to go into that next phase as soon as you can, I think anyway," he said.
"And he can fill that role. He's got it under control now and I think he could be a really good bowler for Australia."
Lillee also found fault with Michael Clarke for not having a Plan B to stem the bleeding of runs in the Perth Test.
That said, he never resorted to what Lillee described as Plan B at the WACA Ground, "starving the batsmen" out.
"It means you've got to set your field out and scatter them and just stop them to one or two runs an over—you've got to cut the boundaries obviously. And starve those guys out there and hope that they get a bit pissed off. That was always the Plan B we had for Australia and for Western Australia. It's pretty basic but it did work."
Clarke could have done that if he had Siddle at his disposal but the selectors thought the Victorian pacer needed rest.
Just as well nobody ever tried to "rotate" Lillee out of the Test side.
"You could not have convinced me," said Lillee.