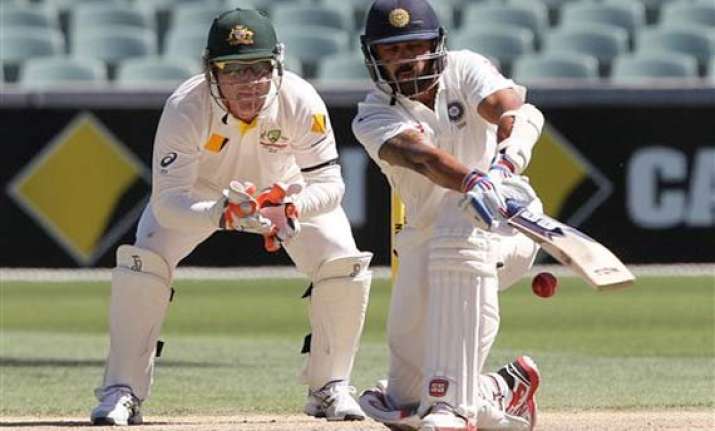 Melbourne: After a balanced Day 1 of the Boxing Day test, both the teams would try to make the maximum out of the pitch and the batting conditions today as it is going to be crucial day 2.
They will need a few more such sessions if they are to stop the Australian juggernaut. The morning session on Day 3 will be crucial for India as they have the habbit of collapse.
Dhawan showed good patience, leaving balls outside off before he nicked off to the slip cordon. Early on, Australia were propelled to 530 by Steve Smith's 192 - a brilliant innings which saw him become the first Australian to score hundreds in his first two Tests as captain. The lower-order also wagged prodigiously, piling the misery on the Indian bowlers.
India have crossed 100 with the loss of Dhawan but they face a steep climb as they are still 422 behind Australia. Solid batting from M Vijay has helped India to yet another good start in their innings. Throughout the series, Vijay has been India's most assured batsman and he continues to counter the Australia seamers with his patience.
STUMPS DAY 2
India 108/1 after 37 overs
Vijay 55 (102), Pujara 25 (69)
India would be frustrated that Dhawan failed again after a decent opening stand. Since then Vijay and Pujara took the charge and develp another 50 run partnership to take India's total to 108 for the loss of 1 wicket at stumps trailing Australia by 422 runs. Vijay's another half century of the series has steadied the Indian ship in the third session which belongs to India.
India 92/1 after 30 overs
Vijay 47 (82), Pujara 17 (47)
India survived few chances when Haddin dropped a simple catch of Pujara. He had been struggling since his arrival at the crease. Vijay on the other end looks comfortable in taking singles and doubles.
India 77/1 after 25 overs
Vijay 38 (65), Pujara 11 (34)
The scoring rate of India had come down to three per over which was once above 4 when Dhawan was out there. Both Vijay and Pujara are either trying to defend or leave the deliveries. Vijay is quickly on 38. They do not want to lose another wicket and let the night-watchman in.
India 65/1 after 20 overs
Vijay 33 (54), Pujara 4 (14)
Runs are dried up after the dismissal of Dhawan. Only 8 runs have been scored in last 5 overs. India will ideally want these two to remain unbeaten till end of day.
India 57/1 after 15 overs
Vijay 27 (35), Pujara 2 (4)
India were off to a good start before Dhawan throws his wicket away and once again Indian openers failed to develop a big stand. The partnership was well above 50 but Dhawan was unable to hang around much. Vijay on the other end now must settle down with Pujara and survive the remaining hour time of the play left.
Incomes Cheteshwar Pujara at no. 3
India 55/1
Shikhar Dhawan c Smith b Harris 28 (51)
OUT! Edged and gone! Pitched outside off, the ball kissed the bat and straight to Smith at second slip. Harris gets the first breakthrough for Australia.Dhawan throws away yet another good start.
India 38/0 after 10 overs
Vijay 19 (23), Dhawan 19 (37)
India stayed positive in the first 10 overs scoring at a decent run rate. Both the batsmen are looking in good touch. They are playing safe and defensive. Absolutely no chance for the bowlers so far. Running between the wickets has also been quick by the opening duo.
Update: Mitchell Marsh has been ruled out of the Sydney Test. He pulled his hamstring during the Gabba Test and a scan today confirmed that he is going to miss the fourth game of the series as well. He now aims to return for the triangular series before the World Cup.
India 22/0 after 5 overs
Vijay 13 (14), Dhawan 9 (16)
Steady start for India in the third session. Both Dhawan and Vijay have scored couple of boundaries and they need to continue the show till end of today's play. India would definitely be a happy side if they end up today's play without losing a wicket.
Vijay is on strike with three slips and a gully in place.
Openers Shikhar Dhawan and Murali Vijay are making their way to the middle and Mitchell Johnson is marking is run-up.
The third session will be underway in moments.
They have around 37 overs to survive. A lot will depend upon Vijay, who has been the in-form batsman for the visitors. If India have to reach anywhere close to the Australian total, Vijay along Dhawan should give them a good start.
The damage has been done. Now the Indian batsmen should try and repair it by scoring runs. It is going to be a tough job for them. The first target should be to avoid the follow-on.
-----------------------------------------------
A huge task beckons the Indian batsmen. Can the batsmen stand up and prevent India from sliding to their fifth successive overseas series loss?
Ravichandran Ashwin was pick of the bowlers from India having picked 3 wickets for 134 runs in 44 overs at an economy of 3.04. But the pace attack by Ishant, Shami and Umesh was not at all impressive.
Later on, Ryan Harris joined the party, crashing 74 in a 106-run stand with his captain. In the interim, Johnson starred in a cameo. The ending could have been rosier had Smith got to his maiden double ton.
Another Smith special and Australia have surged to 530. He was ably assisted by the lower-order batsmen as India were shot to pieces. The day began with India's short ball ploy backfiring badly. Haddin took on the bouncer and played himself into form with a brisk fifty. That run rate which was below three at the end of day one ends up at 3.71.
TEA BREAK
Australia 530 all out after 142.3 overs
Josh Hazlewood 0 (0)
Steven Smith b Yadav 192 (305)
OUT! Unfortunate dismissal for Smith. It was straight to the stumps by Umesh Yadav off which he tried to play an unusual shot. He came much across the stumps and attempts the scoop but misses. The ball hits the top off middle stump. No double ton for Steven Smith. And it's Tea.
Josh Hazlewood is the last man in for Australia
Australia 530/9
Nathan Lyon b Shami 11 (15)
OUT! After hitting couple of boundaries Lyon tried for another but missed the. This time the ball shattered the stumps. Fourth wicket for Shami.
Australia 515/8 after 140 overs
Smith 188 (297), Lyon 0 (8)
100 runs in last 15 overs. Indians are gifting runs as a Christman gift to the batsmen. Australia cruised towards the total of 500 and Smith is on fire. Bowlers are not able to stop him from scoring boundaries and sixes. He is on 184 which is highest test individual score and slowly inching towards his maiden double ton. Ashwin had broken the 106 runs stand between Smith and Harris but the damage has already been done.
Nathan Lyon comes in at no. 10
Australia 482/8
Ryan Harris lbw b Harris  74 (88)
OUT! Ashwin gets the breakthrough finally! It was straight, Harris tried to sweep across the stumps but he missed and the ball struck on pads. Umpire raises his finger and Harris goes back.
Single down to mid-off by Smith brings up the 100-run partnership between him and Ryan Harris
Australia 475/7 after 135 overs
Smith 154 (278), Harris 68 (85)
The story remains the same for India. They have no clue as to how to wrap up the tail. Ashwin too has started leaking runs. Ryan Harris scored three boundaries in his over but the main highlight of the last ten overs was the elegant and perfectly timed straight drive by Harris off Mohammad Shami. That was the shot which is usually not seen by a no. 9 batsman. Not a single delivery is bowled by the bowlers which can trouble the batsmen. The partnership is now of 99 runs and the so-called tailender Ryan Harris gets his third half century in test cricket while Smith on other end brings up his 150 as well.
Australia 415/7 after 125 overs
Smith 136 (254), Harris 28 (49)
Ashwin is controlling runs from one end while Umesh and Shami from other end continue to leak runs. Harris is in the show as well with some beautiful drives for boundaries. Aussie tailenders are once again frustrating Indian bowlers as another partnership is slowly building up. Australia haven't looked back since they took off in the morning.
Australia 398/7 after 120 overs
Smith 131 (244), Harris 16 (29)
Ashwin and Umesh has been the best bowling combination for India so far in the match. Dhoni should have used Ashwin earlier today instead of using pacers from both end and bowling bouncers. He has the control over the flow over runs from one end.
Smith takes the guard and Ashwin to bowl first over post-lunch
Team India as usual is in the huddle and Steven Smith and Ryan Harris are making their way to the middle.
Second session to begin in moments. Can India take the last three wickets quickly and wrap up the innings? Or will Australia extend their dominance in the Test?
The first hour shall be crucial for India. They would look to bowl out Australia within time.
Dhoni has done well so far behind the stumps. Out of 7 Aussie dismissals 5 have been done by him.
India bowled well in the second session yesterday. Will India repeat the same performance? Smith is going very strong with the two tailenders yet to bat. It could be the last session of Australian innings and the target they look to achieve would be 500 first.
Australia have scored 130 runs in that session in 25 overs at the run rate of over 5 runs per over. The ploy of bowling short to Haddin backfired and instead it gave the veteran his first fifty in 15 innings. Smith was serene at the other end and duly completed his third hundred in the series. Johnson came and enjoyed himself against rubbish bowling from India. Ashwin dismissed him just before lunch to give India their 2nd wicket of the session.
LUNCH BREAK
Australia 389/7 after 115 overs
Smith 128 (230), Harris 10 (13)
India allowed the match and the opportunity slip away from them. It is more poised to Australia than India. Mitchell Johnson was dealing only in boundaries with Shami. He hit him for two consecutive fours before getting stumped to Ashwin after trying to slog but missed it completely. Indian players also had a problem with the ball. Umpires after having a chat and it was changed.
Ryan Harris comes ahead of Hazlewood at no. 9
Australia 376/7
Mitchell Johnson st Dhoni b Ashwin 28 (37)
OUT! Johnson is stumped! Ashwin pitched it slightly short and he tried to go big but missed completely. Dhoni whipped off the bails in no time as Johnson was way down the pitch. Another dismissal for Dhoni. A useful cameo ends for Johnson.
Australia 367/6 after 110 overs
Smith 124 (222), Johnson 20 (28)
Runs are still flowing for Australia and Johnson gets in the show as well. He smashed Umesh Yadav for two back to back classy boundaries followed by a fine leg boundary off Ishant. The partnership is now into the 40s.
Australia 338/6 after 105 overs
Smith 113 (210), Johnson 2 (10)
India might have got some relief after Haddin's wicket but that brings another batsman Mitchell Johnson out in the middle and Steve Smith on the other end is going strong. Shami has no control over his bowling despite a wicket for him this morning and he missed a run out chance was well. Smith was in some discomfort after Umesh swings the ball in which got the inside edge and hits the wrong part of the Smith's body. He looked in pain but after a slight delay he got ready to continue.
Mitchell Johnson walks out to bat now
Australia 326/6
Brad Haddin c Dhoni b Shami 55 (84)
OUT! Finally a wicket and a big breakthrough for India this morning. Haddin tried to leave outside off but was late and gets a small nick off the bat. Dhoni takes another good catch. Shami would be relieved after that wicket.
Mohammad Shami bowls a half volley on leg stump and Smith glanced it to fine leg for four to complete his 8th test century. Three hundreds in three test matches and second consecutive hundred as a captain. What a player!
Australia 317/5 after 100 overs
Smith 96 (190), Haddin 55 (83)
Runs are coming thick and fast for Australia this morning. Bowling bouncers has backfired India. Boundaries are coming easily in almost every over. Steven Smith is on the course of his another century in the series with just 4 short. He is into the 90s with a beautiful leg glance boundary off Shami and also completed his 2000 test runs and now averages 50 in test cricket format. The partnership too is now of 100 runs.
Australia 293/5 after 95 overs
Smith 77 (168), Haddin 50 (75)
Mohammad Shami joined Ishant on the other end but didn't had a good start. Runs are flowing for Australia. The tactics of bowling short pitch deliveries are not working. He has already conceded 20 runs in 2 overs today. India should not repeat what they did in Brisbane. Shami let the partnership flourish which is now well above 50. However Ishant has kept the line tight and is controlling the flow of runs from one end but he too was struck for couple of boundaries by Haddin who gets his much awaited 18th test half century after 14 innings. That was not the start India wanted and Shami need to pitch it on right line and should restrict his short deliveries.
Steven Smith takes the guard and Ishant Sharma to start the proceedings for India.
Indians are in the huddle as the Aussie batsmen Steven Smith and Brad Haddin walks out to the middle.
The play is about to begin.
The game is very well evenly poised. India should not let the current partnership of Smith and Haddin flourish and they should also not allow the likes of Johnson or Hazlewood to settle down. They can score quickly and take the game away. If they can restrict Australia to 300 or below then they have a great chance of putting some pressure on them.
Umesh enjoyed a brilliant start, getting rid of the in-form Warner for a duck. However, Rogers and Watson added 115 for the second wicket to steady the ship. Just when the duo were looking to open up their wings, India bounced back, striking twice in two overs in the middle session. Then, Shaun Marsh and debutant Joe Burns failed. Ashwin plugged away at one end, choking the flow of runs, from which the likes of Umesh and Shami benefitted.
On a balanced Day 1, Indian bowling has been the best so far in the series restricting them to 259 in 90 overs.
The second day of the Boxing Day test is going to be crucial for both the teams as it may decide where the match would go in the remaining three days.