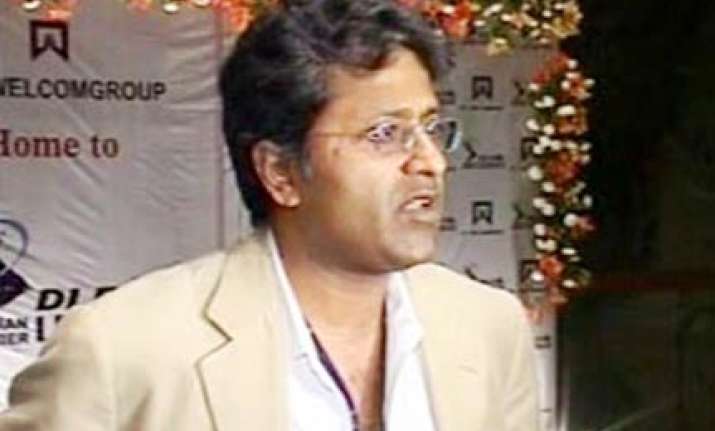 New Delhi, Oct 8: Former IPL Commissioner Lalit Modi today said he has always cooperated with the Enforcement Directorate and that he is ready to appear before the agency personally in London or through video conferencing.  
He also said that "no showcause notice alleging any irregularities regarding Foreign Exchange has been served" on him by the ED.  
Modi was reacting to reports on an international Blue Notice Alert issued against him by the ED for alleged "serious contraventions" of the foreign exchange law as it is probing into the finances of the T20 cricket tournaments.  
"No show cause notice alleging any irregularities regarding Foreign Exchange has been served on Modi till date.  "The Enforcement Directorate had addressed communications to Modi to present himself with documents. He has always co-operated with the department. He has furnished the Enforcement Directorate with copies of all required documents which were available with him. He had also informed the Enforcement Directorate that he had been advised not to travel to India on account of an elevated threat perception to his life and had given particulars of the same," his office said in a statement.   
"He had also offered to answer all queries, requisitions in writing as also respond to any questions by video conferencing or by appearing before the officers of the Enforcement Directorate in London," the statement added.  
The statement said Modi "strongly denies the suggestions that he is not cooperating with the authorities or avoiding any enquiry or investigation. The issuance of such a blue corner notice, if any, is therefore uncalled for and unfortunate."  
Neither Modi nor his solicitors or his constituted attorney (who have been corresponding with the Enforcement Directorate and appearing before them) have been served with any copy of Blue Corner Notice, Modi's office said.  
"A Blue Corner Notice is a notice issued to ascertain information about identity and location of a person. In the case of Modi there is no doubt about his identity.  "He is residing in London, a fact which is also known to the Enforcement Directorate. No such Blue Corner Notice, in the case of Modi, could or ought to have therefore been issued," the statement said. PTI