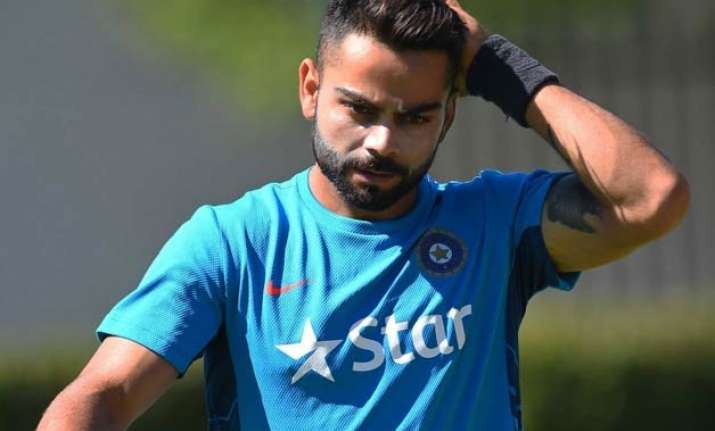 MS Dhoni's finishing skills have come under scrutiny lately and rightly so. The skipper failed to win the first ODI for India against South Africa at Kanpur despite a very gettable asking rate of 11 runs in the last over.
Former Indian cricketers like Mohammed Azharuddin and Ajit Agarkar have done what was previously unthinkable by questioning Captain Cool's place in the team, not just as skipper.
But to be fair, he's not the most underperforming batsman in the Indian team right now. That dubious distinction goes to Virat Kohli. The Indian vice captain has not made a fifty in his last 11 ODIs. It's his worst sequence of scores ever in this form of the game. Dhoni, incidentally, has three fifties in his last 11 ODIs.
Kohli's last fifty plus ODI score was his century against Pakistan in India's opening World Cup game way back on February 15. He has endured an eight month long barren run since then with scores of 46, 33 not out, 33, 44 not out, 38, 3, 1, 1, 23, 25 and 11.
In fact that century against Pakistan is Kohli's only 50 plus score in the whole of 2015 during which he has played 16 ODIs. His average this year is a dismal 29.92 compared to a career average of 50.35.
So what's gone wrong for the dashing batsman who was once challenging AB de Villiers for the title for best batsman in the world? It can't be his position in the batting order. Kohli has batted at both No.3 and No.4 this year without success. In the past, he has done well in both positions. Kohli actually averages higher at No.4 than at No. 3.
Kohli's coach since his childhood, Raj Kumar Sharma, believes that there is no technical weakness in his game and it's just a run of bad luck. "We've spoken at length about it. He's not worried, and is enjoying his game. He's been batting well before getting out. If you see the game on Sunday, he was out to a brilliant catch at an unusual fielding position," said Sharma to a national daily.
While his form this year has plummeted, Kohli's scores in his last three ODIs in 2014 were 53, 66 and 139 not out against Sri Lanka. Interestingly, he was captain of the team in all those games.
Indeed, one statistic about Kohli's career stands out. His average as skipper is a sensational 70.83 in the 17 ODIs in which he has led the side and includes four hundreds and three fifties. Notably, Kohli's slump has not extended to Test cricket where he is the leader of the side following Dhoni's retirement from the longer format of the game.
So is the solution just to make Kohli captain? If India loses the ODI series against South Africa, Dhoni could well be shown the door as head honcho, although he still has something to offer as a player. That could not just revive Team India's fortunes but Kohli's personal fortunes as well.