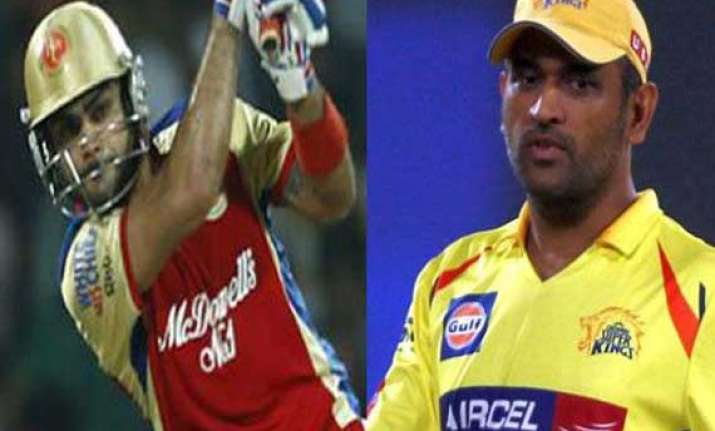 Bangalore: Their playoff hopes over, a shattered Royal Challengers Bangalore will only have pride to play for against strong title-contenders Chennai Super Kings in their last league match of the IPL-7 here today.
The 30-run defeat against Kolkata Knight Riders (KKR), who booked the IPL playoff berth, dashed RCB's hopes, a massive blow to team owner Dr Vijay Mallya, who splurged Rs 14 crore to buy all-rounder Yuvraj Singh.     
Virat Kohli
, who could do no wrong in the last IPL by scoring over 600 runs, is now in the eye of the storm for RCB's doomed campaign.     
However, the RCB skipper would be eyeing a consolation win to bid a graceful adieu to the tournament. But considering the form CSK is in, the task seems quite a big one for him.     
The formidable CSK have already qualified for the playoffs and would like to bounce back after they faced a six-wicket rout at the hands of Sunrisers Hyderabad yesterday.     
Mahendra Singh Dhoni's men would also be gunning for revenge against the RCB, who pulled off a five-wicket win in a thrilling match on May 18.     
The batting lineup, which looked strong on paper before the tournament, has let the RCB down on more than one occasion.     
The poor form of explosive opener
Chris Gayle
and stocky pocket-dynamite Parthiv Patel, has exposed the frailties of the lineup, which is currently over-relying on Yuvraj.     
The left-hander has done reasonably well but the see-saw opening arrangements of Patel and Yogesh Takawale has not clicked when faced with good attacks.     
RCB can, however, count on Virat Kohli's return to form after the captain scored his first half century this season to lift their total to 160/6 against Sunrisers Hyderabad.