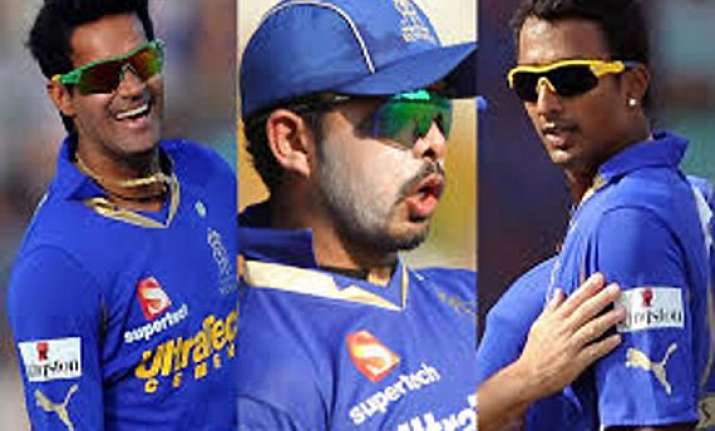 New Delhi, June 5: An internal probe report was today submitted to BCCI about IPL spot-fixing in which three players including S Sreesanth of Rajasthan Royals were arrested by the Delhi Police a fortnight ago.  The fate of the report, which was completed without getting any access to the arrested players and complete evidence collected by the Delhi Police, was yet to be decided keeping in view the crisis that has engulfed the cricket board.
BCCI had appointed R N Sawani, a former IPS officer who probed the 2000 match-fixing case, to submit its report to the Cricket Board after analysing the probe of Delhi and Mumbai police.
The mandate of the probe was to examine allegation levelled by the Delhi Police against the three players and the three matches that have been listed by the Delhi Police, official sources said.
However, the BCCI-appointed one-man probe team could not question the three players—Sreesanth and Ajay Chandalia as they were in judicial custody whereas Ankeet Chavan was out on bail only for marriage purposes.
BCCI had got in touch with the Delhi Police requesting them to allow examination and sahring of the evidence against the three players.
All the three have been suspended pending an enquiry.  BCCI had given a time of 15 days for Sawani to complete the probe.
According to sources, Delhi Police shared some basic details about the case which included how they stumbled on spot-fixing and involvement of the players and their subsequent negotiations.
Special cell of the Delhi police had arrested Sreesanth, Chandila and Chavan—along with bookies after their team's IPL match against Mumbai Indians at the Wankhede stadium in Mumbai on May 16.
The cricketers and bookies have been slapped with stringent MCOCA after booked under sections 420 (cheating) and 120B (criminal conspiracy) of the Indian Penal Code.