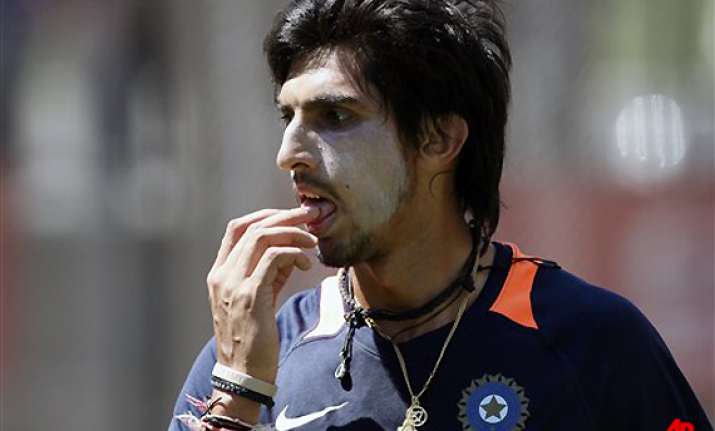 Melbourne, Dec 25: India is expected to wait until just before Monday's toss to name its team for the first test against Australia at the Melbourne Cricket Ground, giving injury-prone pace bowlers Zaheer Khan and Ishant Sharma a chance to prove their fitness.

India captain Mahendra Singh Dhoni said Khan and Sharma "are shaping up well, hopefully they would all be available for selection" for the first match of the four-test series. The visitors have not won a test series in 64 years of touring Australia.

Batsman Sachin Tendulkar will renew his quest for his 100th international century in the first test, having been stuck on 99 since March. Dhoni said Tendulkar's main emotion when he finally reaches the milestone will be relief.

"He will get it at some point in time, whether it's this series or the next series," Dhoni said. "I don't think there's any added pressure on him. But of course if he gets it soon he will feel a bit relieved. The whole of cricket, all over the world, people will really cherish the moment when he gets his hundredth done."

On Sunday, both teams held light batting sessions and the Australians had a family Christmas luncheon.

Wicketkeeper Brad Haddin, who took his son with him to the luncheon, says Australia has put its embarrassing loss to New Zealand in the Hobart test behind them. Australia lost eight wickets for 74 on the final day in a seven-run loss to the No. 8-ranked Kiwis two weeks ago—the visitors' first test win in Australia since 1985.

"We're in a very good space at the moment," Haddin said. "Boxing Day, it's a great occasion to walk out onto the MCG. As as sportsman, it's a highlight to be able to come out in front of 60,000 or 70,000 to watch a test match."

Australia left out uncapped allrounder Dan Christian and pace bowler Mitchell Starc from its 13-man squad when its team was named Saturday.

Swing bowler Ben Hilfenhaus won a recall after recovering from knee tendinitis while Shaun Marsh returns to bat at No. 3 after overcoming a back injury which kept him out of the two-test New Zealand series.

Clarke said it was a gamble to leave out No. 6 batsman Christian, especially with fellow allrounder Shane Watson declared unfit as he recovers from hamstring and calf strains. But Clarke said he could call on himself and other part-timers Michael Hussey, Ricky Ponting and David Warner to bowl a few overs.

Australia will take just four genuine bowlers into the test—Hilfenhaus, Peter Siddle, Nathan Lyon and James Pattinson, who has taken two five-wickets hauls in his first two tests.

Tasmania's Ed Cowan, 29, will become the 10th Australia player to make his test debut in 2011. Cowan will open the batting with David Warner against No.2-ranked India.

Haddin said the possibility of Tendulkar achieving the historic 100-century mark was a bonus for the fans.

"That's exciting, the prospect of him scoring his hundredth 100, for everyone involved in the game," Haddin said. "We haven't discussed anything about Sachin's hundred. With a bit of luck we don't give him the opportunity to get there."

Lineups:
Australia: Michael Clarke (captain), Brad Haddin, Ed Cowan, Ben Hilfenhaus, Michael Hussey, Nathan Lyon, Shaun Marsh, James Pattinson, Ricky Ponting, Peter Siddle, David Warner, Mitchell Starc (12th man).