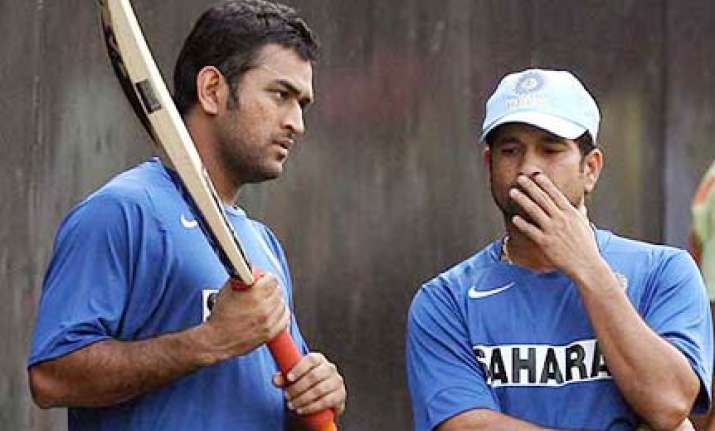 New Delhi: India will leave out senior players from the one-day series against New Zealand starting next month to prepare them for the tough tour of South Africa, an official said on Friday.
New Zealand are due to play three Tests in India from November 4 to 24, followed by five one-day internationals from November 28 to December 10.
The last one-dayer will end just six days before India begin a three-Test series in South Africa from December 16.
The Indian board plans to send the top Test stars, possibly even skipper Mahendra Singh Dhoni, to South Africa soon after the New Zealand Test matches and to get acclimatised to the conditions.
Board official Ratnakar Shetty said the request to send players early to South Africa had come from coach Gary Kirsten, a former Proteas player.
"The plan now is to send some of the Test players early. The team management and the coach expressed the desire that there is a need for acclimatisation in South Africa," said Shetty."
The selectors have not yet decided which players will miss the one-dayers against New Zealand to make the early trip to South Africa.
India, the number one Test side, have never won a series in South Africa, who are ranked second in the official ratings.
With the limited-overs World Cup to be played in South Asia early next year, the selectors have tried to ensure the players get adequate breaks from the hectic international schedule.
Seven top stars, including multiple batting record holder Sachin Tendulkar, have been rested from the ongoing one-day series against Australia.
India won the second match by five wickets after the first game was washed out. The third and final international will be played in Goa on Sunday.
Dhoni welcomed the move to rotate players to give them adequate rest before the World Cup.
"In the last few series, we have not played with our strongest side and rested most players," he said. "We are a bit cautious because injuries are a concern.
"We don't want our big players to get injured before the World Cup."
India, Sri Lanka and Bangladesh will co-host the sport's premier tournament from February 17 to April 2. AFP