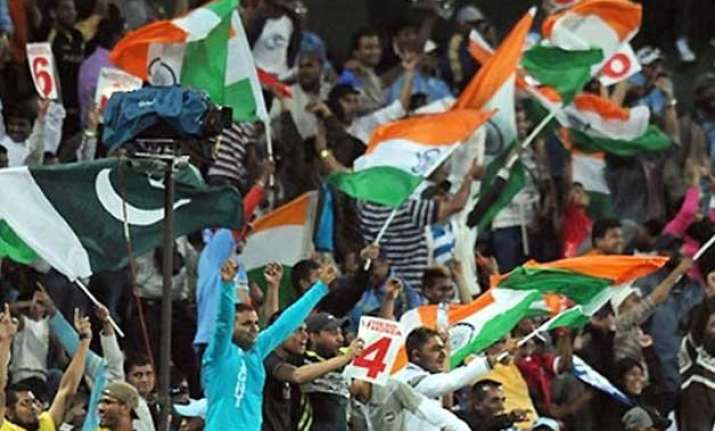 New Delhi: Last time when India and Pakistan squared it off in a field, it was in a 2015 world cup match on February 15, almost a year ago.
The game ended with Indian victory which continued its winning streak against Pakistan in world cups.
But since then, the two archrivals have not seen any action. Fans were, especially disappointed after the cricketing ties could not be revived last year following a diplomatic stand off between the two countries.
Touted as the mother of all battles— Indo-Pak clash will take place in Mirpur, Bangladesh, on February 27 at the Asia Cup, which will be in its new avatar as a T20 tournament.
It will be the first time teams will vie for the Asian crown in the T20-format.
Not only, India and Pakistan will face each other at least twice in a T20I between February and April. They take on each other in the first stage of the Asia Cup and will also clash in the group stage in the World T20 2016.
The schedule of the tournament, which will begin on February 24 and end on March 6, will see India take on hosts Bangladesh in its opener. While India will play Pakistan in their second match, their third match is slated for March 1 against Sri Lanka.
All the matches will be played at Sher-e-Bangla National Cricket Stadium in Mirpur.
India and Sri Lanka have won the Asia Cup for the highest number of times. Both the teams have lifted the trophy five times while Pakistan have won it two times.
Schedule of the series:
24th February: Bangladesh vs India
25th February: Sri Lanka vs TBD
26th February: Bangladesh vs TBD
27th February: India vs Pakistan
28th February: Bangladesh vs Sri Lanka
29th February: Pakistan vs TBD
1st March: India vs Sri Lanka
2nd March: Bangladesh vs Pakistan
3rd March: India vs TBD
4th March: Pakistan vs Sri Lanka
5th March: Final