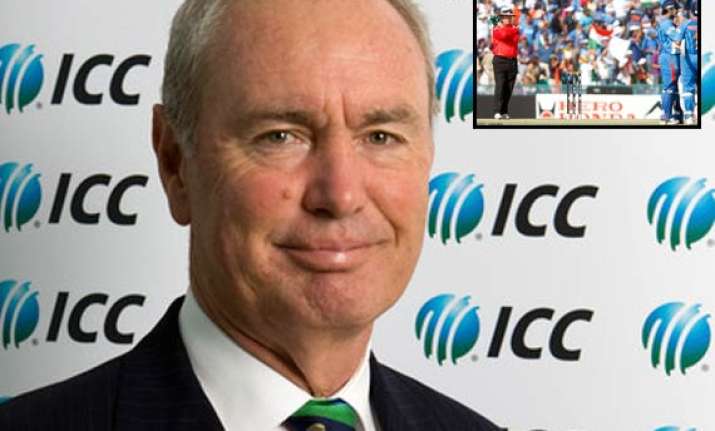 Wellington, August 15:  Criticised by former and current international players for being resistant to full use of Decision Review System, the India Cricket Board has found backing from the ICC President-in-waiting Alan Isaac who feels that the technology of the referral system was not foolproof.

New Zealander Isaac, current ICC vice-president and who will take over the presidency from India's Sharad Pawar next year, backed the BCCI's stance on the DRS, saying he too was not convinced that the technology works "well enough".

The BCCI has expressed its reservations over the ball-tracking (Hawke Eye) technology used for LBW decisions, saying it is not foolproof and Isaac felt the Indian board was "right".

"In my experience, they (BCCI) are very decent to work with. Around the DRS for example, the media have tended to give (India) the blame as to why the DRS is not being implemented, but it's not only them. I personally am not convinced the technology works well enough, so we've got to do something about that," Isaac was quoted as saying by Southland Times.

The BCCI, the other member boards and the ICC reached a compromise at the world body's annual conference in Hong Kong earlier this year, making the use of ball-tracking optional for each series while agreeing to use Hot Spot for every international game subject to availability.

Isaac also claimed the BCCI was right about many issues concerning cricket but divergent views in the media tend to give the impression that they are muscle-flexing and difficult to work with.

"Often when (India) hold a view, they are right, but various parts of the media have a different view, whether you're Geoff Boycott or whatever. So this perception has built up that A, (India) are hard to deal with and B, they control world cricket. But in fact they are good to work with and on the DRS I actually think they are right," he said.

Talking about the craze of cricket in India, Isaac said, "A little thing that was told to me to help me learn about this role: the president of cricket in India said to me, 'Alan you need to appreciate that only 99 per cent of Indians actually love cricket.

"It's really hard to explain. We think we're a rugby-mad country but there it's a religion. We saw Tendulkar up close in India, he was at a presidential reception and he had no space, they all just wanted to touch him."

Spot-fixing scandal involving Pakistani players plunged cricket into crisis last year and Isaac said a lot is being done to tackle the problem of corruption.

"It is challenging. Allegedly there is a whole lot of money being spent betting on sport, not just on cricket and betting on sport in India is illegal so it's not like you can manage it.

"In New Zealand, Australia or Singapore it's legalised betting and you can monitor more closely where bets might take place. Part of what we are doing is making sure the education is there, making sure the sanctions are there, there's a heck of a lot of monitoring that takes place.

"You will be aware that guys are not allowed to take their cell-phones into the dressing room environment and all those types of things. There's a lot of surveillance in place."