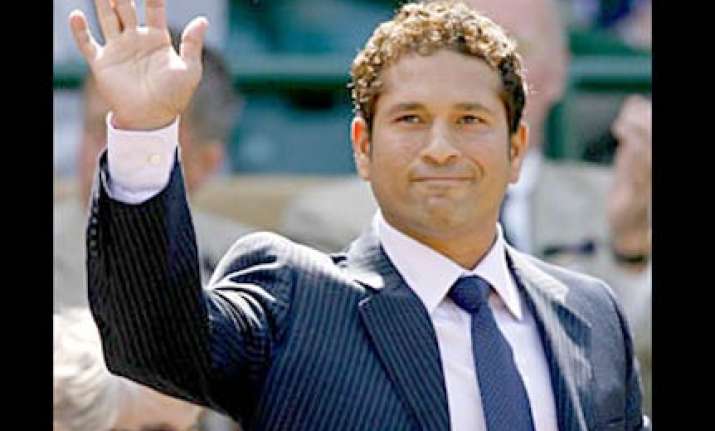 Legions of fans may adore him as god of cricket but Sachin Tendulkar insists that he is only a mortal who loves playing for his country.
"I'm glad so many people follow my career. But I am not a god. I just love cricket, playing for India," said Tendulkar, who completed 20 years in international cricket on Sunday. 
India opener Virender Sehwag had said Tendulkar was not just a legend of the game but was actually the god of cricket.
Incidentally, former Australia opener Matthew Hayden also once famously said, "I have seen god, he bats at number four for India."
Tendulkar said he was just a cricketer, who happened to enjoy the support of a sea of humanity.
"I'm an individual but there is a huge force behind me, a big team. My teammates, family, kids, friends and fans. When I go out to bat, I play on their behalf," he said.
"I had not thought of playing for so long for the country but thanks to the support from all quarters I could play for 20 years for my country," he told a news channel. In his illustrious 20 years of international cricket he has broken numerous batting records but Tendulkar said twice in his career he had thought his career was over.
"The first one was on my first Test against Pakistan. I scored just 15 and I thought whether I would get the chance to play the next match but I got. When I scored 58 or 59 in the second Test I was relieved," he said, recollecting that match in Karachi on November 15, 1989.
Sachin Tendulkar on Sunday completed 20 years in international cricket and became the first Indian and only the 16th in the history of the game to have a career spanning more than two decades.
Tendulkar, who made his debut as a 16-year-old against Pakistan way back in November 15, 1989, will reach the milestone of 20 years and one day in international cricket when he comes out to play against Sri Lanka in the first Test of the three-match series in Ahmedabad tomorrow.
In his Test career spanning 19 years 143 days till date, Tendulkar has represented India in a record 159 Tests.
He also played a record 436 50-over matches in his 19 years and 325 days one-day career, thus becoming only the second player after Pakistan's Javed Miandad to have the longest ODI career.
The Indian batting maestro is also the only active cricketer to feature in the longest Tests career list and at 36 years of age he is still going strong.
In his two decades long career, Tendulkar had written many records which catapulted him to the honour of being the milestone man.
Even though he holds the record of being the highest run-getter and century maker in both the Tests and ODIs, he is everlasting hunger for runs knows no boundary.
A perfectionist by nature, Tendulkar has till date amassed a staggering 12,773 runs from 159 Tests at a robust average of 54.58 with a mindboggling 42 centuries and 53 half centuries.
His record in ODIs are too unmatchable. The Mumbaikar recently achieved another milestone when he became the only batsman in the history of the game to break into 17,000 run mark.
With a mammoth 17,173 runs from 436 ODIs, Tendulkar is in the threshold of another feat as he is just nine centuries short of touching the magical figure of 100 tons.
Tendulkar is also just 54 runs short of becoming the only batsman in the world to score a whopping 30,000 run in international cricket -- combining both Tests and ODIs.
Tendulkar's special talent was evident right from his school days after he notched up an unbeaten 664-run stand with buddy Vinod Kambli in the Lord Harris Shield Inter-School Game in 1988.
The diminutive right-hander's colossal batting exploits have completely overshadowed his utility as a part-time bowler who has 44 Test wickets and 154 scalps in ODIs.
If there was any grey area in Tendulkar's canvas, it has been his captaincy and despite having two jabs at it, he preferred to shrugg it off his shoulders to concentrate on his batting, which only blossomed once he shunned the leadership duty.
But despite his success and worldwide fame, Tendulkar remained a firmly grounded man. Just like a true champion, he never allowed fame and adulation to get on to his head and effect his batting.
 Till today he continues to be a keen learner of the game and spends hours in the net to finetune his batting crafts, although there is hardly anything left for the champion batsman to master. PTI