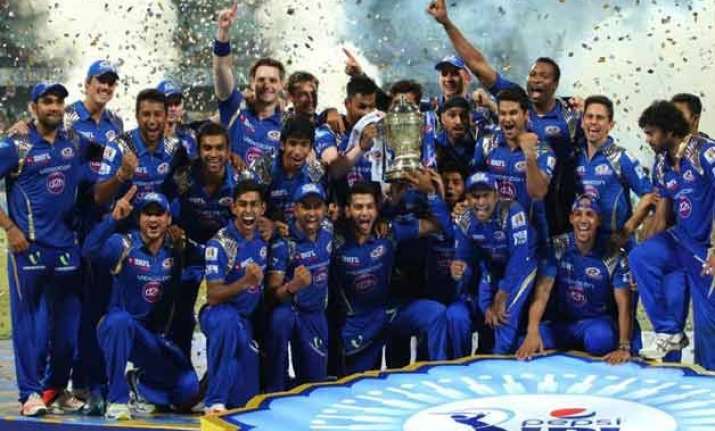 New Delhi: Started as underdogs, Mumbai Indians won their second IPL title with a convincing win by 41 runs over Chennai Super Kings on Sunday.
The champions would be returning back home on Monday where a grand felicitation ceremony awaits at Wankhede Stadium.
All the roads today will lead upto Wankhede, MI's home venue where the entry will be made free for the fans to join the program. 
The event is scheduled to begin at 7:45 pm as tweeted by Mumbai Indians on their official twitter account.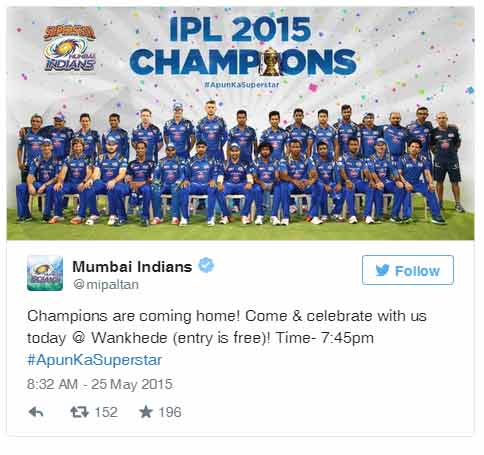 After huge crowd in the final at Eden Gardens to support Mumbai, the evening show today is expected to be a full house.
This will be an opportunity for all the Mumbai fans to relive the 2013 moments when they won their maiden IPL title against the same opponents at the same venue of Kolkata.
The streets were filled with fans who came out with their face painted in team colors, flags in hands and dancing to hail their favourite stars. They also won Champions League T20 in the same year.
Mumbai Indians are now the second-most consistent team of IPL history after CSK. They made it to the play-offs 6 times out of 8 and won 2 finals out of 3.