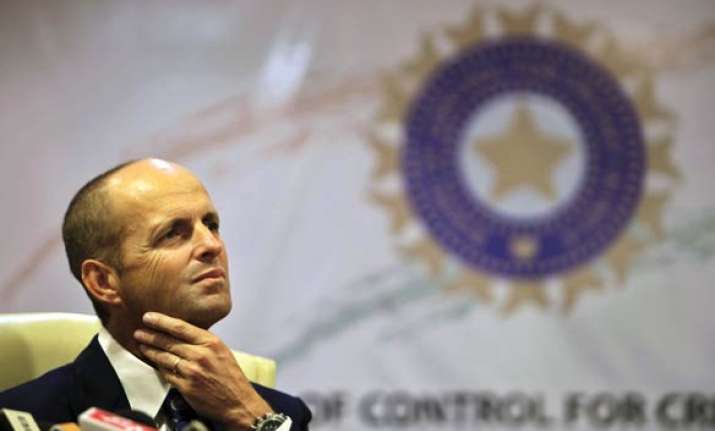 Mumbai, Apr 5: Proud of the Indian cricket team's achievement in the last three years of his association, outgoing coach Gary Kirsten today said he was leaving the job with a heavy heart and with a lot of cherished memories.  "It's one of the most cherished experiences of my life.
We wanted to be the no. 1 ranked Test team in the world and win the World Cup and we have achieved both these goals. It has been a massive privilege to be part of Team India," Kirsten said at his farewell press conference here. Kirsten had a successful three year stint with the Indian team during which Mahendra Singh Dhoni's men not only reached the pinnacle of Test rankings but also lifted the World Cup title after 28 years, last week.
Kirsten, who seldom interacted with the media right through his tenure, spoke for more than half an hour on various topics relating to his job and outside today.  He praised the the leadreship qualities of triumphant Indian skipper Dhoni and termed the Ranchi-born wicket-keeper batsman as the best current captain in world cricket.

"For me MS (Dhoni) is one of the greatest leaders of this country. It has been an honour to work with him over the last three years. I thank him for his support and friendship. He's easily the best captain in world cricket today," Kirsten said. The former South African opener also endorsed the widely held view that Dhoni was the quintessential "Captain Cool".

"He's (Dhoni) the leader by example. He always gives 100 per cent and expects his troops to be ready for battle. He is calm and level headed. I have never seen him lose his temper, he takes on responsibility. (There's) no reason for him to move on...he can be captain for many years," Kirsten said. The outgoing coach did not forget to mention the enormous contribution of all the team members during his three-year tenure.

Terming Sachin Tendulkar as the "greatest sports model" he had ever met, Kirsten said the master batsman's humility and dedication was a thing to watch out for.  "To Sachin, I want to say thank you for your friendship. You are the greatest sports model I have ever met. Your humility, work ethics and sheer love for the game have been a real pleasure to watch," he said.

"To all the players who have played for Team India in the last 3 years and in particular the World Cup and the current Test squad, I say you have represented your country seriously and you have taken massive efforts to reach this goal," he added. Kirsten was not certain whether Tendulkar would be around for four years to defend India's World Cup crown in Australia and New Zealand but said the master batsman was still enjoying his cricket a lot.
"He will be 42 then. It would be great if he can do it.  He is getting old and will have to pick and choose his games and can't play all. He's still enjoying his cricket and it's great leaving the team with him enjoying his cricket," the 43-year-old former player said.
Before taking questions from reporters, Kirsten read out a prepared statement in which he said that he loved India, its people and the way they had embraced him and his family which made it one of the hardest goodbyes he has ever had to say. "This is one of the hardest goodbyes I have had to make.  India would always remain a part of my life and future. I will return many times. I thank the people of this beautiful country who accepted me and my family with open arms," said Kirsten.

Though as a player for South Africa, Kirsten did not win any World Cup title, his coaching stint has provided him with one cherished triumph and he said he would always savour it.  "As a player I wanted to win the World Cup which never happened. This is the second best, to win as a coach. It was an amazing achievement to be a part of this special group of cricketers," he said.

Kirsten came into the job with no coaching experience but turned out to be the most successful for India and the South African said having no prior experience probably worked to his advantage.

"(It was) interesting coming into the job without coaching experience. Played cricket against some of them and gained some respect from my playing days. "I used the reference of being a player to work with the team. I tried building trust in the environment," he said about the secret of his success. PTI