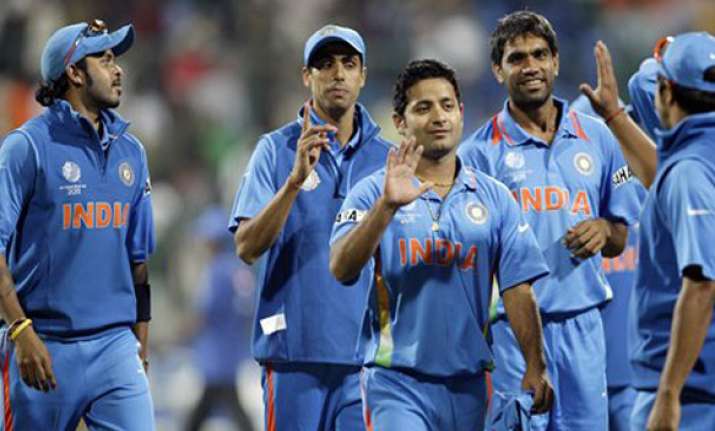 Bangalore, Feb 14 :  Piyush Chawla spun India to victory against Australia with four wickets in the warm-up game on Sunday,  but his captain Mahendra Singh Dhoni said the leg-spinner will also have to perform with the bat if he wants to play a vital role in the World Cup.

Dhoni said it was heartening to see Chawla (4/31) bowl but reminded the leggie that he was included in the 15-member World Cup team as a spinning all-rounder.

"It was good to see Piyush (Chawla) among wickets today but he needs to contribute with the bat as well. If he can contribute 15-20 runs with the bat it will be very helpful for the side," Dhoni said in the post-match press conference after India beat Australia by 38 runs in a warm-up game.

"But as a specialist spinner he has done really well," he said of Chawla, whose inclusion in the 15-member Indian World Cup squad was hotly debated. Stating that there has been healthy competition in the team for places in the playing eleven, Dhoni said performance of the middle-order still remains a concern going into the mega event.
Watch Video

"It's a bit of headache whom to play and whom not to play with the kind of talent we have in the team but it is good for the team. We need a good start and the middle-order need to contribute," he insisted. "The positive thing from the match is that only two batsmen contributed and we still scored 214 runs. The
performances of spinners are also a positive that has come out," Dhoni said.

He also lauded right-arm pacer S Sreesanth for his fiery spell upfront. "It was good to see Sreesanth bowl really well," Dhoni said. India ended on the winning side but Dhoni said the Chinnaswamy track it was not the ideal wicket for one-day cricket.

"It was a tough wicket to bat. Initially the ball was coming onto to the bat when the pacers were bowling but then it started to spin big. It is a dream wicket for Test cricket," he opined.

The Indian captain also informed that there was nothing to worry about Sachin Tendulkar and Zaheer Khan who did not play today as they are suffering from minor niggles.

"Sachin and Zaheer had very minor niggles, nothing serious. Sachin will probably play the next warm-up match (against New Zealand in Chennai on February 16) but Zaheer we will have to see. If he (Zaheer) is 100 per cent fit he will definitely play otherwise he won't because we want him for the first World Cup game," Dhoni said.

Australian captain Ricky Ponting agreed with his Indian counterpart on the Chinnaswamy track and said it was not an ideal ODI wicket.

"It was a tough wicket to bat. It was an unusual ODI wicket. I don't remember if an ODI wicket has spun that way," he said. Ponting was full of praise for his pace battery but said the Australian batsmen need to raise their game. "We should have played better even on these conditions. But our quick bowlers, especially Brett Lee and Doug Bollinger did a good job. (Jason) Krejza will learn from his outing today," he said. PTI