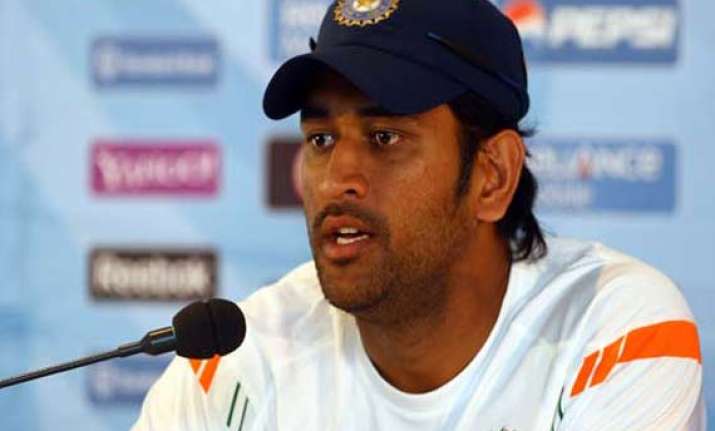 London: The raging controversy over James Anderson's alleged altercation with Ravindra Jadeja today gained momentum with India captain Mahendra Singh Dhoni hitting out at the English fast bowler, stating that he was the one who crossed the line during the first Test.
Anderson is said to have abused and pushed Jadeja on the way to the dressing room inside the pavilion during the lunch break on day two of the Nottingham Test.
"It (abusing and pushing Jadeja) is not something that we have done. Let's realise this fact," Dhoni said ahead of India second Test against England, starting at Lord's here tomorrow.
"Like in a press conference you can ask me tough questions. I have the right to answer them or not to answer them, but in no way can I go and touch you. Or you can come and touch me. You can put it in whatever way you want to but there are certain things that need to be followed, and it should be followed.
"We talk a lot about the spirit of cricket and everything else, and there are guidelines that need to be followed. There have been a few individuals from our side too in the past who have crossed this line. You can be aggressive, you can be vocal, but there are certain guidelines that are laid out and we should follow that," added the Indian captain.
A level 3 charge has been levelled against Anderson and if found guilty by the ICC's judiciary committee he will miss at least two and a maximum of four Tests. The ICC has not set a date for the hearing and with a short turnaround time between the first two Tests, Anderson will be playing at Lord's tomorrow.
However, the gravity of the charges levelled isn't lost on anyone.
"Definitely, we think so," replied Dhoni, when asked if the incident was serious enough to amount to physical abuse.
When asked specifically if Jadeja was in any way to blame for that incident, Dhoni replied, "No, I don't think so.
"It was good on Jadeja's part to not really do something in retaliation. It could have gone a bit far, but I felt he addressed this in the most appropriate manner. That's something we will have to learn and move forward.
"Someone has to back off at the right time. At the end of the day we play sport and lot of people look up to us, and there is a lot of responsibility on us," he added.