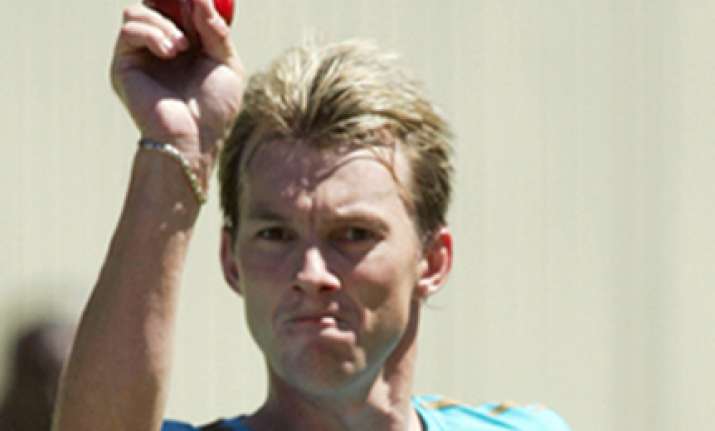 Architect of New South Wales' Champions League Twenty20 triumph, blond speedster Brett Lee said he always strives to rise to the big occasions and it was immensely satisfying to shine in Friday's final against Trinidad & Tobago in Hyderabad.
NSW were in tatters before Lee's 31-ball 48 powered them to a competitive 159 for nine and the tearaway pacer returned to claim two early wickets to unhinge T&T.
Lee, who bagged both the Man of the Match and Man of the Series awards, said he is a big-match player and is happy to have made his mark in the all-important summit clash.
"I think my game is coming up well and I'm enjoying it. I live for special moments like this and want to do well in big moments. When the crowd gets behind me, it becomes special and I'm happy I did well tonight," said the pacer.
Lee said 130-140 would have been a defendable total in the final and to get near the 160-mark was a bonus.
"I was trying to closely watch the balls. I knew if I stuck around we'd get some runs. We aimed at 130-140 but got 160 on the board which was quite defendable," said the pacer.
Overall, Lee said, it was a great experience and he thank T&T for their splendid performance in the tournament and the fans.
"I've thoroughly enjoyed it. Thanks to T&T and 'Shukriya' to all the fans," he said.
Victorius NSW captain Simon Katich described it as a "very proud moment" but was gracious enough to praise the opponents.
"It's a very proud moment. Congratulations to T&T, who showed what they're worth. Thanks for a great final," he said.
Crediting Lee and Steven Smith, who hit a defiant 33, for propping up the side, Katich said the team raised their game when defending the total.
"Brett Lee and Steven Smith were great with the bat and then everyone chipped in. We created opportunities and the guys fielded brilliantly.
"The opportunity to play on the world stage has been fantastic. Its been invaluable for the young guys," he said.
T&T skipper Daren Ganga conceded NSW played better cricket tonight but was proud of his own team's show.
"It was a good run for us and all credit to NSW. We cracked under pressure. A lot people are disappointed but that is how it goes," Ganga said.
"A lot of people back home are proud of us. Thanks to the Indian fans for supporting us. We have memories of the support and the fans and this will make a huge difference to the guys, and will inspire many players back in the Caribbean," he added.