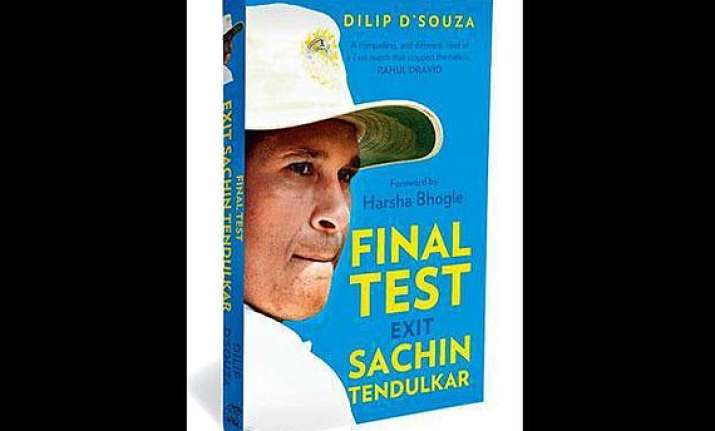 New Delhi:  Sachin Tendulkar's final Test appearance has been revisited in a new book which tries to capture all the excitement and emotion during the two and a half days of the match.
"Final Test: Exit Sachin Tendulkar" by writer-journalist Dilip D'Souza is a close scrutiny of Tendulkar's last Test played at the Wankhede in November last year. Besides minute details of the match, both on and off-field, the writer also teases out larger issues that plague the game, in India as well as overseas.
He builds on close and detailed observation of those two and a half days, capturing all the hysteria it spawned, the love and adulation that showered from the rafters at the Wankhede and the choking emotion.
"Final Test" discusses cricket from the old to the new, as Tendulkar took to the pitch one final time. "It's tough to find words to describe what the crowd is doing, as he walks down the stairs and onto the field… We all knew this moment would be the loudest, most raucous of all - besides being worthy of capturing on virtual film - and yet even so I don't think I could have anticipated the wall of sheer noise that rises out of the stadium," he says about the crowd anticipating Tendulkar on the field.
"It's an almost physical presence, this song of adoration for this icon to a country. It's almost as if Tendulkar has to push through it, part of crashing waves, to find his way to the middle," he writes.
Tendulkar scored 74 in the only innings that he played in the match. India won the match by an innings and 126 runs. "Could Tendulkar have left the game like that? All through this last Test, his fans have plotted ways that they'd get a final glimpse of him   yet another final glimpse of him. Given that, they'd have been hugely disappointed had we all, together, not played out this extended goodbye.
"No, the conclusion seems inescapable. He might have chosen the venue and the time, but the manner of his departure was not his to choose. As Anjali Tendulkar confessed in an interview during the Test, she has got used to the idea that her husband belongs first to India, then to her and his family," the book, published by Random House India, says.
Sport, according to the author, is invariably filled with instantly proclaimed historic moments, of course: a rare Indian Test win at Lord's, or Nadal knocked out of Wimbledon early.
"Not all such moments stand the test of time. But with the hold he has on Indian hearts and minds, Tendulkar walking away from cricket is a historic occasion pretty much by default. You can argue endlessly about who is the greatest Indian cricketer - there are cases to be made for more than a few. But about which one is worshipped most widely - worshipped, period - there's simply no argument," he says.
D'Souza then goes on to describe the presentation ceremony after the match. "*** 'THANK YOU SACHIN!'", on the screen for a while, fades to an image of Lara, Chanderpaul, Gayle, and Tendulkar from somewhere in the innards of the Wankhede. The crowd cheers loudly. Lara gives Chanderpaul some kind of memento for playing in 150 Tests (he himself played 131). Then some kind of trophy to Tendulkar. Then two sticks to play that trophy like a xylophone.
"…
About 15 minutes after he vanishes up the Wankhede stairs, Tendulkar walks down them again. This time, he's accompanied by his wife Anjali and his children Sara, in red, and Arjun, in cricket whites. Behind him is the Indian team, all of them applauding as the crowd breaks into 'Sa-chi-i-i-n, Sachin!'," he writes.
According to the author, the nation's fixation on this one cricketer is mainly because of his record and run-scoring ability and also due to his modesty and class.
He says Tendulkar's aura outstripped all of his teammates and contemporaries. "Later teammates Ganguly, Kumble, Dravid and Laxman played substantial roles too, winning India Tests across the world.
But because Tendulkar arrived so early and shone so young, his aura outstripped them all. Is this unfair to these men and their own achievements? After all, adulation like we expend on our cricket heroes is never even-handed - but it's unfortunate rather than unfair. Supernovas outshine even other bright stars, which is the way things just are," he writes.
The writer claims Ganguly, Dravid et al have come to terms with their places in an Indian cricket pantheon "where there is worship for Tendulkar", and there's whatever else. "None of them got, or indeed would have got, the kind of farewell that Tendulkar did. Yet I suspect none of them would have wanted the farewell Tendulkar got: this series jimmied into the regular schedule, the hand-picked venue, the mediocre opposition, the assurance of being selected for a final two tests, the over-the-top hype. Instead, they exited without fanfare," he claims.