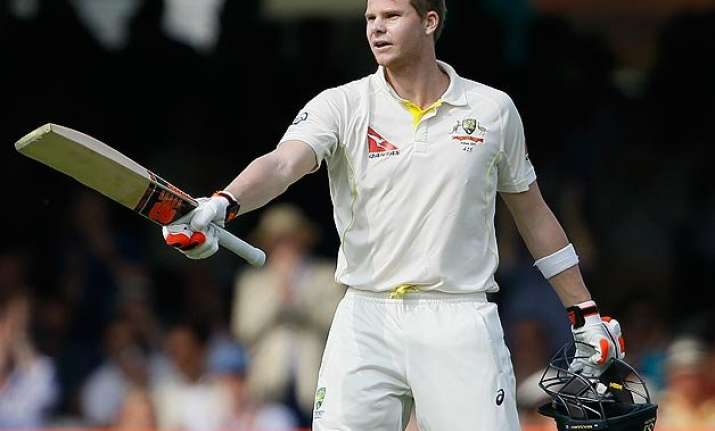 London:  Australia roared back into Ashes contention with a powerful batting performance on the first day of the second test on Thursday.
Opener Chris Rogers and Steve Smith scored fluent centuries as Australia closed on 337-1.
It's the first time in 22 years that England has taken only one wicket in a day in a test. At the close, Rogers had a test-best 158 not out, and Smith was unbeaten on 129.
After the 169-run defeat in Cardiff last week, Australia's performance on Thursday was the perfect response to captain Michael Clarke's pre-match appeal for his team to show confidence and aggression.
England took the only wicket on 78 in the first session, when David Warner had a rush of blood after hitting spinner Moeen Ali for two boundaries. He attempted a lofted drive from the last ball of Ali's first over, and skied the ball to James Anderson at deep mid-off for 38.
Rogers and Smith offered half-chances to England but they were not taken. Ian Bell, in particular, should have caught Smith at second slip on 51, but he could not hold on to the low chance.
Occasionally troubled by England's pace bowling, the two exploited numerous loose balls. Smith scored 13 fours while Rogers, who reached his century a few minutes after Smith in the final session, hit 25 boundaries.
Rogers, at 37, is retiring from international cricket at the end of the five-match Ashes series. He has had a sporadic career, playing once in 2007 and not being selected again for another six years when he was recalled at 35, when he was top-scorer in back-to-back Ashes series.
The left-hander flashed at the third ball of the day and was lucky to see the edge fly just over England's slip cordon. After that, he offered little to England.
At lunch, Australia scored 104 after winning the toss. Unlike Cardiff, the Lord's pitch held few demons and there was little swing for England's bowlers to make use of.
Australia dropped allrounder Shane Watson and replaced him with Mitchell Marsh, who has already scored two centuries on tour in England. Wicketkeeper Brad Haddin pulled out, citing "family reasons," and was replaced by debutant Peter Nevill.
England bowled well in the afternoon session, and restricted Rogers and Smith to 87 runs in 30 overs, but could not dislodge them.
Australia accelerated as the bowlers tired. Smith sent the august members in the Lord's pavilion scattering with a sweetly struck straight six. He pipped Rogers to the century, reaching his in 161 balls and nine fours. A few minutes later, Rogers celebrated his fifth test century, reaching his in 209 balls in an innings that included 17 fours.
Australia scored 146 in the final session of 33 overs, as Rogers' and Smith's partnership of 259 continued until the close.
England captain Alastair Cook used seven bowlers, but a combination of strong batting and a placid pitch meant Australia was set for a big first-innings total.