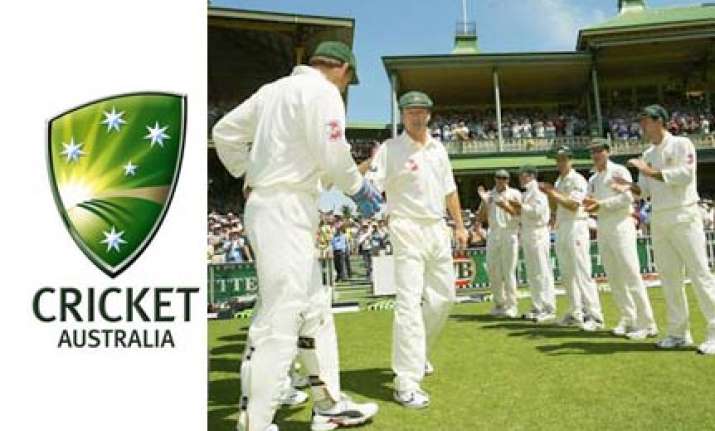 Day and night Test cricket could be played in Australia as early as 2011 after successful trials of a revolutionary new finish that allows the white leather ball to keep its colour.
"It's a real breakthrough for us," the Age quoted Rob Elliott, managing director of Kookaburra Sport, suppliers of Test balls to Australian cricket since 1946.
"The early trials show clear evidence that the ball is not scuffing or deteriorating as much, thanks to this new finish. Our laboratory staff are very excited," Elliot added.
"It can open a new vista for cricket as we know it, with TV rights, sponsorships and new waves of support," he said.
Cricket Australia CEO James Sutherland said cricket has been searching for years for a ball which acts and wears like a traditional red ball.
"It's only early days with all the trialling, but there's no doubt we are looking to play Test cricket into the evenings so more can see it. We want to have more options and more flexibility with our scheduling. It's all about growing the game," he said.
Match trialling at Sheffield Shield level is possible next season. But the Ashes tour dates have already been finalised and will remain strictly day fixtures.
"If the players embrace the ball and the integrity of the game is unaffected, it's a win-win situation for everyone," said Elliott.
Day-night Sheffield Shield matches using orange balls were trialled 15 years ago. But players were unconvinced by the experiment, most saying the ball "hooped around" too much, especially in the early evening hours.
Kookaburra Sport and scientists from the CSIRO are among a coterie of partners, in Australia and overseas, working with Cricket Australia to provide a ball suitable for day-night conditions.
England has scheduled a day-night Test against Bangladesh in 2010 hoping by then for a ball of sufficient quality to be developed which would last 80 overs.