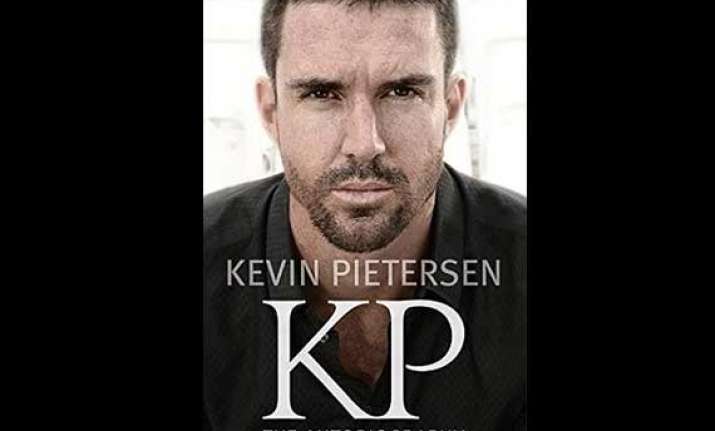 New Delhi: Kevin Pietersen has launched a brutal attack on Andy Flower and singled him out for his unceremonious exit from England team.
Flower, who guided England to No 1 in the rankings and three Ashes victories, is relentlessly hammered in Pietersen's new autobiography and described, among other things, as a 'Mood Hoover', who sucked the life out of the dressing room and helped divide it.
Wicketkeeper Matt Prior is his other main target, portrayed with contempt as the 'Big Cheese' who stirred things up against Pietersen and was part of a bullying culture against other players as well.
Graeme Swann is described at one point as a 'sad, sad b*****d' and someone who picked on other players. Alastair Cook is largely spared the vitriol, although Pietersen gives a picture of him as a bumbling leader out of his depth.
Swann was swift to hit back, saying: 'I was expecting the greatest work of fiction since Jules Verne, and I wasn't disappointed.'
The book — KP: My Autobiography — would appear to end Pietersen's stated hopes of finding a way back into the England team.
The ECB declined to comment, though there appeared to be some relief that the attacks were not more wide-ranging. 'There was a small earthquake yesterday and nobody died,' said an ECB source.
The man in the firing line more than anyone is Flower, who is berated throughout a book that mainly dwells on the troubled episodes that marked Pietersen's final years.
Among the charges he levels at the Zimbabwean is a failure to stop Swann, James Anderson and Stuart Broad developing a bowlers' clique, which he felt alienated other players along with Prior.
He maintains that the incident involving texts about Andrew Strauss stemmed from his anger at a spoof Twitter account which he believed was being fuelled from within the dressing room.
Flower is accused of treating Pietersen like 'something stuck to the sole of his shoe'. He describes him as a 'contagiously sour' and 'infectiously dour' character who treated the players like naughty schoolboys. He claims the coach wanted to 'neutralise' him from the start of his reign and 'keep me on the periphery until such time as he was ready to show me the door'.
Matters came to a head on the last night of last winter's Ashes tour in Sydney when they had an angry meeting full of recrimination that eventually led to his sacking by England.
Prior is regarded with a mixture of ridicule and contempt, talked of as the Big Cheese who was a 'Dairylea triangle thinking he was Brie'. More seriously, he claims the wicketkeeper undermined more vulnerable team-mates in the field by criticising them, leading to one incident when Jonathan Trott swore back loudly at him.
On Monday Prior tweeted: 'I'm looking forward to reading the full book. Might bully my kids into getting it for me for Xmas!! Obvs sad to see the accusations against me and I WILL have my right of reply! However today is not the day and Twitter is not the place for it!'
Swann is portrayed as the leader of a clique who slaughtered their colleagues in the event of a misfield or a dropped catch.
Speaking at a NatWest function at Lord's, Swann countered: 'I immediately realised it was codswallop when I read the character assassination of Matt Prior.
Tragically, I don't think Kev realises the one person who fought tooth and nail to keep him in the side is the one person he is now assassinating: Matt Prior. Kevin has been quite clever because the guys still playing he has left alone and he hopes to get back in again one day.'
There is surprisingly little animosity towards Cook, although plenty of condescension about someone he sees as sincere but mainly as a puppet of the governing body.
Former chief selector Geoff Miller said: 'To my knowledge, there was no atmosphere of bullying within the England set-up. What we tried to do was pick the best squad to create the best atmosphere to win matches.'
Former England all-rounder Dominic Cork, his former skipper at Hampshire, was less sympathetic, telling talksport: 'Do I think Kevin Pietersen was personally bullied? No. He was the person who had his own seat on the bus, and no one else could sit on that seat because that was Kevin's seat.
'Andy Flower took England to No 1 in the world so he did something right. There was a clash of personalities, they didn't get on, so this is about getting back at Flower. Just remember — Kevin Pietersen, during his time in England, has left a trail of destruction wherever he has been.'