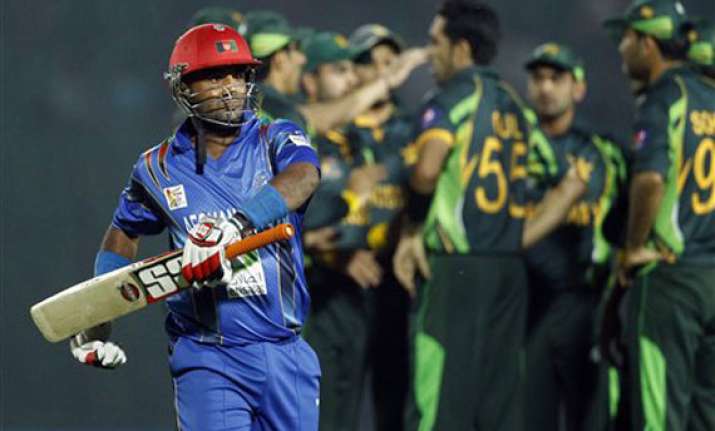 Fatullah, Bangladesh: Umar Akmal whacked his first one-day international century in more than four years as he and Pakistan's spinners spoiled Afghanistan's maiden Asia Cup appearance with a clinical 72-run victory on Thursday.
Akmal's unbeaten 102 off 89 balls led Pakistan to 248-8, then Mohammad Hafeez, Saeed Ajmal and Shahid Afridi shared six wickets to bowl out Afghanistan for 176 in 47.2 overs.   
Afghanistan had Pakistan on the ropes at 117-6 before Akmal took charge, notching seven fours and three sixes for his first century since an unbeaten 102 against Sri Lanka in 2009.   
Opening batsman Noor Ali Zadran top-scored for Afghanistan, hitting seven fours in his 44, but the batsmen struggled to read the variations of Hafeez (3-29) and Ajmal (2-25) and lost their last four wickets for only four runs.   
Asghar Stanikzai labored for 91 deliveries for his 40 before falling to Afridi as the spinners never allowed Afghanistan to score freely.   
"The bowlers put in a great effort, especially the three spinners," Pakistan captain Misbah-ul-Haq said.   
Afghanistan, which has qualified for the World Twenty20 next month and the World Cup in 2015, exploited Pakistan's shaky top order after captain Mohammad Nabi won the toss and elected to bowl first.   
The opening pair of Ahmed Shehzad (50) and Sharjeel Khan (25) provided a decent start of 55 before the innings disintegrated mainly due to poor strokes.   
"The shot selection from the batsmen was disappointing," Misbah said. "They did not read the pitch very well and were playing like how it behaved in the first match. They were eyeing the kind of total in the first game, but this was turning and playing low as well."   
Khan, Mohammad Hafeez (10), Sohaib Maqsood (13) and Afridi (6) all fell to reckless shots while Samiullah Shenwari clean-bowled Shehzad off a flatter delivery in his first over soon after the opener completed his 50.   
Misbah was run out in bizarre fashion without facing a delivery in a mix-up with Maqsood, who first called for the run but slipped after taking a few steps, and both batsmen ended up at the striker's end.   
Ali, the only change made by Pakistan from the team that lost the opening match by 12 runs against Sri Lanka, dragged the total to 146 before Shenwari could not hold onto Akmal's skier off left-arm fast bowler Shapoor Zadran in the second batting powerplay when the batsman was on 28.   
"When the ball was going in the air I was hoping it would get dropped and I would continue my innings," Akmal said after receiving his man of the match award.   
"When I was batting, the messages I was getting from the dressing room were to stay till the end.   
"It's one of my best innings and hopefully, I will get more opportunities like this."   
Akmal pounced on the dropped catch and completed his half-century off 60 balls before Ali was brilliantly caught by former captain Nowroz Mangal, who ran back from mid-off and plucked a two-handed catch.   
However, Akmal upped the scoring rate at a brisk pace by raising his second 50 off a mere 28 deliveries by hitting five more boundaries and two sixes as Pakistan made 84 runs in the last 10 overs.   
"Umar Akmal played very well in the end to put a big total on the board and his drop was the turning point," Nabi said.   
Sri Lanka, which defeated Pakistan by 12 runs on Tuesday, takes on India on Friday. India defeated Bangladesh in its opening match by six wickets.