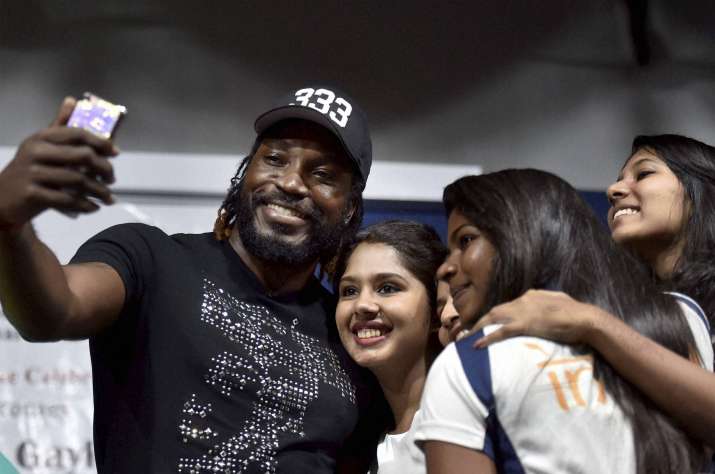 Chris Gayle is a bowler's nightmare in Twenty20 cricket. No wonder then that the Royal Challengers Bangalore batsman is among the most loved by the cricket fans who cheer every time he hits a boundary or a six.
No score is beyond reach when this brute force is on the batting crease.
Known for his hard hitting power play, all eyes will be on Gayle today when he comes out to bat in the opening match of IPL 2017 against defending champions Sunrisers Hyderabad.
As popular as he may be, one wonders if he will be able to command the respect by the bowlers of Sunrisers Hyderabad?
Well, the stats of his performance in the last three seasons are against the batsman. The Jamaican batsman, who boasts of the feat of hitting seven or more tons in the Twenty20 format, is apparently losing sheen.
During IPL 2016, Gayle scored 227 runs in 10 matches, with an average of 22.7. This was the second worst performance of Gayle, the first player to hit a hundred in Twenty20 cricket.
His worst performance was in the IPL 2014, with an average of 21.77.
Even his performance in the year 2015 was lower than his overall IPL average of 43.36. In the season, the star batsman scored 491 runs in 14 matches, scoring 40.19 runs per match.
In Cricket, however, facts are just numbers, and one good day can change the fortune of an individual or a team.
He is the same Gayle who shattered all the records in the IPL 2012 by pilling up as many as 733 runs with the help of 56 sixes and 46 fours. In the next season i.e IPL 2013, he played an unbeaten knock of 175 against Pune Warriors India.
Irrespective of what facts say about the present and past performances of Gayle, all eyes would remain on the star batsman of Royal Challengers Bangalore in today's opening match.
Royal Challengers Bangalore will play against Sunrisers Hyderabad in their home ground at 8 pm today.