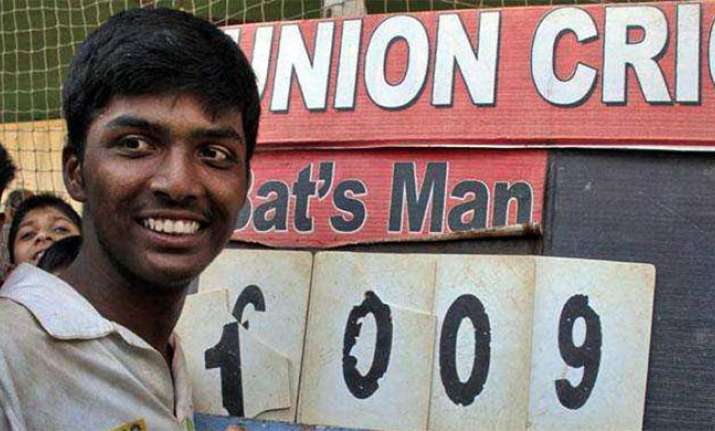 Mumbai-based prodigious cricketer Pranav Dhanawade, who once grabbed nationwide attention for scoring 1009 runs in an innings of an under-16 school match, has reportedly quit the sport due to a slump in his form.
Son of an auto rickshaw driver, Pranav was offered a scholarship of Rs.10,000 per month by the Maharashtra Cricket Association (MCA). However, his father returned the offered money after Pranav's form started dipping in subsequent matches.
Pranav's father said the cricketer can get a scholarship easily once he gets back to his form. "We are thankful for the scholarship that the MCA announced when he created a world record with his unbeaten 1009. Since Pranav has not performed to expectations in the last one and a half years, it is not right for us to accept the MCA scholarship. If Pranav performs well later, the MCA can think of awarding him a scholarship. As of now, I request you to discontinue it with immediate effect," he stated.
The past one-year tormented Pranav to the core and despite many attempts, he failed to regain confidence. After facing ouster from MCA under-16 squad and returning home from the national camp with low confidence, Pranav's private sponsors also refused to support him and he eventually lost his focus.
Hoping that the new year will bring back Pranav's lost form, his coach Mobin Sheikh said: "We all are motivating him. The main thing is that he seems to have lost his focus. Constant criticism also has been one of the key factors for his decline. But I am hopeful that Pranav will reorganize himself and deliver good cricket from the next year."