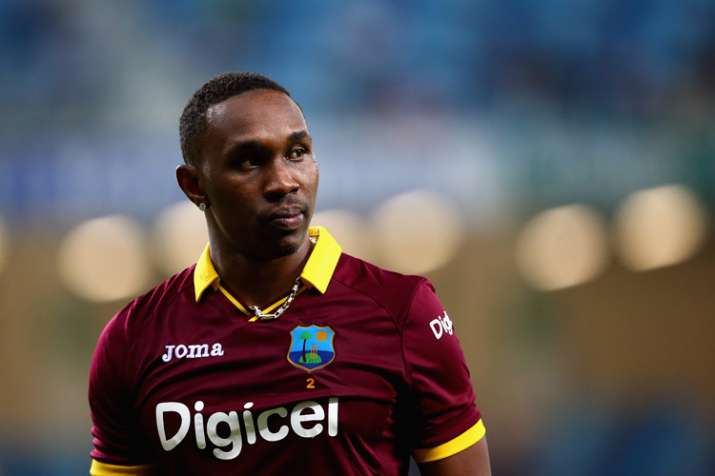 West Indies all-rounder Dwayne Bravo today made a sudden announcement of his retirement from international cricket. He, however, will continue to play T20 franchise cricket all over the world. At 35 years of age, Bravo has mostly been out of the international West Indies side due to numerous issues with the West Indies Cricket Board (WICB)
Recently the WICB released a list of 25 probables for the next year's ICC World Cup which didn't include Bravo's name. This might have triggered the all-rounder to retire earlier than he would have hoped. A statement from Bravo was published in Trinidad and Tobago newspaper, Newsday that read: 'Today I want to confirm to the cricket world that I have officially retired from international cricket in all formats of the game. After 14 years when I made my debut for the West Indies, I still remember that moment I received the maroon cap before walking onto the Lords Cricket Ground against England in July 2004. The enthusiasm and passion I felt then, I have kept with me throughout my career.
"However, I must accept that for me to preserve my longevity as a professional cricketer, I must do as others before have done, leave the international arena for the next generation of players.
"I thank the countless persons who were instrumental to my success, particularly my family and QPCC where I developed my skills at an early age. I thank the many loyal fans who continue to support my journey and who recognize my efforts on and off the field. I am extremely fortunate to have a career that has taken me across the globe into the most prestigious dressing rooms sharing experiences with all the recent legends of this glorious game. I will continue my professional career as a cricketer and entertainer living as a true champion," Bravo concluded.
In a career that spanned across 14 years and 270 international matches, Bravo has scored more than 6000 runs while taking 337 wickets proving to be a genuine all-rounder for his nation. But of late his career has mostly been noticed for piling up impressive performances for T20 leagues all around the world including the Indian Premier League (IPL) where his skills as a shorter-format player blossomed to the fullest.
DWAYNE BRAVO RETIREMENT STATEMENT:

Today I want to confirm to the cricket world that I have officially retired from International cricket in all formats of the game.
After14 years . @ricardolpowell @sportsflashes @BCCI @windiescricket @ICC pic.twitter.com/UQYYfQTqvR

— realricardopowell (@ricardolpowell) October 25, 2018