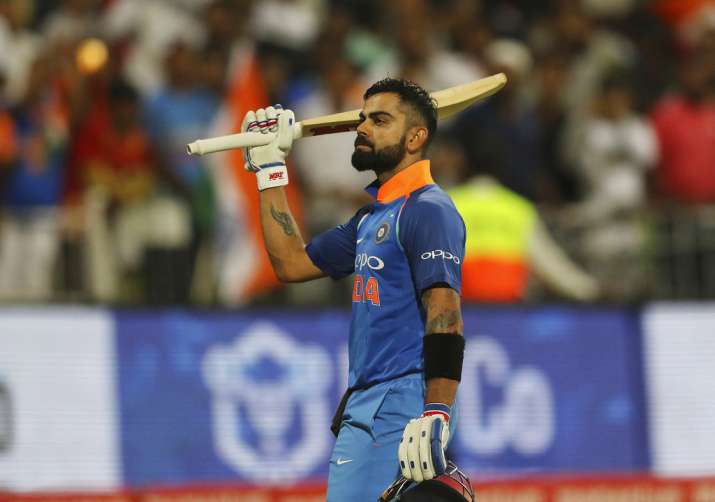 Pakistan national cricket team coach Mickey Arthur thinks that Indian skipper Virat Kohli will find it hard to score a ton on Pakistan soil as the bowlers will not make it easy for him. 
Considered as one of the greatest chasers and match winners of modern-day limited-overs cricket, Kohli is on a scoring spree at the moment as the right-hand swashbuckler has hit ODI centuries in each of the countries he has played in. Kohli's statistics are more than impressive with 21 Test centuries and 33 tons in One Day Internationals and he is just 29 years old, which is an indication that there is plenty more to come.
Pakistan head coach Arthur lauded Kohli as a 'fantastic player', but believes that the aggressive batsman would find it highly difficult to score a ton on Pakistan soil.
"Though Kohli is a fantastic player, our team will make it hard (for him) to score a century there (Pakistan)," said Arthur.
"It has been a great pleasure to watch Kohli scoring against all teams and it is always enjoyable to watch his batting. However, our bowlers will not make it easy for him to score there."
The last time India toured Pakistan in 2005-2006, the Men in Blue won the ODI series 4-1 when Rahul Dravid was leading the pack. One of the only reasons why Kohli may not be able to score a ton in Pakistan is simply because of the disparities between the Board of Control for Cricket in India (BCCI) and the Pakistan Cricket Board (PCB) and with national conflicts between the two countries, the chances of Team India touring Pakistan are very slim.
Kohli's form in recent time has been threating to other nations as the batsman has smashed records in the past two years, hammered the oppositions with his tons and is daring enough to thrash bowlers in any type of condition.
Kohli, who is currently playing in South Africa, scored his first ton on South African soil. With 33 centuries, he is second on the list of batsman with most ODI hundreds. Only Sachin Tendulkar, who hit a record 49 ODI tons, is ahead of Kohli. 
Kohli is currently leading India in a six-match ODI series in South Africa. The visitors have already won the first two matches and are now eyeing a 3-0 lead in the 3rd ODI vs South Africa on February 7 in Newlands, Cape Town.