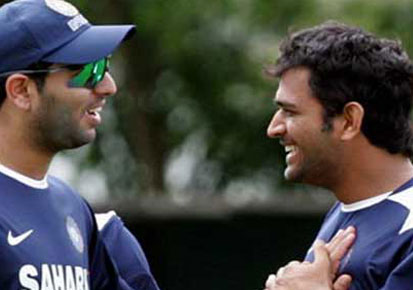 Director Neeraj Pandey's upcoming biopic 'MS Dhoni: The Untold Story' is just a few weeks away from its release. A biopic on Indian skipper Mahendra Singh Dhoni, the movie seems to be packing all the unknown elements from the life of Captain Cool. 
So, before the movie hits theatres, we are going to throw some light on all those years ago when Yuvraj Singh decided to act as the big bully to an inexperienced Dhoni.
According to a report in a leading magazine, it might seem like MS Dhoni and Yuvraj Singh have always been friends and played really well together in the Indian team, however, this was not always the case. 
Yuvraj entered the cricket scene in the year 2000, whereas Dhoni came into the spotlight in the year 2004 as Yuvraj's junior.
Being a new and young player from Jharkhand, making it to the team for the first time, the young star from Ranchi was subjected to a lot of bullying from his seniors, especially Yuvraj Singh. He used to pull Dhoni's leg and made fun of him by calling him 'Bihari' along with other seniors in the team.
Even when Dhoni played one of the best games by scoring ODI hundreds against both Pakistan and Sri Lanka, Yuvraj would never appreciate him and say that a match-winning innings matters more than hitting fours and sixes.
When Dhoni became one of the best game finishers in the country, Yuvraj Singh again made a new standard for Dhoni by saying that it was the Test matches that showed a cricketer's true worth. 
After all this, our Captain Cool politely asked Yuvraj, "That's fine but tell me one thing, why are you always so angry?" 
After this, a smiling Yuvraj ended the war between the two star cricketers.
All this and more was revealed by Yuvraj Singh at his book launch 'The Test of My Life', three years ago.