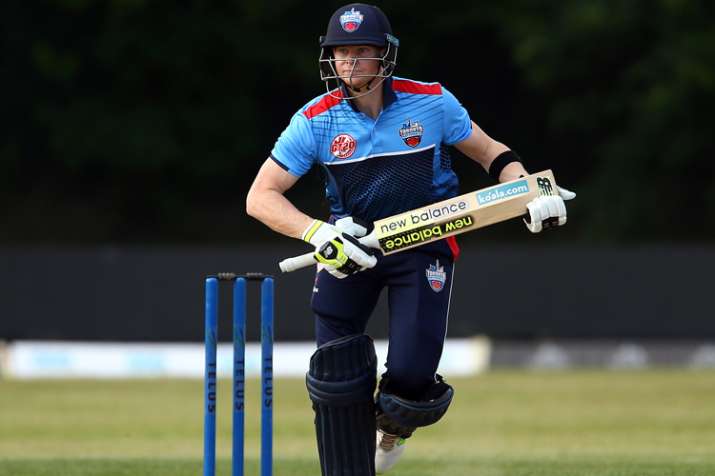 Former Australia captain Steve Smith, looking to revive his career after being mired in a ball-tampering scandal, scored 61 runs on Thursday as the Toronto Nationals defeated the Vancouver Knights by six wickets in the opener of the Global T20 Canada cricket tournament.
Toronto needed 25 runs to win from the final two overs and four from the last over. New Zealand's Anton Devcich, who finished out the innings with captain Darren Sammy, led the Nationals with 92.
Sammy, who had 22, won the game with a six with four balls remaining, pushing the Toronto score to 231 for four. Three sixes in the penultimate over helped the Toronto cause.
Smith was stumped by Chadwick Walton after missing a Fawad Ahmed delivery. Smith, who was almost caught on 27, hit one six and eight fours in compiling his 12th T20 half-century.
"Honestly, when I'm out in the middle, everything else is a blur," he said after the game. "I just concentrate on what I'm doing. It's almost like my haven, I guess if you want to call it that.
"The Toronto Nationals team has been great. Everyone's been really accepting."
Much of the pre-tournament attention had been on Smith, a star batsman who was disgraced in March for cheating in a test match in South Africa. David Warner, the former Aussie vice-captain also embroiled in the scandal, is at the Canadian event as a member of the Winnipeg Hawks and will see his first action on Friday.
Both men have been banned for a year by Cricket Australia although they are allowed to play abroad. That ruling did not help them in the high-profile Indian Premier League, which cancelled their lucrative contracts.
A Cricket Australia investigator found that Warner instructed Cameron Bancroft how to carry out the tampering with a piece of sandpaper during a break in play on the third day of the third cricket test against South Africa. Bancroft was banned for nine months.
Smith, who as captain took responsibility for the cheating, was seen to have let both cricket and Australia down.
"Look I'm not going to lie. It's been a difficult time in my life, there's no doubt about that," he said Thursday. "But I've accepted my punishment, I've accepted what I've gone through. And I'm moving forward. Part of my sort of rehab is playing cricket as well. That's what I love doing."
Thursday's game was played in the tight — at-least cricket-wise — confines of the Maple Leaf Cricket Club just north of Toronto. The bleachers were largely empty when the first ball was bowled at 4 p.m. local time but the crowd grew later.
The ball flew out of the ground, clearing trees and VIP tents under the late-afternoon sunshine after Sammy, the Toronto captain, won the toss and elected to put Vancouver into bat.
West Indies opener Evin Lewis kept the Vancouver scoreboard ticking as the Knights compiled 227 runs for four wickets in their 20 overs.
Lewis exited after an entertaining 96 when he skied a shot to Devcich in the 19th over. He hit 10 sixes and five fours off 55 balls.
Andre Russell joined him, battering United Arab Emirates bowler Mohammad Naveed for four sixes and a four in the 17th over. The West Indies batsman finished at 54 not out.
Smith was involved in the first out of the match, making the catch to dispatch West Indies star Chris Gayle after a 17-run, 12-ball innings that included two fours and one six.
The tournament is a partnership between Cricket Canada and the Mercuri Group, an India-based media and talent management company.
For Cricket Canada, it's a chance to give national team players some high-level competition while earning revenue from its 25-year leasing agreement with Mercuri, which has also undertaken to help develop Canadian talent.
Organizers recruited some marquee names to captain the squads in West Indies' Sammy (Toronto), Gayle (Vancouver) and Dwayne Bravo (Winnipeg), Sri Lanka's Lasith Malinga (Montreal) and Pakistan's Shahid Afridi (Edmonton). A Cricket West Indies B side fills out the six-team field.
The event runs through July 15.