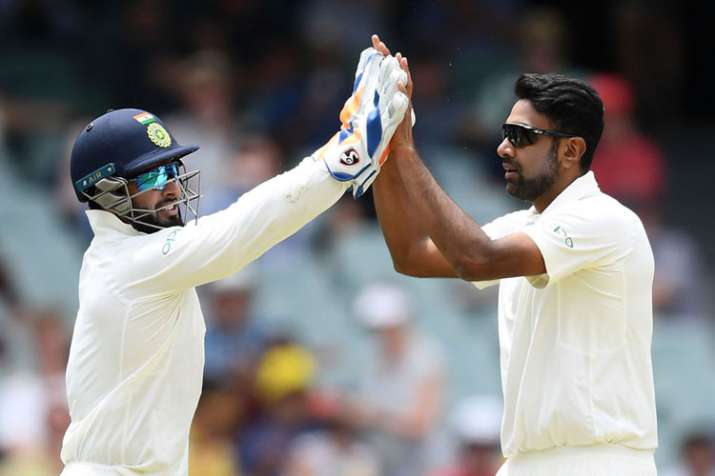 Former India captain Sourav Ganguly praised off-spinner Ravichandran Ashwin who was instrumental in giving India a slight advantage against Australia on Day 2 of the first Test in Adelaide.
Ashwin claimed 3 for 50 from 33 overs, while quicks Jasprit Bumrah and Ishant Sharma picked up two wickets apiece as Australia ended the second day at 191/7 in reply to India's first innings score of 250. Travis Head was unbeaten at 61 with Mitchell Starc who was on 8.
Ashwin carried a heavy workload and bowled unchanged from the middle of the first session through to tea. He also took the new ball but could not add to his tally of wickets.
"Ashwin has been great and he has got all left-handers. Australia now need to think about it and maybe Australia need to play Mitchell Marsh to negate that. Ashwin is a world-class spinner and he has to adjust and he has done that. In 2011, the Australian batsmen would attack him. In 2014 they dominated Ashwin as Australia won 2-0. The team had players like Ponting and Warner but this Australian team doesn't have players like that," Ganguly told IndiaTV.
Ganguly said Ashwin will hold key for the visitors on the third day.
"India need to start with Ashwin tomorrow morning. Ashwin will be really important in the series. Maybe less in Melbourne and Perth but he will be important in Sydney in the last Test," he said.
"It will be difficult for Head to adjust again in the morning as he will have to get set again in the morning. India will need to start well in the morning. Both are left-handers and India need to grab the opportunity. They failed to do so in England as Sam Curran scored runs lower down the order and took the game away from the Indians. So, India need to avoid that as both Head and Starc can bat.
"India need to get the tail as soon as possible. It will be important for India to get Starc and Head out as soon as possible and tomorrow could be the biggest day in the series," he added.
Ganguly also felt that the Australians will have to come up with a game plan in order to negate Ashwin.
"If Australians can't find a game plan against Ashwin and if he can stay fit and not repeat what he did in England, he will be extremely important for India in the series. Just one advice, he shouldn't speak about his grip, hold and other stuff to anybody," he said.
The 46-year-old stated that the visitors have a clear advantage going into the third day and felt that Virat Kohli and Co. will leave Adelaide with a 1-0 series lead.
"I feel India are ahead in the series and in this Test and for India, it is a matter of time before they win the Test.
"Ashwin and Kohli should step up tomorrow. If Ashwin has to take a fifer, he has to take it tomorrow and if Kohli needs to score a century, it has to be tomorrow. Pujara's century will give a lot of confidence to the team and the team will think that they can also score centuries," he said.