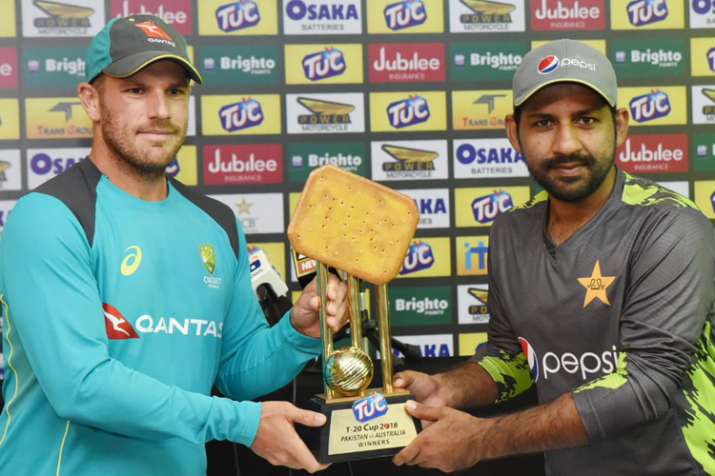 The Pakistan Cricket Board (PCB) was trolled on social media when they unveiled the TUC Trophy for the ongoing bilateral T20I series against Australia being held in the UAE. The trophy which has a biscuit replica on top garnered ridicule from all quarters with some sarcastically terming it as 'the greatest trophy in the world' while a few others calling for the sacking of individual(s) who designed the prize.
The image showing the rival captains Aaron Finch and Sarfraz Ahmed holding the trophy before the series began was circulated widely on social media.
Subsequently, a number of memes and images started floating on Twitter and other social networks making for hilarious reading. Here we look at some of these tweets:
Brighto presents TUC Cup 2018 #PAKvAUS T20I series trophy unveiling ceremony. pic.twitter.com/9i0uPmtSoW

— Pakistan Cricket (@TheRealPCB) October 23, 2018
If TUC sponsored world up 2019, trophy be like... pic.twitter.com/RJXSkCAQ6B

— Shabbeer Syed (@shabby_Rabu) October 23, 2018
Holy Tuc, look at this trophy. pic.twitter.com/PQYJeHZjAR

— Barny Read (@BarnabyRead) October 23, 2018
Pretty sure this Tuc cup trophy was designed by the same designer who aligned sponsors' logos on the Asia Cup jersey.#PAKvAUS pic.twitter.com/qStKkRDOLT

— Myra (@RymaRazaf) October 23, 2018
I think Australian doesn't want this TUC trophy #PakvAus pic.twitter.com/OmsRKfzBkH

— Aroosa Awais (@AroosaAwais) October 24, 2018
Actually when Australia saw that horrible TUC Trophy they were like, screw it we will lose, you keep this shit.#PakvsAus

— Lame Brown Dude (@AliSufianWasif) October 24, 2018
All set for pre-match analysis . #PAKvAUS #TucTrophy @ArfaSays_ @aaliaaaliya @SirJohnRoe @MazherArshad pic.twitter.com/dnMBJexvR5

— حسن رضا (@hRaza_S) October 24, 2018
In the 1st T20I played on Wednesday, Imad Wasim grabbed 3-20 on his return to international cricket after almost one year out to help Pakistan earn an emphatic 66-run win over Australia in the first Twenty20 on Wednesday. Wasim dismantled Australia's top order with his left-arm spin in his first three overs to dismiss the visitors for 89 in 16.5 overs.