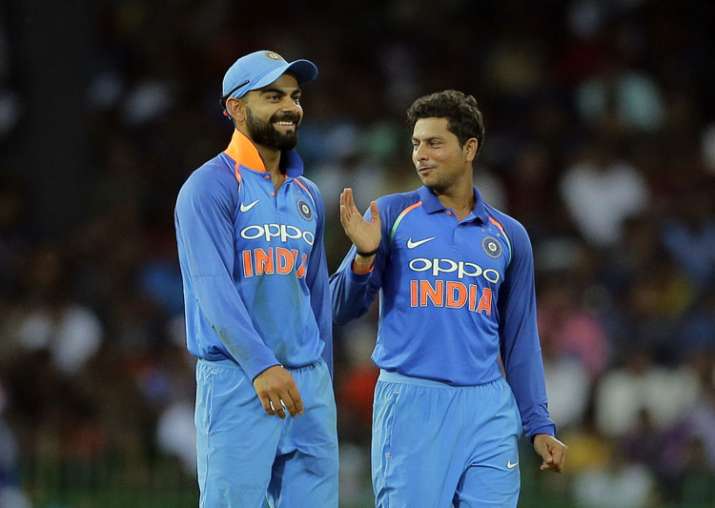 Young India chinaman Kuldeep Yadav said he was happy to play under an "inspirational" leader like Virat Kohli who gives support and freedom to his bowlers to express themselves on the field. Kuldeep, who was part of the Indian team which decimated Sri Lanka across all formats, said Kohli always leads from the front and his dedication on the field acts as an inspiration for all the players. India completed a tour sweep on Wednesday after beating Sri Lanka in the one-off T20I by six wickets. The visitors had won the Test series 3-0 and the ODI series 5-0. 
"Virat is a leader. He gives you everything you want on the field. When I am bowling, he comes to me and asks what field I want. That's what bowlers want to hear and he gives bowlers freedom. He has given me tremendous support through the Test series, the ODIs and now too. So I am very happy with this kind of team unity as well as the leader," Kuldeep said. 
"He leads from the front with both the bat and even in fielding also. Wherever he is fielding, he gives it his all. So it is a motivation in itself seeing him on the field, or whether he is training in the nets," he added.
Kuldeep, who picked up five wickets in the one Test he played, three wickets in two ODIs and two wickets in the lone T20I, said: "Looking at him, if we can improve our fielding even by one percent, that will be good. He talks to younger players about what he wants from them and what we need from the team." 
Kuldeep got a few chances on this tour, playing in the third Test at Pallekele as substitute for the suspended Ravindra Jadeja. Then he was rested for the first three ODIs as the team management followed a policy of rotation. He featured in the last two matches before the lone T20 game. 
"Till now it has been very challenging for me as well but I am very happy with my performance. I got the chance in the last Test match to perform well. In ODIs I played the last two matches and performed well. I think I did well in the T20 too," he said. 
"As a player you have to perform in every game. It's a pressure game. Everyone has to contribute especially when the captain and coach decide to rotate players. I am very happy with the policy, and you have to give credit to captain and coach because the World Cup is coming so they wanted to try out everyone," he said. 
He paired up with fellow leg-spinner Yuzvendra Chahal in the final ODI and then again in the T20, and the duo changed the course of the game yesterday by picking up five wickets between them. 
"It was good bowling with him. If two leg spinners are playing then there is more opportunity to take wickets. In this match we took five wickets together. So if two leg spinners are playing more chances come to take wickets if you bowl in partnerships. And it is also difficult for the batting side to score runs." 
India will be playing Australia next, followed by New Zealand, and both series have more T20Is as the BCCI has looked to increase the frequency of matches in the shortest format. 
"If you play three or four games like a series, it is good for the team. It is perhaps good for the opposition as well. We are looking forward to the next series and we know Australia is coming. We have three T20s against them as well as New Zealand. I am very happy that the BCCI has decided to increase number of T20 matches," he signed off.
(With PTI inputs)