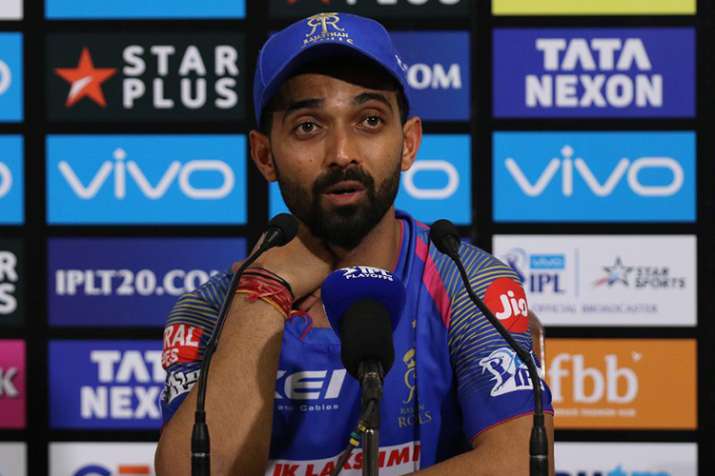 Underdogs Rajasthan Royals were close to making it into the second qualifier but favourites Kolkata Knight Riders got the better of the inaugural champions as they took advantage of their home turf and got the better of the Eden wicket, winning by 25 runs at the Indian Premier League eliminator at Eden Gardens, Kolkata.
RR captain Ajinkya Rahane said that 170 was a chaseable target but their batsmen weren't able to hang on for long as the spinners made the batsman dance to their tunes and some excellent death bowling sealed a win for KKR.
Chasing 170 for a place in the Qualifier 2, the Royals on Wednesday were 87/1 after 10 overs with Rahane and Sanju Samson looking good for a match-winning partnership.
But then they--particularly Rahane--got stuck against spin and left their weak middle order with too much to do, eventually losing by 25 runs as they managed 144/4 in 20 overs.
While Samson (50 off 38) was removed by Piyush Chawla, chinaman bowler Kuldeep Yadav got rid of Rahane (46 of 41).
"We thought 170 was chaseable. We needed partnerships and we got those partnerships initially with (Rahul) Tripathi and then me and Sanju Samson. We needed one batsman to bat throughout those 19-20 overs and we did not do that," Rahane told reporters at the post-match press conference.
"Unfortunately Sanju got out in the 17th over and that was the reason I felt...when you are chasing 170 in a pressure game you need one batsman from top 4 to bat through the innings," Rahane added.
Rahane said Andre Russell--who hit an unbeaten 25-ball 49 to propel KKR to 169/7 after a disastrous start--played fearless cricket.
"We had the self-belief I felt. Initially, the way we started with the ball. Our fast bowlers, the spinners...getting those 4-5 initial wickets was crucial," said Rahane.
"But credit goes to (Andre) Russell..the way he batted, played fearless cricket. But again we started off really well. First six overs, we were 50/1 then after second timeout (14th over), we needed seven overs and 60 odd runs. When you have eight to nine wickets in hand you generally end up getting those runs," Rahane added.
Dinesh Karthik (52) and Shubman Gill (28) stemmed rot for the purple brigade after they were reduced to 51/4 at one stage.
Rahane revealed he had asked Samson during the second strategic timeout in the 14th over to play till the end while he would look to up the ante.
Rahane fell to Kuldeep in the first ball after the break when they still required 61 off 36 balls. Two overs later, Samson departed.
"I think our plan was to go deep. I just told Sanju after the second timeout that I will play some positive shots and if you are still there, you bat deep," said Rahane.
"Credit goes to KKR bowlers. Especially the way they bowled the last 4-5 overs. If you see, last 36 balls we got 30 odd runs. So when opponents bowl like that, credit goes to them. We need to learn for next season. We batted well in patches and were not that good enough throughout the season," he added.
Asked the reason for sending Heinrich Klaasen and Stuart Binny ahead of K Gowtham who can score at a brisk pace, Rahane said, "If you see Klaasen is a very good batsman. He did well in the last game and it is difficult when you don't get those runs and try and think what if Gowtham was sent to bat."
"But we backed Klaasen. He tried his best. KKR spinners were really good. With our batting line-up, we wanted to go deep and if Klaasen can come, they have 7-8 overs left, that was a perfect opportunity for him. Unfortunately, we didn't cross the line," he said.
"I don't think the strategy was wrong there. Gowtham's batting position..he batted well at No.6 and 7...credit goes to KKR bowlers," Rahane added
(With Special Inputs from IANS)