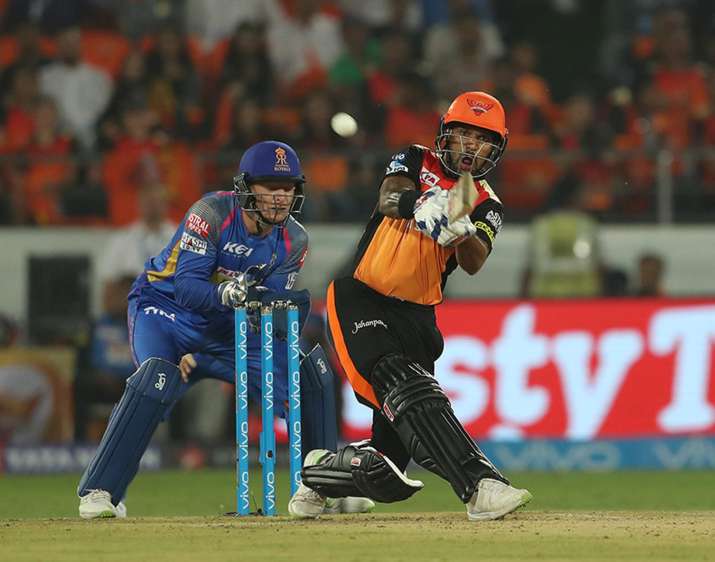 IPL 2018, SRH vs RR IPL Live Score 
A blockbuster start to the season for 
SUNRISERS
 HYDERABAD
, clinical and dominating as it gets. Firstly, their bowlers bowled with a disciplined effort restricted the
RAJASTHAN ROYALS
to a scanty 125. During batting, it was opener
Shikhar Dhawan
just stole the show with an unbeaten 77, studded with 13 fours and a maximum. He was dropped on 0 by
Ajinkya Rahane
and boy, he made them pay big time as he just tore them apart. Not sure if that dropped chance would have made much of a difference but at least the mockery that the southpaw made, could have been avoided.
Catch SRH vs RR Live Score and IPL Live Cricket Score updates on IndiaTV Sports here. Both Smith and Warner were barred by the BCCI from taking part in the IPL after their role in the ball-tampering scandal during the Cape Town Test in South Africa. (SRH vs RR CRICKET STREAMING)
The only thing that didn't work for the hosts was the promotion of Wriddhiman Saha. That's the only thing that can be faulted, otherwise everything else was on song. The skipper lent a good hand to Shikhar Dhawan and together they amassed a 120-run stand, which also happens to be their best for the second wicket in the history of the tournament. The duo saw its side starting the season with a superb win without any fuss. (SCORECARD)
HIGHLIGHTS, SUNRISERS HYDERABAD vs RAJASTHAN ROYALS, IPL 2018 MATCH 4 FROM HYDERABAD
23.25 IST: Kane Williamson says his guys were brilliant all around and did exceptionally well with the ball. Adds all the bowlers played their part, took wickets and also the catches which was important. Mentions that the short ball plan was more due to the surface than the batsmen, but is happy either way it worked out. Applauds Shikhar Dhawan for his outstanding batting and executing his plans well.
23.20 IST: Man of the Match, Shikhar Dhawan says he enjoys playing a long innings as it benefits him and the team. Reckons that he is just implementing the things he's learned with the national team here and is happy he's able to pull it off. States that the fielding is one of their strong suits, which will help them as the tournament progresses.
23.15 IST: Kane Williamson says his guys were brilliant all around and did exceptionally well with the ball. Adds all the bowlers played their part, took wickets and also the catches which was important. Mentions that the short ball plan was more due to the surface than the batsmen, but is happy either way it worked out. Applauds Shikhar Dhawan for his outstanding batting and executing his plans well.
23.10 IST: 
A 121-run partnership between @SDhawan25 & Kane Williamson and a comfortable victory for @SunRisers.

They beat #RR by 9 wickets #SRHvRR in match 4 of VIVO #IPL. pic.twitter.com/O51JUXeCMm

— IndianPremierLeague (@IPL) April 9, 2018
23.06 IST: FOUR! Dhawan finishes it off in style! Nicely done. Back of a length around off, Shikhar stays back and connects the pull perfectly. He muscles it over mid-wicket and sends it across the rope for a boundary. With that, HYDERABAD WIN BY 9 WICKETS AND 25 BALLS TO SPARE! Sunrisers Hyderabad (127/1) beat Rajasthan Royals (125/9) by 9 wickets in Hyderabad. Dhawan 77*, Williamson 36*
22.58 IST: Angling back in on a good length, Dhawan moves inside the line and tucks it down towards fine leg for a single. 6 runs from the over. SRH 120/1 in 14 overs
22.55 IST: FOUR BYES! Tossed up outside off, it's spinning away, Dhawan attempts the big cover drive, but the ball beats everything. The outside edge, the keeper and the fielder in the deep. A boundary results.  SRH 114/1 in 13 overs, need 12 runs to win vs RR (125/9)
22.51 IST: FOUR! A gift for Dhawan from Short. Bowls a half-tracker on off, the left-hander uses the depth of the crease to camp back and pulls it aerially across the mid-wicket fence for a boundary.  SRH 107/1 in 12.1 overs
22.50 IST: FOUR! Full delivery outside off, Shikhar Dhawan leans into the shot and elegantly drives it through mid off for a boundary.  SRH 103/1 in 12 overs
22.47 IST: FOUR! BOOM! Sends it back where it comes from! What a hit. Tossed up, right in Williamson's arc and he murders this. Hammers it straight back over the bowler as the ball doesn't even take a second to get to the fence. SRH 96/1 in 11 overs, need 30 runs to win vs RR (125/9)
22.45 IST: Safe! Told you, didn't I? Looped up outside leg, Dhawan kneels down for the sweep shot but misses and is hit on the front pad. Big appeal goes up, the umpire remains unmoved. Rajasthan, however, probably in a desperate attempt, decides to take the review. It goes upstairs and replays confirm it pitched outside leg. Everything ends there. Leg bye taken.
22.44 IST: Review. For an lbw appeal against Shikhar Dhawan. Not sure why it's taken, it's clearly pitched outside leg. The replays will confirm that.
22.39 IST: FOUR! Classy from the southpaw! Full ball, outside off again, little bit of width and that's all Dhawan needs. He drives it through the covers and gets another boundary to his name. SRH 87/1 in 9.3 overs
That's a fantastic innings by Dhawan as he scores it with 9 fours and 1 six#SRH-83/1(9.1)
Dhawan 53(33)
Williamson 21(18)#SRHvRR #IPL2018 #SRHvsRR pic.twitter.com/UJv8OOq2Ir

— SunRisers Hyderabad (@SunRisers) April 9, 2018
22.37 IST: FOUR! FIFTY! 29th Indian T20 League fifty for Shikhar Dhawan! Angling across on a back of a length, Dhawan hangs back and fiercely cuts it through point. Through the gap and away to the boundary line. Superb knock, he's seeing his team home here.  SRH 83/1 in 9.1 overs vs RR (125/9)
22.36 IST: Williamson punches the ball off the back foot. One run added to the total, 4 runs from the over. Tidy stuff from Gopal. SRH 79/1 in 9 overs, need 47 to win vs RR (125/9)
22.29 IST: FOUR! Poor line again. Stokes sprays it down the leg side, Dhawan just helps it on its way and finds the fence, beating the fielder in the deep. All too easy for the hosts so far.  SRH 72/1 in 7.2 overs
22.28 IST:  FOUR! Banged in short first up and made to pay the price immediately. Dhawan rises and with all his might, pulls it over the mid-wicket region for a boundary.  SRH 68/1 in 7.1 overs
Ben Stokes is introduced into the attack
22.25 IST: FOUR! Not the ideal start for the spinner. Flatter, shorter and on off, Dhawan goes deep inside the crease and muscles the pull over mid-wicket. Nobody out there in the deep, so that will go across the rope easily. SRH 61/1 in 6.1 overs
Time for Strategic break.
22.22 IST: FOUR! Superbly placed! Short and wide, Williamson cracks this square on the off side for a boundary.  SRH 57/1 in 6 overs
22.20 IST: FOUR! The runs are coming for Hyderabad anyhow, even if it's not off the bat. Bouncer down the leg side, Dhawan looks to pull but gets it off the gloves. It lobs over Buttler and then it goes behind to the fence for a boundary.  SRH 52/1 in 5.3 overs
22.18 IST:  No ball! But it isn't one, the umpire has got this wrong. A lot of the heel was behind the line. Landed short outside off, Dhawan taps it down on the off side with soft hands.
Ben Laughlin to bowl now.
22.15 IST: FOUR! Consecutive boundaries for Dhawan! He's making the away side pay for that early dropped chance. Flat and short, outside off, he slaps this through the gap in the covers and picks up another boundary.  SRH 44/1 in 4.3 overs
22.14 IST: FOUR! Flat, short and attacking the stumps, Dhawan has no qualms about putting this away. He rocks back and pulls it powerfully through square leg for a boundary. SRH 40/1 in 4.2 overs
22.12 IST: SIX! Showing his class, is the evergreen Kane Williamson. What a player! Bumper on the stumps, the Hyderabad skipper moves inside the line, positions himself well and nails the pull over square leg to perfection. Rockets into the stands and picks up a biggie.
22.10 IST: FOUR! Scintillating shot from Kane Williamson! Picks up the length early as it's pitched a bit short, so he rises on his toes and cuts it beautifully past point to send it all the way.
22.07 IST: SIX! Dhawan deights Hyderabad spectators with a SIX! Typical Shikhar Dhawan, that. Short ball, outside off, Dhawan knows exactly what he's going to do here. He stands tall and cuts it hard over third man and clears the fence with absolute ease. SRH 23/1 in 2.5 overs.
22.06 IST: FOUR! Full and outside off, Dhawan crouches a little low and crunches the drive through the covers, for a boundary this time. Good shot.
22.04 IST: FOUR! Edged and over! Not where he exactly intended to play, but he'll accept the runs regardless. Short ball, cramped for room again but he flashes hard at this one. It takes a thick edge and flies over the slip cordon for a boundary.
22.02 IST: Kane Williamson is in at No.3.
22.01 IST: OUT! Unadkat removes Saha for 5. First strike for Rajasthan! Unadkat provides the breakthrough. Fuller on off, Saha looks to clear the infield over covers but doesn't time it well. Lofts it high in the air, towards cover, where Laughlin backpedals and takes a good catch. Sunrisers Hyderabad 6/1 in 1.3 overs vs RR (125/9) in Hyderabad.
He got the first wicket for the Royals.
Will @dhawal_kulkarni strike again?#HallaBol #JazbaJeetKa #IPL2018 #SRHvRR

— Rajasthan Royals (@rajasthanroyals) April 9, 2018
21.58 IST: FOUR! Saha gives SRH a start here. Superb shot! Length delivery on off, Wriddhiman Saha leans ahead, swings across the line and lofts it nicely over mid-wicket. Clean strike, sends it across the fence for a boundary.
21.57 IST: Dhawan dropped! Rahane is the culprit. "One of the safest fielders in the slips has dropped a catch" Sanjay Manjrekar says on air. Dhawal Kulkarni to Shikhar Dhawan, Dropped! That too, by one of the safest fielders around. Shortish just outside off, Dhawan is a little cramped for room as he plays the cut shot. Edges it behind towards first slip where Rahane is positioned. At a comfortable height, you'd usually back him to take it, but he puts it down somehow. SRH 1/0 in 1 over.
21.53 IST: Hyderabad openers are on the crease for the chase. A score the hosts would back themselves to hunt down. It will be Shikhar Dhawan and Wriddhiman Saha will open the innings for Hyderabad, while Dhawal Kulkarni will take the ball first up.
First over opens with @dhawal_kulkarni!@SunRisers need 1⃣2⃣6⃣ to win.#SRHvsRR #JazbaJeetKa #HallaBol #IPL2018 pic.twitter.com/NsG6BlZdcO

— Rajasthan Royals (@rajasthanroyals) April 9, 2018
21.40 IST: Venkatesh Daggubati cheers for Sunrisers Hyderabad in IPL 2018; See pics
21.38 IST: Ends the innings with another short ball, Laughlin stays leg side to pull it away but doesn't connect. Saha was ready to underarm throw it at the striker's end but the batsmen don't go for the bye. HYDERABAD RESTRICT RAJASTHAN ON 125/9! in 20 overs
21.35 IST: OUT! Good work from Saha! Unadkat slices this length delivery towards deep point and calls for two. Pathan quickly gets to the ball and releases it quickly at the striker's end. Saha takes it and knocks out all the stumps. They take it upstairs and replays show Unadkat is well short of his ground. Jaydev Unadkat run out for 1. RR 123/9 in 19.2 overs vs SRH
Jaydev Unadkat, the costliest player this year walks out next.
21.32 IST: OUT! Bhuvneshwar Kumar removes Shreyas Gopal for 18. RR 122/8 in 19 overs vs SRH
21.27 IST: The batsman has flicked the ball off his pads. One run added to the total. 4-0-24-1 are the figures for Rashid Khan. RR 117/7 in 18 overs vs SRH
Dhawal Kulkarni is in next.
21.25 IST: OUT! Bowled 'em! Rashid Khan opens his account tonight, at last! Bowls a quicker leg break, it skids through, Buttler is quick to go back and pull it away but gets an inside edge which disturbs the stumps. Buttler was the key for Rajasthan if they are to finish well but unfortunately even he departs. RR 115/7 in 17.1 overs vs SRH
21.20 IST: FOUR! Much-needed boundary! On a good length outside off, Gopal prods ahead and drives it with some timing through cover for a boundary.  RR 111/6 in 16.2 overs
21.16 IST: FOUR! Deft! Loopy leg break outside off, Gopal places it with an angled bat down to third man for a boundary. RR 101/6 om 15.1 overs
Shreyas Gopal walks out next.
21.12 IST: OUT! The front foot is fine and another one bites the dust! This is nasty stuff from Siddarth Kaul. Deserves this thoroughly. He bangs one short, it keeps climbing and gets big on Gowtham who is in a complete tangle. Fends at it awkwardly but the ball takes the gloves and pops behind where Saha accepts an easy catch. They check for the front foot but it's just about fine feels the TV umpire. So last 9 balls, Rajasthan have lost three wickets and have scored just four runs. Surely the wheels have come off for them. RR 96/6 in 14.4 overs vs SRH
Strategic break taken!
21.06 IST: OUT! Rashid Khan with another good catch! Shakib Al Hasan strikes for the second time in the over and this will hurt Rajasthan big time as they lose their set batsman, Sanju Samson for one short of a fifty. Smart bowling from the all-rounder. He sends it slower through the air and bowls it a touch wider on off, Samson steps out to go over extra cover but ends up slicing it high in the air. Khan rushes in from the deep, keeps his eyes on the ball and slides to takes another wonderful catch. Half the side back in the hut for the visitors.. RR 94/5 in 13.5 overs vs SRH
Thats OUTTTTTT
Shakib gets the wicket of Tripathi as Pandey shows his fielding prowess#RR-92/4 (13.2)#SRHvRR #IPL2018 #OrangeArmy #SRHvsRR pic.twitter.com/zHdFMSkrKh

— SunRisers Hyderabad (@SunRisers) April 9, 2018
Jos Buttler is in next.
21.02 IST: OUT! Straight to Pandey! Shakib Al Hasan strikes! Floated delivery, served wider on off, Rahul Tripathi dances down the track and looks to hit it across the line. Ends up dragging it off the inner half but much to his dismay it goes straight down the throat of Pandey stationed at long on. RR 92/4 in 13.2 overs vs SRH
Shakib Al Hasan to bowl out.
21.00 IST: In the air... just short! Kaul sees Rahul giving the charges and hence drops it short outside off. The batter is in no control to play the pull but still goes on with the shot. Gets a top edge towards third man where Stanlake goes for the catch, divesf orward but the ball lands short of him. One run added to the total. RR 92/3 in 12 overs
20.56 IST: Is it pad first? But where is the impact? Hyderabad have taken the review against Rahul.
Impact is outside the line! Kaul hurls a length delivery outside off, Tripathi comes forward and looks to tap it away with his bat close with the front pad. The ball rolls towards cover and they take a single. Kaul is appealing his heart out but the umpire turns it down. He then convinces his skipper to take the DRS. Ultra Edge shows it is pad first but the impact was well outside the line. The on-field calls stays and Hyderabad lose their review.
20.55 IST: Look who's here - 
Hyderabad!! Look who's here to cheer for our #OrangeArmy tonight.#SRHvRR #SRHvsRR #IPL2018 pic.twitter.com/lIwABahUkE

— SunRisers Hyderabad (@SunRisers) April 9, 2018
Siddarth is 'Kaul-ed' back.
20.54 IST: FOUR! Back-to-back! Quicker leg break, turning away, Rahul waits till the last moment and then opens the face of the bat. Still gets it off the edge wide of Williamson at first slip for a boundary. RR 87/3 in 12 overs
20.53 IST: FOUR! Beautifully done! Leans forward to a tossed up delivery and lofts it inside out over extra cover for a boundary. RR 82/3 in 11.4 overs
Rashid Khan is back on.
20.51 IST: Beaten again! Billy Stanlake drops it on a back of a length outside off, Tripathi looks to flay it away but there is pace and bounce which gets the better of him. Just 4 runs from the over. Stanlake is done for the night. 4-0-29-1, read his figures!  RR 75/3 in 11 overs
20.48 IST: Misfield from Dhawan! Samson whips this fuller ball through mid-wicket. Dhawan comes charging in but he takes his eyes off the ball at the last moment and concedes another one. 8 runs from the over. RR 71/3 in 10 overs
First strategic break of the night. Rahul Tripathi is in next. He had a good last season for the Pune franchise. Can he continue his good run? Meanwhile, Shakib Al Hasan is back on as well.
20.41 IST: OUT! Kane Williamson at it again. Ho! Ho! Ho! The big Ben is out of here. What a big wicket this is. Stanlake delivers a fuller delivery on the stumps, Stokes looks to go for the big heave across the line but drags it off the toe end of the bat. It travels quickly towards long on where Williamson comes a couple of steps in and nearly fluffs it out but due to his quick reflexes, he manages to take it on the second attempt. He then lofts his arms as the entire team barges towards him. First a run out and then this catch, captain leading from the front already. . RR 63/3 in 9 overs vs SRH
20.37 IST: Ohhhhhh! Rashid Khan, what an over this is! Quicker wrong one, Samson has to play as it comes in. Gets a thick inside edge. Hands on head for Rashid as he walks back. RR 57/2 in 8 overs
20.35 IST: A shout for a caught behind! A googly, skidding away with the angle, Stokes tries to be cheeky as he goes for the revere sweep. Doesn't connect but Rashid Khan keeps appealing for a catch he feels there was an edge. They discuss if they can send it upstairs. No says, Williamson. RR 56/2 in 7.3 overs
Here he comes, Rashid Khan. What you say? Will he strike in the first over?
20.33 IST: FOUR! Edged and through! On a back of a length outside off, Samson looks to guide it away but gets an edge past the vacant slip cordon for a streaky boundary. RR 56/2 in 7 overs
Ben Stokes walks out next to bat.
20.31 IST: OUT! What a catch from Rashid Khan. He's yet to come and bowl but before that, he shows how good a fielder he is. Really terrific from the Afghan skipper. The fielding has been superb from the hosts so far. Fuller delivery, angling in on middle, Rahane shimmies down the track and goes for a whippy flick. Doesn't connect well and it goes aerial towards deep mid-wicket. Khan moves across to his left and pulls off a great catch with a slide. Kaul with an Afridi-like celebration as he gets his first one of the night. RR 52/2 in 6.5 over vs SRH
Siddarth Kaul is brought into the attack now.
20.26 IST: Huge shout for LBW! Quicker delivery, angling in, Rahane gets across to play the sweep but misses as the ball goes off the pads towards backward point. They cross for a leg bye while the bowler is busy appealing. Impact was well outside the line. RR 48/1 in 6 overs
20.23 IST: FOUR! Samson is putting on a show here! He has silenced the crowd here, says Manjrekar on air. Floated delivery on the stumps, Sanju steps out and goes bang over mid-wicket for a two-bounce boundary. RR 45/1 in 5.2 overs
20.21 IST: FOUR! Leading edge for a boundary! My colleague sitting next to me was amazed to see this. He roars out saying look at the pace, boy! Fuller delivery, angling in on middle, Samson looks to flick it away but gets a big fat leading edge which sails over backward point and races away to the fence. You really can't blame the bowler here. RR 40/1 in 4.5 overs
20.19 IST: FOUR! Nicely done! Short ball, banged on off, Rahane arches back and uses the pace on the ball. Gets cramped for room a touch but still manages to cut it over backward point for a boundary. RR 32/1 in 4.2 overs
20.16 IST: FOUR! Lovely use of the feet! Floated delivery, served outside off, Jinx dances down the track, gets to the pitch of the ball and drills it through extra cover. No need to run for those. RR 25/1 in 3.3 overs vs SRH
Shakib Al Hasan into the attack.
20.13 IST: FOUR! Ahhh, beautiful! Seems like Samson predicted the slower delivery. Waits for the ball to come shuffles a touch and unfurls a nice whip past the man at mid-on for the second boundary of the over. Good batting from Sanju. RR 19/1 in 2.3 overs
20.11 IST: FOUR! Timing all timing! On a length and just around off, Samson stays back and just crunches it through the line. Pierces the gap through the covers and sends it blazing to the boundary rope. RR 15/1 in 2.1 overs
20.10 IST: Ahead of a length around middle and leg from Stanlake, Samson clips it with timing through the gap at mid-wicket and picks up three to end the second over. 5 runs from the over. RR 11/1 in 2 overs
Sanju Samson is the new man in at no. 3. And it will be Billy Stanlake to bowl from the other end.
20.06 IST: OUT! Run out! Kane Williamson draws first blood, if I can call it. Superb arm, superb fielding. We saw him pulling off some screamers in the recently concluded Test series against England and he is made a statement already here. Fuller ball, Short pushes it towards mid off and sets off. Kane charges towards the ball, picks it up with his right hand and nails the stumps at the bowler's end. Looked out in the first look but it's still taken upstairs. This is the first time after 5 T20s that D Arcy Short has failed to score 30. . RR 6/1 in 1 over vs SRH
20.04 IST: There's a direct hit at the bowler's end by Williamson and tell you what? D'Arcy Short seems to be well short of his crease. Is that the first breakthrough for the hosts? They are already celebrating but let's wait for the official confirmation.
20.02 IST: FOUR! Shot from Short! Trying to be cheeky here! Kumar in search of swing tries to pitch it full but ends up drifting it on the pads, Short brings his bat down quickly and flicks it through square leg for a boundary, the first one of the innings. RR 6/0 in 0.4 overs
19.59 IST: It will be the leading wicket-taker of the last two seasons - Bhuvneshwar Kumar who will steam in first up. A couple of slips in place. Here we go!!!
19.57 IST: We are all set for the action to kickoff. The players have taken their positions along with the umpires. The two openers are Ajinkya Rahane and D'Arcy Short.
19.45 IST: Sunrisers Hyderabad (Playing XI): Shikhar Dhawan, Kane Williamson (C), Manish Pandey, Deepak Hooda, Yusuf Pathan, Shakib Al Hasan, Wriddhiman Saha (wk), Rashid Khan, Bhuvneshwar Kumar, Billy Stanlake, Siddarth Kaul
Rajasthan Royals (Playing XI): Ajinkya Rahane (C), D Arcy Short, Sanju Samson, Ben Stokes, Rahul Tripathi, Jos Buttler (wk), Krishnappa Gowtham, Shreyas Gopal, Dhawal Kulkarni, Jaydev Unadkat, Ben Laughlin
19.40 IST: Rajasthan Skipper, Ajinkya Rahane says even they wanted to bowl but the toss isn't in anyone's control. So is looking forward to set a good total on board and later defend it down. Informs they had some good preparations back home and his boys are excited about this game. His four foreign players are - Ben Stokes, Jos Buttler, D'Arcy Short and Ben Laughlin.
19.35 IST: Hyderabad skipper, Kane Williamson says they will bowl first. Is excited to lead the team and says they have fairly a new side from previous years. Hopes that they start well with the ball in hand. The four overseas players for them are - Rashid Khan, Billy Stanlake, himself and Shakib.
19.32 IST: 
Toss up!@SunRisers win and elect to field first.

Royal batsmen fired up 🔥#SRHvsRR #JazbaJeetKa #HallaBol #IPL2018 pic.twitter.com/Sia47Rvs1G

— Rajasthan Royals (@rajasthanroyals) April 9, 2018
19.30 IST: TOSS - Sunrisers Hyderabad win toss, opt to bowl against Rajasthan Royals in Hyderabad.
19.15 IST: The Royals are making a comeback in the T20 extravaganza after 2 years -
The @rajasthanroyals, who are back in the competition after two years, are gearing up for their first game of the season#SRHvRR pic.twitter.com/9oIK3fobM6

— IndianPremierLeague (@IPL) April 9, 2018
18.56 IST: Fans rooting for the 'Orange Army' - 
Our fans are in the stadium and aren't shy at showing their #OrangeLove. We love you for your support and love. #SRHvRR #IPL2018 #SRHvsRR pic.twitter.com/kdPZODu9IV

— SunRisers Hyderabad (@SunRisers) April 9, 2018
18.45 IST: 
"It's going to be an exciting season ahead for all of us and for the fans as well" - @JUnadkat
What are you looking forward to the most, this #IPL2018?#JazbaJeetKa #HallaBol pic.twitter.com/9u150QlcAx

— Rajasthan Royals (@rajasthanroyals) April 9, 2018
18.40 IST: Some words of wisdom from the SRH mentor - 
New season , new goals, new love, new light and a new beginning . Really happy with the strength that we have in the squad and hope we play to our potential and give our best. Wishing the #OrangeArmy a great start #SRHvRR

— VVS Laxman (@VVSLaxman281) April 9, 2018
18.35 IST: 
90 minutes to go! Then it's game time!@ShreyasGopal19 @ShaneWarne #HallaBol #SRHvsRR pic.twitter.com/ZsVwl5YepX

— Rajasthan Royals (@rajasthanroyals) April 9, 2018
18.30 IST: 
#OrangeArmy has started for the stadium, are you on your way? Catch our boys in action in a few time as they start the opening match tonight #SRHvRR #IPL2018 #SRHvsRR pic.twitter.com/pehKYXdo5R

— SunRisers Hyderabad (@SunRisers) April 9, 2018
Brief Preview: Sunrisers Hyderabad and Rajasthan Royals will have to overcome the unexpected loss of their respective captains, David Warner and Steve Smith when the two teams clash in the IPL on Monday. Royals, back in the tournament after serving a two-year suspension, and Sunrisers, lost their influential players after BCCI barred them from the league following their role in the ball-tampering scandal in South Africa.
Ajinkya Rahane will be leading Royals in Smith's absence while New Zealand skipper Kane Williamson will captain the Hyderabad franchise. Warner and Smith are irreplaceable in most teams but both Royals and Sunrisers still look well-balanced sides on paper. While Sunrisers were able to retain a chunk of their players at the auction, traditionally frugal Royals spent big bucks on the likes of Ben Stokes (Rs 12.5 crore) and Jaydev Unadkat (Rs 11.5 crore) who ended up as season's costliest buys. (Read Full Match Preview)