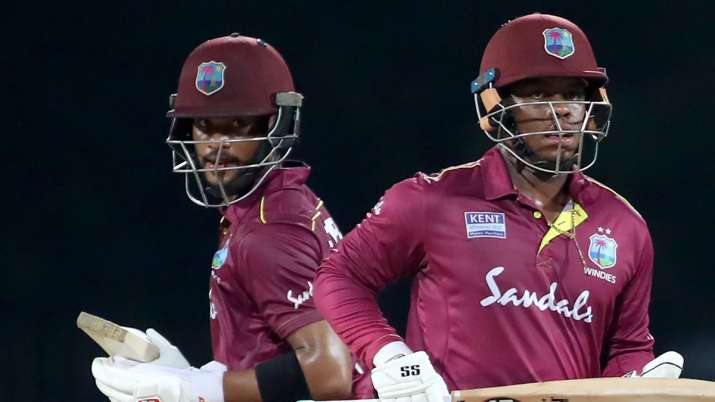 HighlightsIndia vs West Indies, 1st ODI
IND vs WI:
That is it from our coverage of India vs West Indies first ODI match live from Chepauk.
Shimron Hetmyer
and Sahai Hope scored a century each while also stitching a 200-plus partnership that nullified the gritty effort from Shreyas Iyer and Rishabh Pant. Riding on the half-centuries from the two youngsters, India posted 287/8 after the top-order fell early in the innings.With the win, West Indies now take a 1-0 lead in the three-game series.
SCORE
CARD
West Indies beat India by 8 wickets
21:45 IST: WEST INDIES WIN! By eight wickets. Shimron Hetmyer and Shai Hope score a century each to guide West Indies to an eight-wicket win in Chennai.
21:43 IST: With a six and a four against Chahar, Hope scores his eighth ODI ton and West Indies now need 11 to win.
21:39 IST: It's strange! Somehow with 139 from Hetmyer and almost a century from Hope, West Indies should have wrapped up the game by now. But they have been slow in the chase throughout and have now fallen behind the run-a-ball rate leaving India with a glimmer of hope. 
21:38 IST: West Indies need 23 runs in 24 balls
21:36 IST: Dube to Pooran. FOUR! Seam-up delivery, length ball, and Pooran shimmies down to punch it past covers for a boundary.
21:31 IST: Shami to Hope. FOUR! Banged short and Hope drifts it over backward square leg for a four.
21:30 IST: Interesting fact, 20 balls since West Indies hit a boundary. RRR has gone well over 6 now. West Indies cannot lose from this spot.
21:18 IST: Kuldeep to Hope. NOT OUT! LBW appeal was denied by the umpire. Confident Kuldeep urges Kohli for review. And...misses the stumps. Lucky Hope. West Indies need 48 runs in 48 balls
21:12 IST: Shami to Hope. FOUR! Banged down midwicket for a four. 
21:05 IST: Hetmyer's 139 is now the fifth-highest individual score against India while chasing in India
21:01 IST: Shami to Hetmyer. OUT! Short and slow down the offside. Hetmyer goes big, but the ball takes a bigger arc and lands into Iyer's hand in the deep. 
20:56 IST: Dube to Hetmyer. SIX! Cutter down to the off side and Hetmyer launches it over long-on for a six.
20:54 IST: 200 up in this partnership. West Indies now need 77 from 76 with nine wickets in hand.
20:50 IST: The Hetmyer-Hope partnership is among the top stands for West Indies against India in ODIs 
20: 45 IST: BACK-TO-BACK SIXES! What an innings from Hetmyer this is turning out to be. Virat Kohli looks helpless. West Indies go past 200 now.
20:43 IST: Chahar to Hope. FOUR! Cut away to the third-man boundary. West Indies now need 97 runs off 90 deliveries with nine wickets in hand. 
20:42 IST: WHAAATTT!!! Short ball from Chahar, slowish as well and Hetmyer goes big over covers. Shreyas Iyer waits, and....DROPS it. 
20:40 IST: Chahar to Hetmyer. FOUR! Tries the lofted shot, but the knuckleball took the outside edge to go for a four past Pant.
20:35 IST: Hetmyer also becomes the fastest Windies batsman to amass five ODI hundreds. He achieved the milestone in his 38th ODI innings surpassing the previous record of 46 innings held by his present teammate and batting partner in the match, Shai Hope.
20:31 IST: HUNDRED! And there is the triple-figure mark for Hetmyer. Coming off 86 deliveries. Stunning effort. Will he now guide West Indies to a win in Chennai? They now need 110 runs more from remaining 17 overs with nine-wicket at hand.
20:23 IST: Hope and Hetmyer have now taken their partnership past 150 and the former has even scored his 15th ODI fifty while the latter is en route to his century. 
20:08 IST: West Indies still need 138 runs more from 23 overs with nine wickets in hand. Chepauk has been quiet over the last hour now. 
20:03 IST: OHH DEAAR!! Hetmyer down in agony. Cramps probably.The physio is out
19:59 IST: Shami to Hetmyer. SIX! Marginally back of the length and Hetmyer, off his back foot, launches the ball over midwicket for a six. 
19:57 IST: Shami to Hope. FOUR! Length ball, swings back in, takes the inside edge off Hope's gloves and it rushes away to the boundary. Not the bowler's fault at all. It was a great delivery and Shami has been brought in by Kohli to get that crucial breakthrough.
19:54 IST: Dube to Hetmyer. FOUR! Back of the length delivery placed wide of off was smacked down backward point.
19.40 IST: Jadeja to Hetmyer, SIX! Good shot from Hetmyer straight down the ground as pressure straight away on Jadeja.
19.36 IST: Chahar to Hetmyer, FIFTY! Shimron Hetmyer hits his 5th ODI half-century with a quick single
19.12 IST: Kuldeep to Hetmyer, SIX! BANG! Hetmyer goes on the knees to send the ball in the ground over mid-wicket.
19.10 IST: Jadhav to Hetmyer, FOUR! Momentum is shifting towards Windies with every boundary.
19.01 IST: Dube to Hope, FOUR! On the pads and a magnificent shot from Hope as he lofts in the deep mid-wicket for a boundary
18.53 IST: Dube to Hetmyer, FOUR! Terrific stuff from Hetmyer as he hits it with power for a boundary.
18.50 IST: Good first over Kuldeep as he gives only 3 from it
18.39 IST: Chahar to Hope, FOUR! Elegant from Hope
18.34 IST: Shami to Hetmyer, FOUR! Lucky as it was an inside edge over the slip
* Hetmyer is the new man in
18.28 IST: Chahar to Ambris, OUT! LBW! Umpire takes no time to give his decision as Chahar strikes.
18:18 IST: Two fours from Ambris against Mohammed Shami as West Indies manage eight runs from two overs. Deepak Chahar bowled a maiden first over.
17.46 IST: Paul to Chahar, Full delivery outside off, Chahar drives it to cover and picks up a single. India finish with a competitive score.  India score 288/8 in 50 overs against West Indies in Chennai. Pant 71, Iyer 70, Paul 2/41
17.37 IST: Paul to Dube, OUT! Change of pace and Paul gets his second wicket of the innings.
17.31 IST: Cottrell to Dube, FOUR! Terrific Shot as he guides the yorker with pure ease to send for a boundary.
17.25 IST: Paul to Jadeja, OUT! Some confusion here as Jadeja is run out.
17.22 IST: Paul to Jadhav, OUT! Poor shot from Jadhav and Pollard makes no mistake to take an easy catch.
17.15 IST: Cottrell to Jadhav, FOUR! Edges and ball races away for a boundary in the third man region,
17.02 IST: Joseph to Jadhav, FOUR! Short and wide from Alzarri and Jadhav cuts it in the air over point for a boundary.
17.01 IST: Joseph to Jadhav, FOUR! Good shot from Jadhav as the bowler followed him but he still finds the gap.
16.56 IST: Walsh Jr to Jadeja, DOUBLE! Overthrow and India get an extra runs thanks to poor throw from the fielder.
16.44 IST: Pollard to Jadhav, SIX! Excellent shot as Jadhav shifts his weight on the backfoot to hammer the ball for a six.
16.42 IST: Pollard to Pant, OUT! In the air and Pollard gets the dangerous Pant.
16.41 IST: Pollard to Pant, FOUR! The southpaw powers it through cover for a boundary.
* Kedar Jadhav is the new man in
16.28 IST: Joseph to Iyer, OUT! In the safe hands of Pollard and Iyer misses a chance to score his maiden ton.
16.20 IST: Pollard to Pant, DROPPED! That was an easy catch but Pant gets an extra life in the match thanks to Cottrell.
* Pollard comes into attack 
16.14 IST: Cottrell to Iyer, FOUR! The dynamic duo has now shifted the gear and is aiming for boundaries.
16.12 IST: Chase to Pant, FOUR! Pant charges down the ground and send the ball straight for a one-bounce four.
16.05 IST: Cottrell to Pant, DOUBLE and FIFTY! Pant slams his maiden half-century with a double.
16.01 IST: Holder to Pant, FOUR! In the air and ball races for a boundary.
15.59 IST: Holder to Iyer, SINGLE, FIFTY! Shreyas Iyer taps the ball and steals a quick single to complete his fifth ODI half-century.
15.52 IST: Paul to Pant, FOUR! Free Hit and Pant push the ball for a boundary at fine leg.
15.50 IST: Paul to Pant, NO BALL! It was above the waist height and umpire straight away gives it an illegal delivery.
15.47 IST: Holder to Pant, FOUR! In the gap and another boundary from the southpaw.
15.35 IST: Chase to Pant, SIX! On the knees and smashes the ball for a maximum.
15.26 IST: Chase to Pant, FOUR! This time Pant weight for the ball and transfers his wait on the backfoot to send the ball for a boundary.
15.23 IST: Joseph to Pant, FOUR! That's some great timing as the southpaw flicks the ball through midwicket for a boundary.
15.19 IST: Chase to Iyer, FOUR! Elegant Shot from Iyer and that will release some pressure from his shoulders.
2.59 IST: Wicket-maiden from Alzarri Joseph.
2.54 IST: Joseph to Rohit, OUT! Rohit goes for the pull but gives a catch straight at the midwicket boundary.
2.53 IST: Five runs from the over. Good first over from Chase - doesn't give enough room to attack the empty off-side field and keeping it on the length.
Roston Chase replaces Keemo Paul.
2.47 IST: Two runs from the over.
Alzarri Joseph replaces Hayden Walsh Jr.
2.42 IST: The umpires have called for drinks.
2.37 IST: Walsh Jr. to Shreyas, FOUR! Thick-edge on that one! Shreyas wanted to cut it square but the ball takes an extra bounce and goes past the short third-man for a boundary.
2.35 IST: Walsh Jr. to Rohit, FOUR! HAMMERED! Rohit gets down on one knee and sweeps the ball towards the midwicket boundary.
2.35 IST: 4 runs from Keemo Paul's over.
Keemo Paul replaces Jason Holder
2.29 IST: Walsh Jr. to Rohit, FOUR! Doesn't miss this one, Rohit. Too much width and Rohit, who wanted to drive it to covers, gets a thick edge and the ball sails to the third-man boundary.
2.27 IST: Walsh Jr. to Rohit, FOUR! Well, that has missed everyone! Too much flight on the delivery and Rohit attempts a cover-drive but misses. The wicketkeeper, however, fails to collect the ball as well. 50 for India.
2.26 IST: Holder to Shreyas, FOUR! Another straight drive, and another poor delivery on this surface from Holder. Like Rohit, Shreyas gets under the ball and lofts it straight.
2.19 IST: Walsh Jr. to Shreyas, FOUR! The Mumbai batsman gets off the mark with a superb cut shot! Big room for Shreyas to adjust and he directs it superbly towards the backward point.
Hayden Walsh Jr. replaces Sheldon Cottrell
2.17 IST: Holder to Rohit, FOUR! Too full on the occasion and that's a solid shot from Rohit. Gets under the ball and guides it straight.
2.10 IST: Holder to Rohit, FOUR! LUCKY! Almost a repeat of Virat Kohli's dismissal. Slightly outside off, Rohit wanted to guide it towards the third man but the ball takes the inside-edge again. Sails over the stumps and sails to the fine-leg boundary.
2.05 IST: Cottrell to Virat, OUT! Takes the pace off again! Kohli wanted to cut the delivery towards the third man but it angles in and deflects off the inside-edge to the stumps. BIG BLOW!
2.05 IST: Cottrell to Virat, FOUR! Shows the full face of the bat and guides it brilliantly towards the long-off.
2.02 IST: Cottrell to Rahul, OUT! Cottrell takes off the pace on this one and Rahul was surprised with the slowness of the delivery. An easy catch by Hetmyer on mid-on.
1.54 IST: Cottrell to Rohit, FOUR! That's the trademark pull - except that it has sailed off to the cow corner. Six runs off the over.
1.49 IST: ODI debut for Dube!
Congratulations @IamShivamDube on the ODI debut! 🔥#INDvWI #TeamIndia pic.twitter.com/lmgsYfRvVU

— BCCI (@BCCI) December 15, 2019
1.47 IST: Holder to Rohit, FOUR! Like Rahul, Rohit gets off the mark with a four. This one was fuller on the off and Rohit slams it through covers.
1.44 IST: Another maiden from Cottrell! He's confining the batsmen. Not giving enough room to stretch their arms, and the slow pitch is helping his cause.
1.38 IST: Holder to Rahul, FOUR! First runs for India! Poor delivery from Holder. Pitches it short but way outside off and Rahul gets over the ball and cuts it square.
1.37 IST: Maiden to begin. Tight over from Sheldon Cottrell, which also included a run-out scare!
1:30 IST: KL Rahul and Rohit Sharma open for India. We're ready for the play to begin! Rohit takes strike, Sheldon Cottrell to bowl the first over.
1.25 IST: The players are out for the national anthems.
1.11 IST: "Very happy to bat first. It looks like a dry track and we would have wanted to bat anyway. A decent total on the board would put us in a strong position," Indian captain Virat Kohli said during the toss.
1:07 IST: PLAYING XIs
India: Lokesh Rahul, Rohit Sharma, Virat Kohli(c), Shreyas Iyer, Rishabh Pant(w), Kedar Jadhav, Shivam Dube, Deepak Chahar, Kuldeep Yadav, Mohammed Shami, Ravindra Jadeja​
West Indies: Shai Hope(w), Sunil Ambris, Shimron Hetmyer, Nicholas Pooran, Roston Chase, Kieron Pollard(c), Jason Holder, Keemo Paul, Hayden Walsh, Alzarri Joseph, Sheldon Cottrell
1:05 IST: TOSS UPDATE! West Indies win the toss and elect to bowl in Chennai.
12.50 IST: The sky is clear and we're nearing the toss.
Bright and sunny here at the Chepauk Stadium. Live action starts at 1.30 PM IST #INDvWI pic.twitter.com/EgyzY2CXDT

— BCCI (@BCCI) December 15, 2019
11:55 IST: Rishabh Pant and Rohit Sharma are all geared up for the opening encounter in Chennai!
.@RishabhPant17 and @ImRo45 are all geared up for the 1st ODI against West Indies.#WIvIND #TeamIndia pic.twitter.com/pWodvci3mZ

— BCCI (@BCCI) December 15, 2019
11:50 IST: After earning a hard-fought series win in the T20Is, Team India will now want to take that form in the ODIs when they face West Indies in the first match of the three-game rubber to be played at the MA Chidambaram Stadium on Sunday. West Indies gave a glimpse of its power-packed performance in the three T20Is and the Indian team will be cautious in their approach, especially considering they will without their two main players in the ODIs - Shikhar Dhawan and Bhuvneshwar Kumar.
Brief Preview: The head-to-head count between India and West Indies in ODIs stands currently at 62 wins each, but the gulf between the two sides has progressively widened in the last decade or so and the Indian team would like to increase that further. The two teams last met in ODIs in the Caribbean Islands where India won the three-match series 2-0 as one of the matches got washed out. [FULL PREVIEW]