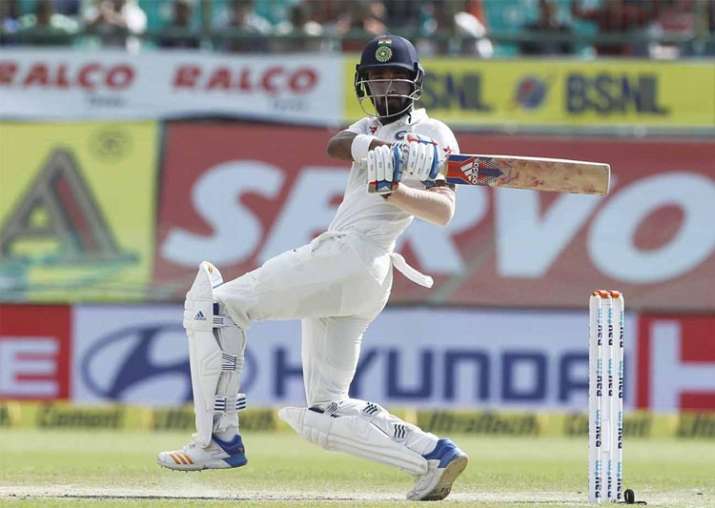 Addressing India's opening conundrum ahead the second Test against Sri Lanka, captain Virat Kohli said regular opener Lokesh Rahul, who has recovered from a bout of flu, will be in the playing XI as the world No.1 Test side aim to seal the series in Colombo.
India were at their dominating best during the 304-run win against the hosts in the first Test in Galle and the second Test starts in Colombo from Thursday.
In the pre-match press conference, Kohli on Wednesday asserted that fit-again Rahul deserves a come back and will be back in action in Colombo.
"KL Rahul has been our established opener so I feel one of the openers will have to make way for him because what he has done in the past two years has been very solid and he deserves to come back and start fresh in Test cricket. Again that's up for discussion... we will have a team meeting later today after training. We will be able to clarify that then but yes, KL Rahul, according to me, will definitely come back," Kohli said.
India were without the services of Rahul in the opening Test at Galle as he was laid low by viral fever. However, his absence didn't affect the team's performance and the visitors won the match by a massive margin to open with a bang in the three-match series. 
Rahul has recovered amply and if he is successful in proving his fitness for the energy-sapping humid conditions predicted during this Test, the toss-up will be between Shikhar Dhawan and Abhinav Mukund for the second opener's slot.
Dhawan had smacked his fifth Test hundred at Galle, scoring 190 off 168 balls, a knock that put India in command on day one itself. Mukund did score his second Test half-century in the second innings, but it could be a case of too little, too late for the Tamil Nadu opener. 
If Rahul is fit, Mukund will be expectedly left out, a strange happenstance because he was the original back-up opener in this Test squad ahead of Dhawan. 
On being asked if there's a posiibility of chinaman Kuldeep Yadav playing in Colombo, Kohli said: "When you have a big squad, there are all kinds of possibilities involved. We don't like to announce anything a day prior. It is sort of a suprise for the opposition."
When asked if there is an area where the team needs improvement, Kohli said: "One thing we need to be aware of is when we have a partnership, we need to have more composure and more discipline at times. Yesterday's practice was really good, the guys were hitting the areas really well and I am pretty confident that the areas we identified in the first Test, we will be able to rectify those and move ahead and improve on those things."
India racked up a memorable victory at the Sinhalese Sports Club in Colombo in 2015 when they defeated Sri Lanka by 117 runs to make a comeback in the series after losing the first Test at Galle. India then went on to claim the series 2-1 for their first Test series victory on Sri Lankan soil after 22 years. 
Kohli said the wicket in Colombo is result-oriented - something the visitors are looking forward to.
"We thought it was a great Test wicket last time aroun. The batsmen had to apply themselves to get runs and the bowlers were also in the game throughout. It is a wicket that you will get a result for sure. That's excites us and that's something we are looking forward to as a team and this is a kind of wicket that we always like to play on as we have a chance to make an impact in the game. We really enjoyed playing here last time and I think it is a great Test wicket," he said.