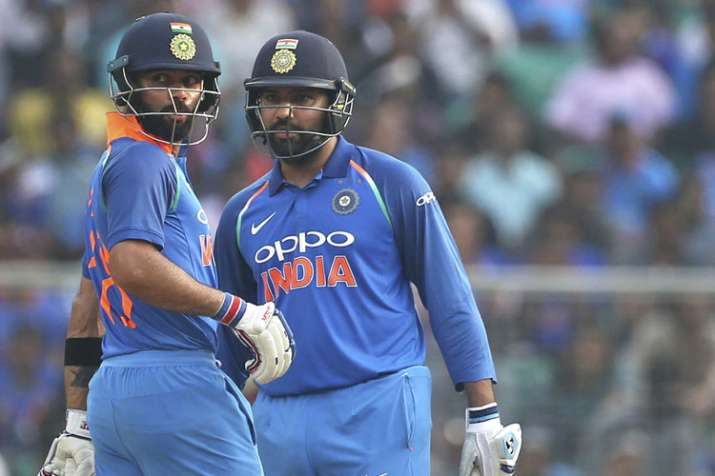 Former New Zealand coach Mike Hesson believes the key to keeping Virat Kohli and Rohit Sharma quiet is to trouble them early on in their innings.
Hesson, who was appointed as the coach of Kings XI Punjab recently, said that Kohli needs to be kept quiet for the first 10-15 balls and that will open up opportunities to get him out.
However, he added that the surface plays a role in it too.
"The key thing is if you can contain Virat Kohli in the first 10-15 balls where he has to take some risks to get his innings underway then that will provide opportunities," Hesson told ESPNcricinfo. 
"How you do that is dependent on the surface. But, if we found a magic formula, I'm sure it would be circulated all around the world very quickly," he added.
The 44-year-old also heaped praise on Rohit, saying that he is in great form for a while but swinging the ball outside the off-stump early on can trouble him.
"Rohit Sharma is in incredibly good form at the moment and has been for a long time. The thing with Rohit is that once he is in, once he gets himself set, he generally dictates the outcome of the game." 
"It's making sure that the new-ball bowlers can attack Rohit early on whether it'll be with swing or with some other variations wide outside the crease or whatever," Hesson said.
The pair will be next seen in action against Australia, when the two sides collide in the first game of the three-match T20I series at the Gabba on November 21.
Following the T20 series, India will play four Tests and three ODIs and then fly off to New Zealand to play a five-match ODI series. That is going to be followed by three T20Is.
And Hesson also had his say regarding the ODI series involving the Black Caps.
"I think it was 4-0 last time (2014) with a tie. I think it'll be 3-2 [this time}...it's going to be tight. I think Black Caps 3-2," said Hesson when asked about who will win the series