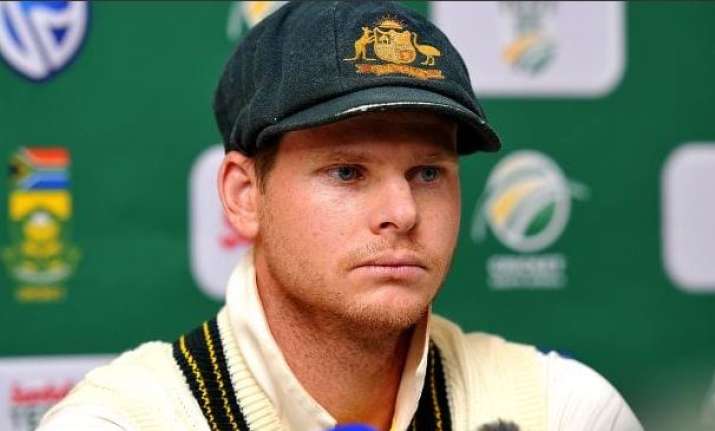 Former cricketers and captains have launched a scathing attack on the Australian national cricket team's captain Steve Smith after his ball-tampering scandal is being called a 'national day of shame' by several cricketers. Cameron Bancroft and Steve Smith confessed the matter when they were questioned by the media in the post-match press conference. Cricket South Africa gladly accepted to host a press conference for the disgraced visitors after a string of controversies was taken to the next level.
Former Australia captain Michael Clarke hoped that the news that he heard was just a 'dream'. Several cricketers have condemned Bancroft's action and Smith's strategy to 'cheat' in a match which in a way was slipping away. Despite the it being a four-match series, the Aussies decided to take the matter into their hands before the penultimate Test, and ruin the fun for the rest of the players.
WHAT THE ........ HAVE I JUST WOKEN UP TO. Please tell me this is a bad dream.

— Michael Clarke (@MClarke23) March 24, 2018
Cameron Bancroft carried out the tampering by using yellow adhesive tape to pick up dirt and rub it on the ball to rough it up in an attempt to get it to reverse swing on day three at Newlands. But Bancroft was caught doing it on the field by television cameras, and then attempted to hide the evidence by shoving the tape down his trousers before he was questioned by umpires.
Smith said he has no plans to resign. Cricket Australia chief executive James Sutherland said Sunday he had decided to take no immediate action against Smith and that he would send an investigative team to South Africa to look into all aspects before deciding what action to take. South Africa pacer Dale Steyn was quick enough to take it to social media after he witnessed Bancroft up to something unusual.
Can we talk about this? pic.twitter.com/cmpRrOArgD

— Dale Steyn (@DaleSteyn62) March 24, 2018
Former England captain Michael Vaughan was scathing in his criticism of the Australians.
"Steve Smith, his Team & ALL the management will have to accept that whatever happens in their careers they will all be known for trying to CHEAT the game," Vaughan tweeted.
Steve Smith,his Team & ALL the management will have to accept that whatever happens in their careers they will all be known for trying to CHEAT the game ... #SAvAUS

— Michael Vaughan (@MichaelVaughan) March 24, 2018
Former Australia batsman Jimmy Maher called it a national day of shame for the country "and for the entire cricket world, really."
Another former England captain, Nasser Hussain, accused Australia of a double standard.
"The Australian camp has been lecturing people lately on how the game should be played and a line that shouldn't be crossed," Hussain told Britain's Sky Sports. "Some of the stuff that has come out of the Australian camp, especially, has been laughable.
"Well, it looks like they're on the wrong side of the line here. It looks terrible, a premeditated move to get reverse swing and a blatant attempt to ball tamper."
Former Australia legspinner Shane Warne said: "I don't care who you are, you can't tamper with the ball. I know the Australian sides I played in never did anything like that."
Very disappointed with the pictures I saw on our coverage here in Cape Town. If proven the alleged ball tampering is what we all think it is - then I hope Steve Smith (Captain) & Darren Lehmann (Coach) do the press conference to clean this mess up !

— Shane Warne (@ShaneWarne) March 24, 2018
Former Australian captain Allan Border added: "You're kidding yourself if you think you can get away with that."
The Barmy Army following England's exploits at Auckland in the first test against New Zealand added their expected humorous twist to the ball-tampering news by wearing yellow tape on their arms, hands or heads to the fourth day at Eden Park on Sunday.
(With AP Inputs)