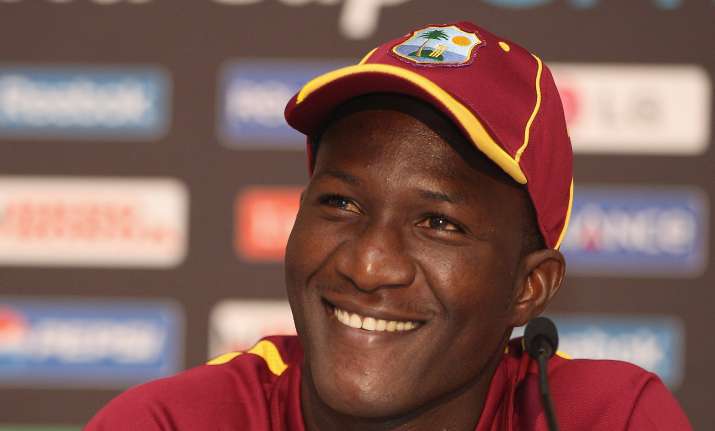 Mumbai: West Indies captain Darren Sammy today insisted that his side would be no pushover in the World Twenty20 semifinal clash against India tomorrow even though it seems like a "David vs Goliath contest".
"I think it is 80-20 to India, so it feels like David vs Goliath contest but people tend to forget David won the fight, so it's something similar to that," said Sammy on the eve of the clash here.
"We haven't played the perfect game yet. We are stressing on rotation of strike. It is clear that we are a big boundary -hitting team. We look at the dot-ball percentage, probably it is 40-50 per cent for us, and we could improve on that. So far, we have bowled really well in the tournament and on a few occasions, one batsman has taken responsibility," he said.
Sammy said he has a feeling that it is going to be West Indies' year.
"It (tournament) means a lot. No team has won the event twice. Later today, we will know if New Zealand or England wins, if we will have a possibility of that. Our game tomorrow creates that opportunity as well. For me, I have always enjoyed playing for the West Indies.
"I think this year could be the year for the West Indies.
The Under-19 team started it in Bangladesh (by winning the U19 World Cup) and both the men and the women's teams took that as inspiration.
"Come tomorrow, we have two West Indian teams (men and women) vying for a spot in the final. I really wish both teams could go to the finals and win it. So, 2016 could be the year where West Indies take home everything," he concluded.
Although Sammy admitted that star India batsman Virat Kohli would be a big factor in tomorrow's game, but having the world's "best T20 cricketer" in Chris Gayle does even out the scales to an extent.
"...have you ever heard of Chris Gayle?" he asked, adding "There's no taking away from Virat, he's a very good player, but like I've said in my press conferences, we tend to focus on what we could do in our dressing room.
"Like we've shown throughout the tournament once we execute our plans right we've won the games. When we've not, we've lost. So it's going to be a hell of a game, it's going to be 15 West Indies players versus 78,000, plus billions of Indians.
"Yes, it's a challenge we're ready to face, We all know that India is always difficult at home, but main focus in our dressing room is doing what we do best," he said.
In the run-up to the World T20, the West Indies players had a pay dispute with their cricket board, which was resolved just in time, but Sammy said there was a total lack of support for his team from the region's cricket authorities.
"The lack of respect for our T20 team. A lot has been said about this team and we as a group. But it just brought us closer together," said the 34-year-old.