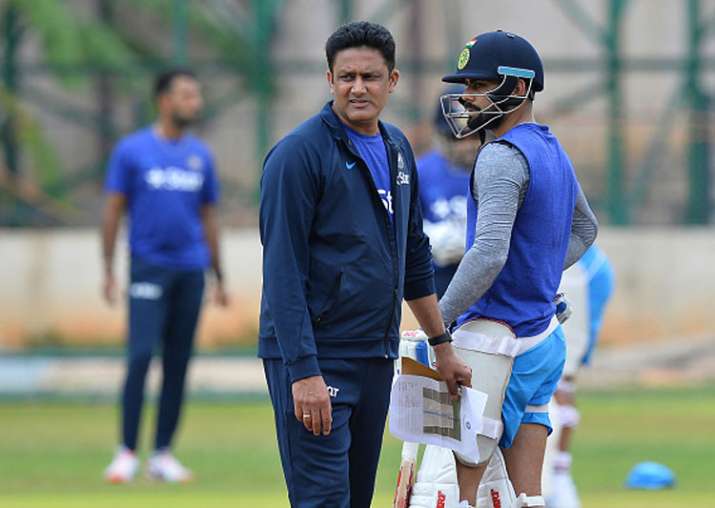 Anil Kumble on Tuesday decided against continuing on his role of the Indian team's head coach, blaming a breakdown in his relation with captain Virat Kohli for his exit. Kumble conceded that a fallout with Kohli was the reason behind his decision to resign as India's coach, claiming that their partnership had become "untenable" despite attempts to resolve the misunderstandings. In his resignation letter to the BCCI, the 46-year-old former captain said he was surprised when he was told about Kohli's "reservations" about his coaching style.
Former India captains Ajit Wadekar and Gundappa Viswanath, in a exclusive conversation with indiatvnews.com, termed this as a huge loss for Indian cricket and said it will set a wrong precedent in the times to come.
Viaswanath, who has seen Kumble from his early days in Karnataka, said it was sad that the legendary leg-spinner had to depart on a sour note even after delivering the results.
ANIL KUMBLE NOT A 'YES MAN' GUY
"Anil knows what he is doing after probably whatever happened. He is the best judge. He was given a one-year term and the world has seen what he has achieved. Every one is aware of Kumble's stature, what he has achieved as a captain and a player and what he has done for the Indian team. 
"Of course it is sad... going this way on a sour note. It is certainly not good at this point of time. His record as coach shows that he has done wonderful job with the team in one year. The team's success is not because of Kumble and Kohli alone... it's a team work. At the same time, the entire episode is very unfortunate," Viswanath told indiatvnews.com.
The 68-year-old, one of India's finest batsmen of all time, said Kumble was not a "yes man" coach and had always given his everything for the teams he has played in. 
"I don't think any reason to become an 'yes man' guy. Who will the coach say yes to? To the captain? To the establishment? That's not the way it should be. Anil is not like that. I have seen him from his early days. I was the chairman and selector when he came into the scene, I know him very well... he is a hard taskmaster. When he was playing, he was aggressive on the field and despite being a spinner. But at the same time he was so gentle and so kind, giving advice to the youngsters. When he became a veteran, the youngsters used to look up to him. Very few people have done so much for Indian cricket. As a coach too, he proved himself whetever he was supposed to do," Viswanath said.
IF PLAYERS DICTATE TERMS THEN WHY APPOINT A COACH?
Meanwhile, Wadekar, who led India in their first one-day international match, said the Board of Control for Cricket in India (BCCI) should have handled it in a better way. 
The 71-year-old aggressive left-hander said Kumble's unceremonious exit might leave the players in a disturbing state. Wadekar said Kohli should take a hint and try to learn from this episode. 
"It is upsetting for Kumble. He is a proud and upright guy. It is unfair for him,"  Wadekar told indiatvnews.com.
Wadekar asked that if the coach had to work according to the preferences of the captain - then was there a need to appoint a coach in the first place? 
"Why appoint coach, leave everything to the captain. I think the captain will take a hint and try to learn. It is not fair for Kumble and it might be disturbing for the players. It might also spoil the team spirit and not good for the team's future," Wadekar said.
"I think we need a person like the caliber of Kumble. The coach has got to be hard taskmaster. we have players from so many different cultural background and it is difficult to make the players one single unit.
"The board should have stood by Kumble to get the best out of the players. BCCI should have handled it in a better way instead of getting it out in the press. They should have tried to sort it out as early as possible. If the players are dictating terms then it is the end of coaching assignment," he said.
BIG LOSS FOR INDIAN CRICKET
Former India fast bowler Venkatesh Prasad said Kumble's departure will be a big loss for Indian cricket.
"Indeed a very sad day for Indian cricket and a huge loss. Kumble with his wealth of experience and having done so very well in the last year, it is unfortunate I would say. Kumble is a very intelligent guy. He has got more than 600 wickets in Tests and that goes to show how intelligent he could be. It is a big loss for Indian cricket," Venky told indiatvnews.com.
"With the kind of experience that Anil had and what he brings into the table is huge - commitment, integrity. I think probably coaching was not not his cup of tea. He should have fitted more into the role of the director of Indian cricket," he added.