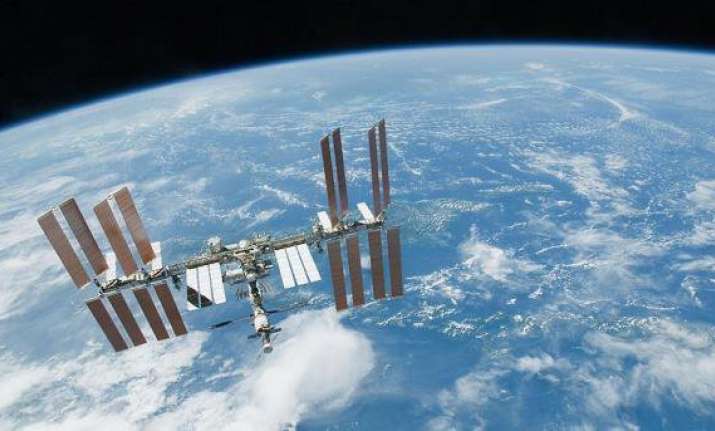 Three satellites and an object falling from the International Space Station (ISS) will enter earth's atmosphere in the next 20 days and is likely to burn up before reaching the surface. The objects will enter the earth's atmosphere between October 26 and November 14, according to a report by the gulfnews.com.
The ISS DEB, a piece of fabric shield lost in space from the International Space Station on March 30, 2017, is expected to enter the atmosphere at about 5.20am UTC (9:30 am in Dubai) on October 26. Technically known as 1998-067BA (or NORAD 31928), the fabric shield was accidentally lost in the space by NASA astronauts who were on a spacewalk at the space station.
Besides this, three other objects – namely Firely, Flock 2E'-4, and CZ-4B DEB will enter the earth's atmosphere between November 1 and 14.
Firely is expected to fall at 11.05 UTC on November 1, Flock 2E'-4 at 22h47 on November 13, and CZ-4B DEB will fall at 16h27 on November 14, according to the Gulf News report.
Chances of the junk falling on earth and affecting the lives on the planet are very low as most of it will burn up in the atmosphere as it falls. But sometimes they create a scare for people as an incident last week showed.
Last week, parts of an unmanned Russian cargo spaceship burned across the night sky of the Arabian Peninsula before breaking up in the Earth's atmosphere and scattering in the Indian Ocean. The 80-second appearance of the spacecraft over the United Arab Emirates stunned onlookers in a region where Iran regularly test-fires ballistic missiles and Shiite rebels in Yemen have threatened to use them against Abu Dhabi.
Apart from these small satellites, Chinese space station Tiangong-1, a 8.5-tonne spacecraft launched in 2011, is likely to crash to Earth in the next few months.
The space station, which translates to 'Heavenly Palace' in English has lost its track and become out of control and can come crashing down either in late 2017 or early 2018.
Tiangong-1 ended its operation in March this year after a service for four and a half years, two and a half years longer than its designed life. The space station is revolving around the Earth at an average distance of 200 miles from the surface. Chinese scientists working on the operation do not know when its will collide with the earth's surface as they have lost the track of space lab module.
However, a crash of the Tiangong-1 is not the only worry for scientists.
With the hundreds of satellites now orbiting the Earth, 'space junk' have become a real issue. Out of operation satellites are left roaming in the space and can be "hazardous" to other spacecrafts and satellites.