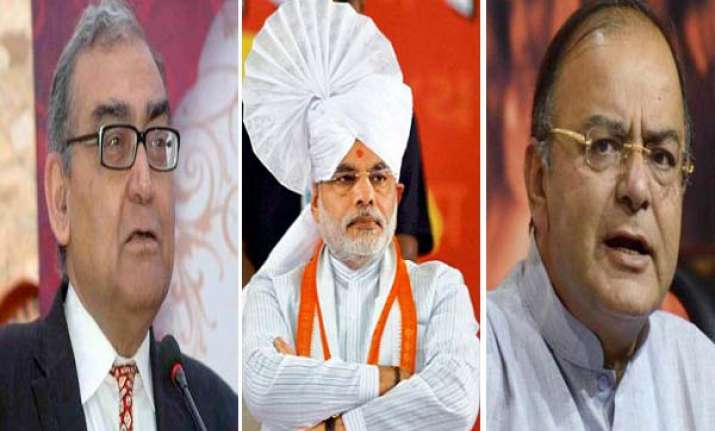 New Delhi, Feb 18 : Normally, the leader of the opposition in Rajya Sabha Arun Jaitley never reacts to everything under the sun, but it was Press Council of India chairman retd. Justice Markandey Katju's article in a newspaper  about the 2002 Gujarat riots and Narendra Modi, which raised his hackles.
Justice Katju's article was against the projection of Gujarat chief minister Narendra Modi as the man who can transform India. Let's first read Justice Katju's article, in full:
All the Perfumes of Arabia By Justice Markandey Katju "Narendra Modi is being projected by a large section of Indians as the modern Moses, the messiah who will lead the beleaguered and despondent Indian people into a land of milk and honey, the man who is best suited to be the next Indian Prime Minister.
And it is not just the BJP and RSS who are saying this in the Kumbh Mela.  A large section of the Indian so called 'educated' class, including a section of our 'educated' youth, who have been carried away by Modi's propaganda are saying this.
I was flying from Delhi to Bhopal recently. Sitting beside me was a Gujarati businessman. I asked him his opinion of Modi. He was all praise for him. I interjected and asked him about the killings of over 2000 Muslims in 2002 in Gujarat.