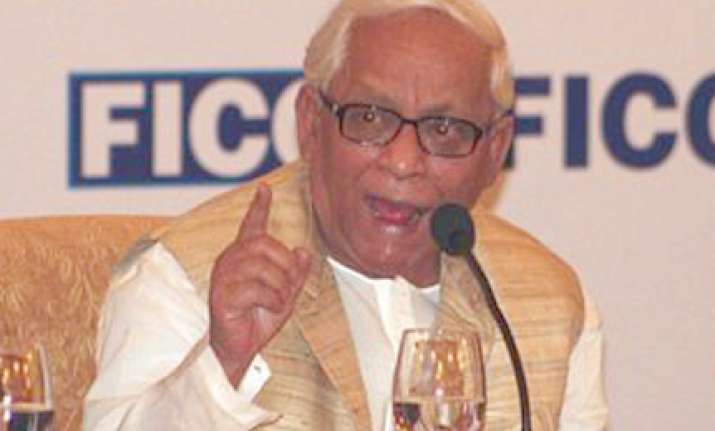 The US was conspiring to project China as a threat to India to maintain its supremacy in a unipolar world, West Bengal Chief Minister Buddhadeb Bhattacharjee said on Friday.  
Bhattacharjee said it was in the US interest not to allow the two Asian giants - India and China - to come closer so that it could maintain its status as the lone superpower in the present world. 
The US was playing up the reported Arunachal Pradesh incursions and even launched a media campaign highlighting the issue to counter the rise of China as a superpower, Bhattacharjee said at a programme celebrating 60 years of Chinese Revolution. 
The US was spearheading a media campaign describing China as a threat to India to prevent the coming together of India, China and Russia as a counterforce against it. 
"With the fall of Soviet Union, the imperialist USA has emerged as the only superpower in a unipolar system. But it is time India, China and Russia joined hands to create an alternative power centre to counter the US supremacy," he said. 
The CPI(M) politburo member, however, expressed confidence that the fall of imperialism was imminent as, he believed, there was no alternative to socialism.  
The chief minister, while describing the rapid rise of China, noted that corruption had made inroads into the socialist country. 
He described at length how the Chinese Communist Party was trying to weed out corruption and bring about progress in agriculture and economy to expedite overall progress and development, saying this could be an example for India. 
"We can learn from their mistakes on how things should proceed in a proper way and how to weed out corruption to make this easier," he said.
China has now developed a market economy with the strong participation of private sector, MNCs and Foreign Direct Investment, he said. However, this has brought in its wake disparities among villages and cities giving birth to massive corruption. 
"We must watch how China is fighting against corruption by strengthening law and order and judiciary, and learn lesson from their experience." 
Coming to Indian communist parties, he said, "We never follow any particular model, but we suit our policies according to the particular situation prevailing here. Thus it is not our task to criticise any other country's model or make any comment on them. We only watch the development and take lessons from it," Bhattacharjee said. 
CPI-M state secretary Biman Bose said even some central committee members of the Chinese Communist Party were facing charges of corruption and given punishment. 26,000 party members in the last six months had been punished on corruption charges there, he noted.