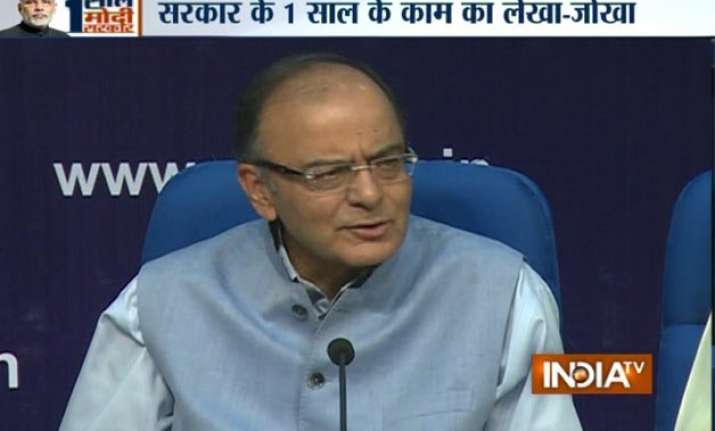 New Delhi: Finance Minister Arun Jaitley today said one year of decisive and corruption-free governance at the Centre has set the stage for a double-digit growth rate and promised to continue economic reforms with a view to make it easier to do business in India.
He also attacked the Congress for positioning itself as anti-growth and anti-development by obstructing reforms measures like GST and amendments to the land acquisition law.
Speaking to reporters on completion of one year of the Narendra Modi-led government, the Minister said: "A very important highlight of the government has been to give a corruption-free administration to the country. The common man has been freed from political corruption. We have done it in one year."
Jaitley also expressed the government's commitment to GST and the land acquisition bill, besides promising more funds for rural development and infrastructure.
The economy is growing at 7.5-8 per cent, he said, adding that there is a restlessness to grow even faster which is the real potential of the country.
"One year back, there was an environment of pessimism... there was general environment of gloom. In its place, an environment of enthusiasm has been created," he said, adding that decisiveness even in the face of obstructions has been the hallmark of the Modi government.
India, he said, "has potential to touch double-digit growth rate" provided decision-making is quick.
"We are reforming and liberalising, but there is no place for crony capitalism," he said, observing that it was the unclear economic policies that led to the fall of the UPA government.
The current government, Jaitley said, is both pro-growth and pro-development.
"Our social security programmes are going to be one of the strongest ever in this country, but certainly the policy will be one of arms-length distance in terms of decision-making from individual business houses," he asserted.