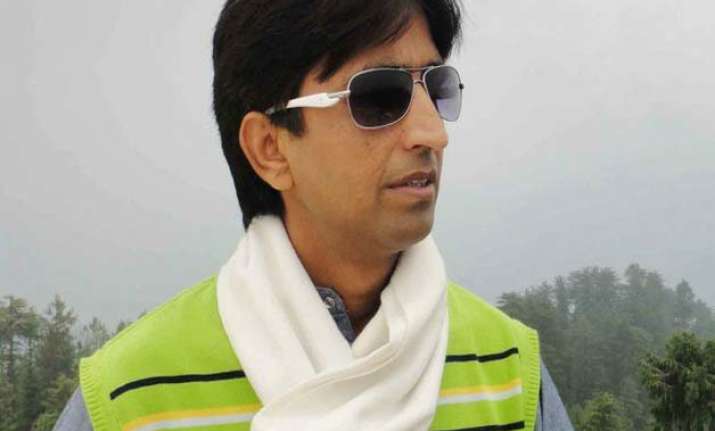 New Delhi:  Second time in a row, AAP leader Kumar Vishwas did not to appear before Delhi Commission for Women (DCW) which had issued summons to him in connection with the controversy surrounding him after a woman party volunteer accused him of not rebutting "rumours" about an illicit liaison with her.
"We have called the husband of the victimised woman at the Commission and he had come. Our attempt is to unite them as the woman has alleged that her husband left her following rumours of her illicit affair with the leader. Kumar Vishwas hasn't bothered to reach here today," DCW chairperson Barkha Shukla Singh told reporters here.
The DCW had first issued summons to Vishwas and his wife on May 4, asking them to appear before it by 3 PM, but Vishwas had not turned up saying he has not received any notice from the Commission.
Following this, DCW yesterday issued fresh summons to him to appear before it, and Singh in front of the television cameras had requested Vishwas to appear before them and help save the woman's family.
The complainant who was also present at the DCW accused Delhi Chief Minister Arvind Kejriwal and Vishwas of being "very insensitive" and alleged that "Vishwas and Kejriwal were concerned about their dignity, what about mine and my family?" The complainant woman's husband, who was also present, told reporters, "I want Kumar Vishwas and his wife to come forward and clarify then only I will accept her."
Later, an altercation broke out between the complainant and another AAP volunteer who had come to the Commission today.
They both got into verbal argument after which DCW member and investigating officer in the case, Sudha Tokas had to intervene.
Upset with outsiders interrupting the DCW proceedings, DCW chairperson accused AAP of disrupting the press conferences and case hearings and said, she would write to the Home Minister, Lt Governor and Delhi Police Commissioner in this regard.
"They (AAP) are sending people to disrupt our proceedings. I will complain to Home Minister, LG and Police Commissioner regarding this," she said.
Yesterday, high drama was witnessed when one member revolted against the DCW chairperson and stormed out of a press conference saying that the decision to issue summons to Vishwas and his wife was "politically motivated" and she was resigning from the panel in protest.