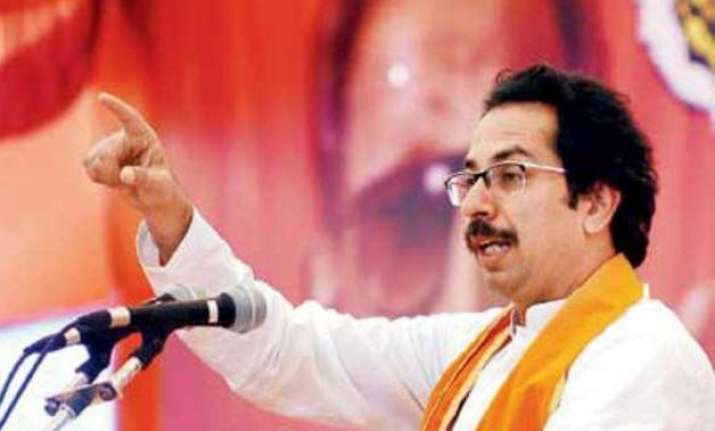 Mumbai: BJP-Shiv Sena ties today hit a new low with Uddhav Thackeray threatening to pull out of NDA if BJP "continues with its arrogance" even as one of his party ministers in Maharashtra government offered to quit.
Sena chief warned BJP to mend its ways by Diwali or he will ask all his ministers to resign from the government.
While campaigning for his party in Kalyan-Dombivali civic polls, Thackeray warned the Maharashtra government and said, "Sarkari vyavasthaa ka istemaal agar ghar ki gaadi ki tarah hua to hum sarkar ko rastey par le aaenge. (We will bring the government on right path if state machinery is misused).
Sena Minister Eknath Shinde, who holds Public Undertaking portfolio, made the offer to resign at a civic poll rally in Kalyan after the Sena chief lashed out at Fadnavis.
Thackeray, however, rejected the offer saying he would not allow Shinde alone to leave the ministry and if necessary the party will take a collective decision.
BJP and Shiv Sena are contesting local polls independently, parting ways just before the elections. Shiv Sena has accused BJP of misusing the state machinery to intimidate its workers.
Thackeray warned that if the "BJP continues its arrogance" Sena will not hesitate to pull out of the alliance. As soon as Thackeray finished his speech, Shinde rushed to his leader who was present on the stage saying that he was quitting as he could no longer suffer the "humiliation" being meted out to Sena cadres by BJP which was "misusing" official machinery.
Sena chief also attacked BJP over staggering prices of pulses. "Janta ne jab Indira Gandhi ko ukhaad phenka tha to tumhari (BJP) kya aukaat? Diwali se pehle dal kay daam kum hone chahiye. (If people could throw out Indira Gandhi, what is the BJP's position. The prices of pulses should come down)," he said.
Chief Minister Devendra Fadnavis hit out at Shinde and Shiv Sena and said that they are playing victims after attacking BJP workers.
Fadnavis, who was also campaigning for his party in a nearby area, dubbed it as a "drama".
"We have seen on television a cabinet minister making allegations and offering resignation. This is nautanki (drama)," Fadnavis said.