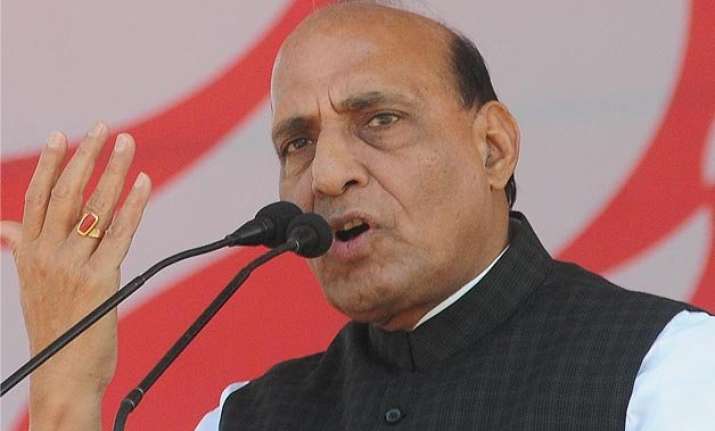 Lucknow: Union Home Minister Rajnath Singh today said terrorism was a major concern not only for India alone, but for the entire international community. 
"I don't think that there are two different views on this issue. As far as terrorism is concerned, I think it is not only India which is concerned on the issue, the entire international community is concerned," Singh said at an event here.
"We have not been able to control terrorism. I am talking about the international community, cannot control it. We have more problems due to our neighbouring country," he said.  Singh said Atal Bihari Vajpayee used to say and Prime Minister Narendra Modi was also of the view that India should maintain good relationship with its neighbours.  
"We made our intentions clear by inviting premiers of all the neighbouring countries," he said while referring to oath ceremony of Modi government.
He said the amount of ceasefire violation by Pakistan was done which a matter of serious concern for the government.  "After I took over the responsibility, there was ceasefire violation every now and then.
I told our Border Security Force personnel not to fire a bullet first, but if there is violation of ceasefire, we should not count our bullets and it has given results," he said.
Regarding Naxal menace, Singh said as far as internal security was concerned even those, who study it from time to time, have accepted the fact that there has been a decline of 30 per cent to 40 per cent within a year.
 He said the government was heading towards controlling the menace, but also want to carry out development works in areas affected by naxalism and maoism.
The union minister said the government has also been successful in checking smuggling of cows on Indo-Bangladesh border.
"More than 20 lakh cows were smuggled across the border every year.
I immediately visited the border and told jawans and officers to take it as a challenge. I am happy to inform you that this number has declined to three lakh only in six to seven months," he said.
He congratulated the security jawans for protecting the borders and fighting against terrorism.