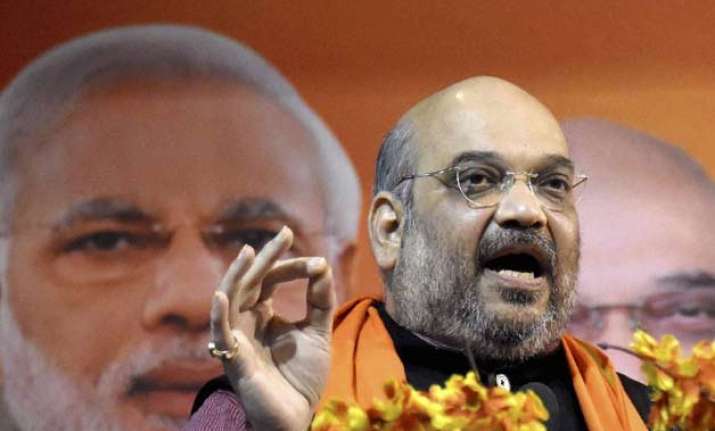 Patna: Attacking Chief Minister Nitish Kumar over the bribery video sting, BJP chief Amit Shah today dared him to make public the names of five other ministers who were allegedly involved in the scandal besides Awadhesh Kushwaha, and said graft and 'jungle raj' were now common in the state.
He also questioned Kumar's intent to provide good governance in Bihar with Lalu Prasad on one side and Congress on the other, saying the leaders of this "grand coalition of opportunists" were not even ashamed of their corruption.
"Kumar should make public the names of the five ministers involved in the bribery scandal, a sting of which had come out showing JD-U minister Avdesh Kushwaha who later had to resign.
"As long as Nitish Kumar was with the BJP, no one dared to do corruption. But with him tying up with Lalu Prasad and Congress, what else can you expect from him except corruption and 'jungle raj'," he said addressing poll rallies in Nokha, Arwal and Navinagar in the state.
Also, at a gathering of intellectuals here, Shah said people of the state had the choice of either voting for the party for all round development or the secular alliance for the return of 'jungle raj'.
Warning the people of the state that the Lalu-Nitish duo will not allow Prime Minister Narendra Modi to work for the welfare of Bihar and its people, he called for electing a government led by BJP that works in tandem with the Centre.
"You can either vote for bringing back Lalu Prasad's jungle raj with Nitish Kumar as its mask or vote for Narendra Modi-led BJP to restore Bihar's glory. There is no third
option left," he said.
The 'Budhijivi Sammelan' (intellectuals conference) was organised by BJP to apprise them of its agenda and viewpoints.
Shah was accompanied by Union ministers Ananth Kumar, Suresh Prabhu, Ravi Shankar Prasad, Bihar in-charge Bhupendra Yadav, Rajya Sabha MP M J Akbar and others.
Referring to the state's history, Shah said Bihar had ruled the country for over 600 years, gave the first republic to the world and was a place of learning and education.
"But now where Bihar has reached ?" he asked.
Coming down heavily on Kumar, the BJP national president said, "Nitish Kumar for most of part of his political journey, fought against Lalu Prasad's jungle raj. He fought to end Prasad's jungle raj but is now saying that he never called the RJD regime so. But people know what Kumar used to say."
On Kumar's 'outsider' barb, he said "A Bihari will become the chief minister but it will be BJP's Bihari CM as there is no place for him (Kumar) to become the CM again."
Describing Kumar as an "arrogant" leader, Shah said he cannot implement the Rs 1.25 lakh crore special package for Bihar announced by the Prime Minister.
He said the money announced by Modi was not for Lalu or Nitish, but for the welfare of the people of Bihar to take the state to newer heights of progress.
"If it (package) has to be implemented, people have to strengthen Narendra Modi's hand," he said.